News
Tiger Woods' 69 leaves him five back in Arnold Palmer Invitational, says he's 'got a chance'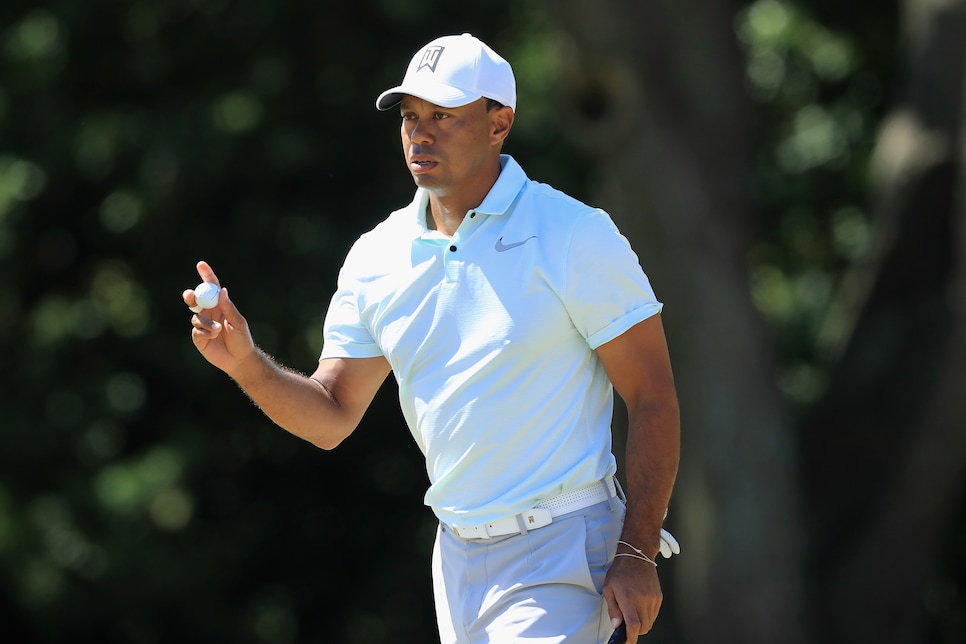 ORLANDO — Tiger Woods ended his day with a low fist pump that he held for an extra few seconds. He was savoring the birdie putt he sank at the 18th hole at Bay Hill Club and what it meant.
Don't count him out of the Arnold Palmer Invitational.
"That was a nice one to get. I figured that would probably get me within five or six of the lead," Woods said after posting a three-under 69 on the Championship Course at Bay Hill. "Right now, it's four back, but those guys will make a couple birdies coming in. So, I'm within reach if I shoot a really, really low round tomorrow."
Yes, he can. But, hey. Goals.
On a warm and breezy Saturday afternoon, Woods kept himself within hailing distance of the lead heading into Sunday's final round with what is becoming a usual formula of uncanny scrambling interspersed with six birdies, including that 12-footer at the last. At seven-under 209, he is tied for 10th and trails Henrik Stenson by five shots after the Swede carded a 71.
Yes, Woods will likely need to find a deeper red than his traditional Sunday shirt if he hopes to win for a record ninth time in this event. Yes, he will have to blow past not only Stenson, but also the likes of Rickie Fowler, Rory McIlroy and Justin Rose—the latter who was paired with Woods Saturday and bested him by two strokes. In all, Woods is one of 18 players within six shots of the lead.
Not the greatest odds, but at least his opportunity is within the realm of possibility.
"I've got a chance," he agreed.
By the way, Woods has just one come-from-behind win after 54 holes at Bay Hill. It came in 2009, when he fired a closing 67 and edged Sean O'Hair by one stroke. He trailed by five strokes going into Sunday.
He has a chance because his short game is bailing him out while he continues to struggle off the tee. Woods ranks fifth in strokes gainedaround the green and 12th in putting. Off the tee, he ranked 47th out of 77 players in the third round and is 67th overall, even though he hit nine of 14 fairways.
Woods seems to produce a SportsCenter highlight daily. This time it came at the par-5 16th hole, where he has yet to hit the fairway this week but continues to score. He drove into the right fairway bunker and very close to the lip. It appeared that laying up was his only option. But Woods grabbed a 5-iron and just cleared the lip, sending his ball to the back fringe, 19 feet from the cup. The eagle didn't fall, but the gallery was swooning.
He derived more enjoyment, however, from some of his par saves. "I think that my entire career I've always loved making those par putts and today at 14 it was a nice par putt. I don't like making bogeys, I don't like dropping shots, because then I have to get it back."
In general, he had few complaints. His back is holding up. He's finding his scoring form, albeit the low round still eludes him.
"For me I'm just happy to be back playing again, competing, grinding out there and trying to work my way up the board, work my way around the golf course," he said. "It feels good to be able to finally understand and feel that I can get into a round again. I'm not really thinking as much as I was initially. I'm just playing shots, playing the holes, playing angles, where to miss the golf ball, all these things are becoming more intuitive, which is great. Because if you look at the last two days, I've missed the golf ball in the perfect position on almost every single shot. Sometimes maybe more conservative like I was yesterday because I wasn't on, but I felt I missed in the correct spots on just about every single shot and today was the same thing.
"Like I said, I'm going to have to shoot a low one tomorrow and probably get a little bit of help," he added. "But my responsibility is to go out and shoot a low one first."