The Loop
Tiger is close, now he has to close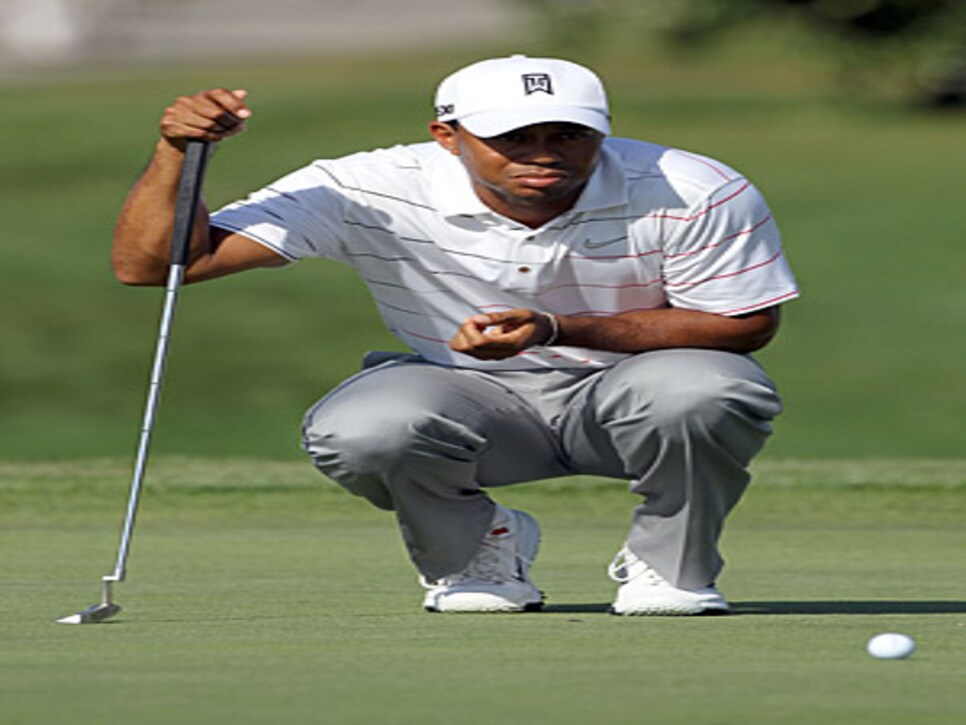 The key with changes like these is that under pressure, the tendency is to revert back to old habits. And that is familiar turf; Woods has been down this road before, teasing us with scintillating play only to fail to seal the deal. Remember a couple months ago at Pebble Beach, when he was one off the lead on Sunday and was toasted by Phil Mickelson 64 to 75?
But Woods, who was ragged in his iron play and putting in Thursday's first round, was dialed in on a sweltering Friday. He hit every green but one, and on that one he putted from the fringe. Everything about the way Tiger played in the second round hinted that he is very close to producing a winning performance -- that he is very close to being special again.
Woods never really came close to making a bogey Friday as his two worst swings of the week -- tee shots on Nos. 10 and 12 -- ended up playable and he made a par and a birdie. His irons also were closer to being on target than they were Thursday as he made four birdies in a row beginning on No. 4 and then closed with birdies on Nos. 16 and 17.
A victory here, where Woods has won this tournament six times as well as his first of three U.S. Junior Amateur titles, would end a winless streak on the PGA Tour that goes back to September 2009. It would also snap a steak in which he has had chances to win on Sunday -- Australia, Abu Dhabi and that Pebble Beach disaster -- but failed to finish the job.
"I want to win, absolutely," Woods said after his round. "But we have a long way to go. It's not over." Jason Dufner and 2010 U.S. Open champ Graeme McDowell trail Woods and Wi by one stroke. "I'm comfortable [with the lead]," Woods said. "I'll just keep plodding along. It hasn't been as long as people think," he said about playing with the lead. But it has been a while since he successfully protected one.
The image that comes to mind right now is that Woods is engaged in a sort of ritualistic dance around this new swing. He is circling in on mastering it, coming very close -- like with his closing 62 a few weeks back at the Honda Classic -- then backs off. What he has yet to do since he started working with Sean Foley is make all phases of his game hold up for four rounds. He is halfway there this week.
"The neat thing about what I am working on with Sean is that my bad days aren't as bad," Woods added. "What's way different [with the new swing] is the ball doesn't move as much. It's a tighter ball flight. That's why I am way longer than I was, the ball doesn't curve as much. And that's why my misses are long."
Clearly, Woods is trying his best to be patient as he masters the moves Sean has him working on. And no one sets higher standards for himself than Woods. Twice on Friday he let go of the driver with his right hand on his follow through in disgust and once he let go with both hands, the driver doinking to the ground.
On No. 16, when his second shot to the par-5 hole with an iron was pulled 60 feet left of the pin, he swung the club in a violent, backwards left-handed move that registered extreme displeasure. Still, he converted for a two-putt birdie.
"There have been a lot of really good swings today," Foley said as he walked the 15th fairway watching Woods. "I think we are building up to something special." Asked if that special effort could come in two weeks at Augusta National in the Masters, Foley said: "I'm not thinking about two weeks from now, I'm thinking about two years from now. That's what we are working on."
The extreme wild misses off the tee seem to have been eliminated, and the iron play might not be of the knock-down-the-pin variety we have seen from Woods in the past, but his explanation that it involves getting used to his new distance makes sense. And while the putting numbers are still not great -- 62 putts through 36 holes -- he rolled in a bunch of birdie putts in the second round and missed no short ones.
"I had really good control of my speed [on the greens] today," Woods said. "I focused on my speed today and consequently made some putts."
Now we get to see if Woods can close the deal. Certainly, he is trying to get it done on a golf course where he is very comfortable. "Yes, there have been some courses where I have had success," he said. "Doral, Firestone, Augusta, Torrey Pines and fortunately this one."
That could bode well for the weekend, but what could be even more meaningful is that he included Augusta National among those where he has won in bunches. That is the victory that could turn this all around for Woods.
A fifth green jacket could make people start to believe he can return to being the dominant player he once was. And a victory at this year's Masters would once again make his goal of getting the five more major titles he needs to pass the record of 18 by Jack Nicklaus seem possible.
Throughout the winless streak, Woods has said it's a process. That is a concept at the core of what Foley teaches. And on this Friday at Bay Hill, Woods was in a very good place in the process. The next step it to make it all work for 72 holes. On Sunday, we'll find out if this is that week.
And how ironic would it be if the place where things start to turn around for Woods is Orlando -- his former home and the place where things went so horribly off the tracks when he crashed into a tree and a fire hydrant on the wee hours of Nov. 27, 2009. There is a lot Woods can put behind him this week with a win at Bay Hill. On Friday, he looked close to being a man who had found something he lost.