The Loop
Tiger's erratic victory lap provides no answers
The mystery that Tiger Woods' career has become remains unsolved, the enigma burnished by a quizzical performance even on a course where the outcome seems never in doubt.
Woods won the Farmers Insurance Open by four, an impressive margin were it not for the fact that he led by eight and inexplicably (inexcusably?) began spraying the ball to all fields, one of them unplayable. He shot 39 on the back nine Monday, a scattershot finish that extended a trend of them in recent months, even years.
Yes, he won for the 75th time in his PGA Tour career, second only to Sam Snead's 82, and he now has four victories in his last 10 months. But each of them has come on a course with which he is comfortable and has been successful: Bay Hill, where he has won the Arnold Palmer Invitational seven times, Muirfield Village, where he has won the Memorial Tournament five times, Congressional Country Club, where he has won the AT&T National twice, and now Torrey Pines, where he's now won the Farmers Insurance Open seven times, as well as a U.S. Open and Junior World Championship.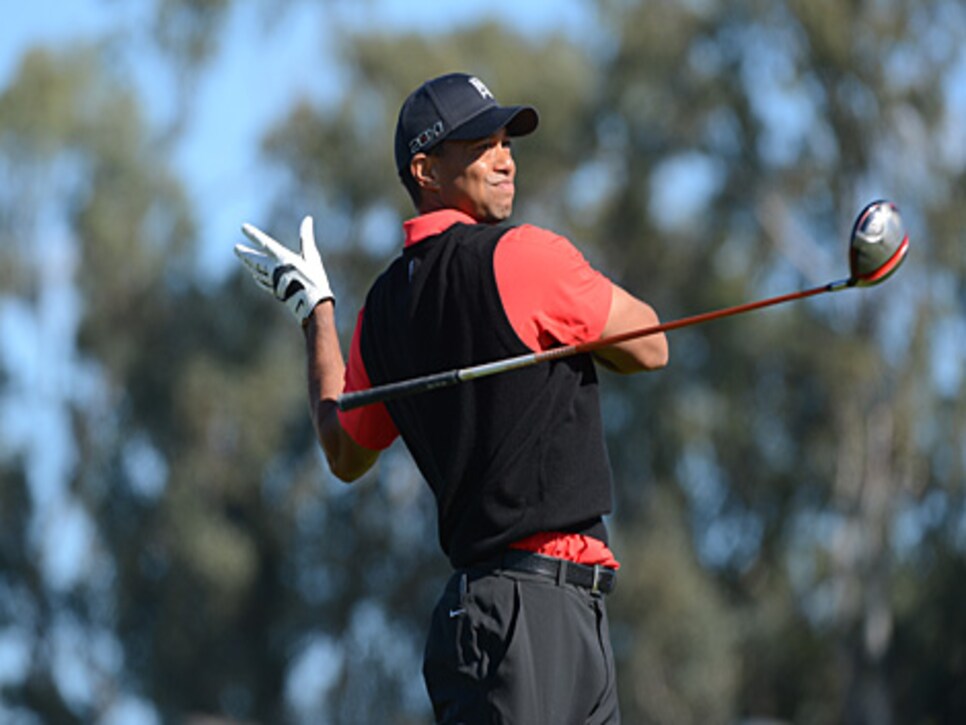 His dominance on the coastal San Diego courses and the inevitability of this victory, notwithstanding his Monday hijinks, prompted Graeme McDowell to post this on Twitter: "Was thinking of adding @FarmersInsOpen to my schedule next year. Maybe need to reconsider. Tiger owns the place....#tigerwoodsshow."
He does hold the mortgage on Torrey, but to what extent the Tiger Woods Show will travel beyond friendly confines is the mystery that survived his victory at Torrey Pines.
There was a time when every course was within his comfort zone, but he has developed an on-again, off-again relationship with his game, an inconsistent streak at odds with his history.
His history, too, has included a pair of hallmarks that were on display at Torrey Pines, neither of which he was able to sustain:
-- The landslide victory once was part of his repertoire and contributed to his aura: he won the Masters by 12, the U.S. Open by 15, the British Open at eight.
En route to a similar outcome, he stumbled, playing the back nine in 39, including a double-bogey at the 15th hole, when his tee shot went left and into an ice plant, leaving him an unplayable lie.
-- He was spraying the ball on Sunday afternoon and early on Monday, too, but kept extending his lead by showcasing the other hallmark of his career, his remarkable ability to get the ball in the hole from the unlikeliest of places. He frequently bent his ball around trouble, saving par and even making birdie.
"It's always fun watching Tiger in and around the lead and more fun when he scores well from everywhere isn't it?" Brad Faxon wrote on Twitter. Yet the scoring element abandoned him on Monday, turning what ought to have been an encouraging victory into one that failed to exorcise the doubts.
It accomplished this much, at least: It snapped golf from its early-season lethargy (or apathy) and provided a reason to begin to look forward to April and possibly a showdown with his new Nike stablemate Rory McIlroy.
It was not necessarily a convincing reason, but it's a start.