The Loop
Tiger Woods Watch: Live updates from Day 2 at the Farmers Insurance Open
We saw a bit of everything in Tiger Woods' official return to the PGA Tour after more than 17 months on Thursday. Unfortunately, for the 14-time major champ, it all added up to a few more shots than he would have liked. Even with a closing birdie (the guy still has a flair for the dramatic on Torrey Pines' 18th hole), Woods shot a four-over-par 76 and finds himself near the bottom of the leader board. Although, he still looked like he enjoyed being back out there.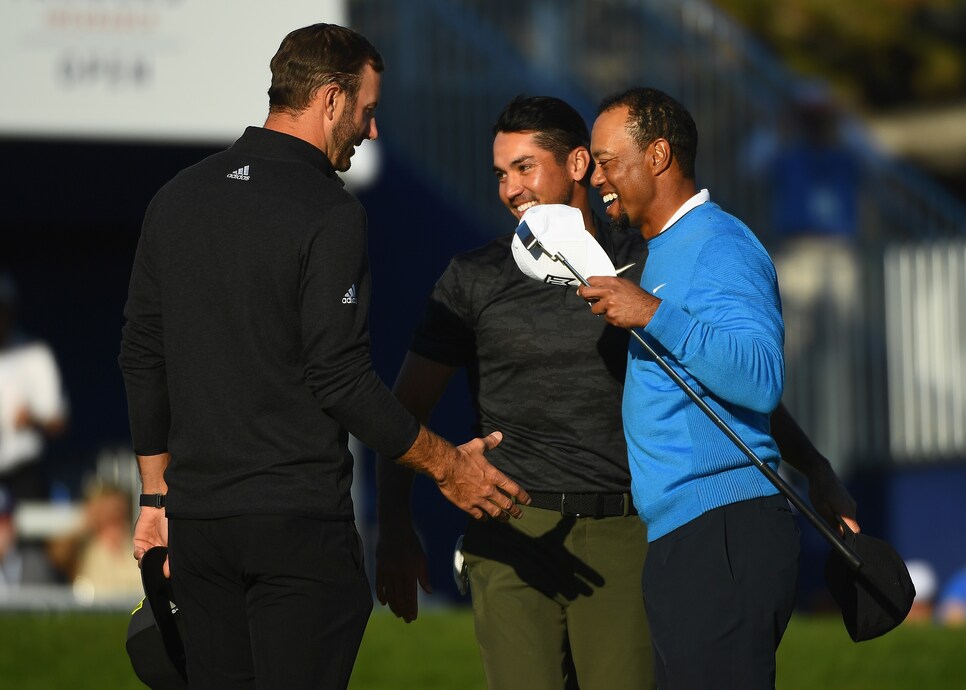 The good news for Woods is that he'll play Torrey Pines' North Course on Friday, which played about three strokes easier on Day 1 of the Farmers Insurance Open. But if Woods is to stick around for the weekend and have two more cracks at the South Course, he's almost surely going to need a score in the 60s on Friday.
Woods will tee it up again with World No. 1 Jason Day and reigning PGA Tour Player of the Year Dustin Johnson, neither of whom tore it up on Day 1, either. Day shot 73 and Johnson shot 72 to lead the marquee group. The three will tee off of the 10th hole at Torrey Pines' North Course at 9:30 local time (12:30 ET). And once again, we'll keep you updated on all things Tiger as the day goes on.
12:27 ET: OK, here we go. Tiger Woods arrives on the 10th tee at Torrey Pines' North Course, does a little light stretching and chats with Jason Day and Day's caddie, Colin Swatton. Minutes later, Woods teed off on the par 5 and. . . for a second straight day sent his opening drive way right. Hey, he's consistent.
After a long wait before his second shot, Woods slashed a terrific long iron shot that was perfectly on line, but ran through the green. (It should be noted that the wind is blowing a lot harder than it was on Thursday.) After a decent pitch shot, Woods drained a nine-footer for an opening birdie.
Is it too early to call it a "59 Watch"?
On the short par-4 second, Woods hit his first fairway since the seventh hole on Thursday. His approach from 75 yards was right on line, but needed another yard as it spun back down a slope off the green. He got up and down for par, though, to stay at three over for the tournament.
On the 203-yard, par-3 third, Woods short-sided himself in the bunker with his tee shot. He couldn't get up and down, picking up his first bogey of the day and dropping him back to even par on the round. 72 watch?
Woods made solid pars on back-to-back difficult par 4s. He just missed a birdie putt on No. 13, but considering where his drive on No. 14 ended up (You guessed it, WAY right), he had to be happy to remain at even par for the day.
Woods added three more pars on Nos. 15-17. Not bad, but not the charge he was hoping to mount, either.
Another par on the difficult 18th hole gave Woods an outgoing 36. He missed the fairway and the green on the par-4 first, but hit a great pitch and converted a six-footer to keep the par train going.
Another hole, another par, although this time, Woods provided a little more excitement. The second hole was playing into such a stiff wind that Woods -- even after a good drive -- had 233 to the hole. He hit a stinging iron to the back of the green, though, and then burned the edge on his birdie attempt.
Scores are definitely higher on Day 2, but Woods is still currently tied for 120th. The top 70 and ties make the cut.
Woods' chance of sticking around for the weekend took a huge blow with a bogey on No. 3. Woods came up short on the par 3 (like just about everyone else on the 244-yard hole playing into the wind), hid a decent chip with an 8-iron, but missed a six-footer for par.
Not that Woods is the only big name struggling. Playing partner Jason Day, Phil Mickelson and Rickie Fowler are also currently outside the cut line.
On the par-5 fifth, Woods finally picked up his second birdie. As he did on his first hole of the day, Woods hit his second shot through the green and got up and down -- nearly holing his pitch shot for eagle. Still, Woods might need to birdie out to make the cut.
On the drivable par-4 seventh, Woods. . . laid up off the tee. He missed the green and settled for par, all but ending his chance of sticking around for the weekend.
On No. 8, he missed another birdie opportunity when his 15-footer just slid by the hole.
Unlike Thursday, Woods couldn't finish on a high note. Another solid pitch set up a six-footer for birdie, but Woods missed on the low side and settled for one final par. Woods finished with a 72 and at four over to miss the cut. Incredibly, both Day and DJ missed the cut also.
"Overall, today was a lot better than yesterday," Woods told reporters after. "I hit it much better, and we fixed a few things out there."
Woods will play next week in the European Tour's Dubai Desert Classic. Then he'll take an off week before playing back-to-back events at Riviera and the Honda Classic to cap a stretch of four tournaments in five weeks.
"I need more rounds under my belt and more playing time. . . . Just like everybody, I'm trying to get ready for that first week in April," he added.
In other words, it's a process.