News
Tiger Woods was a fascinating story in 2018. But don't be blinded: He wasn't the only one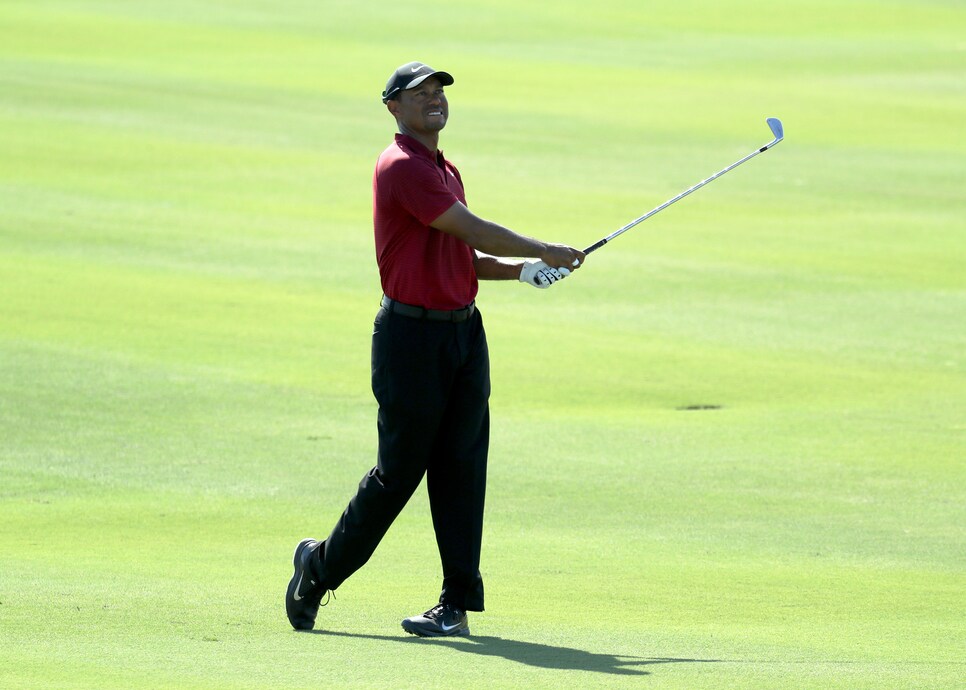 Photo By: Rob Carr/Getty Images
I was cruising the Internet Thursday afternoon, trying to catch up on what was going on in the world. I came upon one sports site—not a golf site—and there was the headline: "Live Updates—Tiger digging a hole." For a split second I wondered if I had somehow fallen asleep and awakened on the second Thursday in April and Himself had gotten off to a bad start at the Masters.
I checked the date. No, it was still Nov. 29. I was a little punchy from the book tour I've been on, but not quite that punchy. The "live update" was from the 18-man exhibition Woods and his foundation run in the Bahamas. (Sorry, corporate sponsor, your name slips my mind right now).
Look, I completely get the whole icon thing with Woods. He is, in my opinion, the greatest player in history—all due respect to Jack Nicklaus. I also understand that to many people the only story that mattered in 2018 was his comeback. TV ratings (and Internet traffic) certainly reflect that fact as do the adoring screams of fans whenever he's on the golf course.
Taking out the golf part, whether I completely understand the Tiger phenomenon is another story for another day. But, as I said earlier in this year amidst the hysteria every time he teed it up, I think it's a shame that his return to glory—not Glory, which would involve winning a major—so completely overshadowed some wonderful golf stories that took place in 2018.
Folks, Brooks Koepka started the year not knowing if or when he would play again because of a serious wrist injury. He tried to play Kapalua and shot about a million over par before shutting himself down. He didn't play in the Masters and didn't make it back to the tour until the team event in New Orleans in late April. Seven weeks later, he won the U.S. Open—again.
Since Ben Hogan won back-to-back Opens in 1950 and 1951, exactly two men have matched that feat: Curtis Strange in 1988 and 1989 and Koepka. The golf world reacted to this remarkable double as if Koepka had won for a second straight time at the Quad Cities (no offense). After all, Woods had comfortably missed the cut comfortably at Shinnecock, so, to many, the weekend never really happened.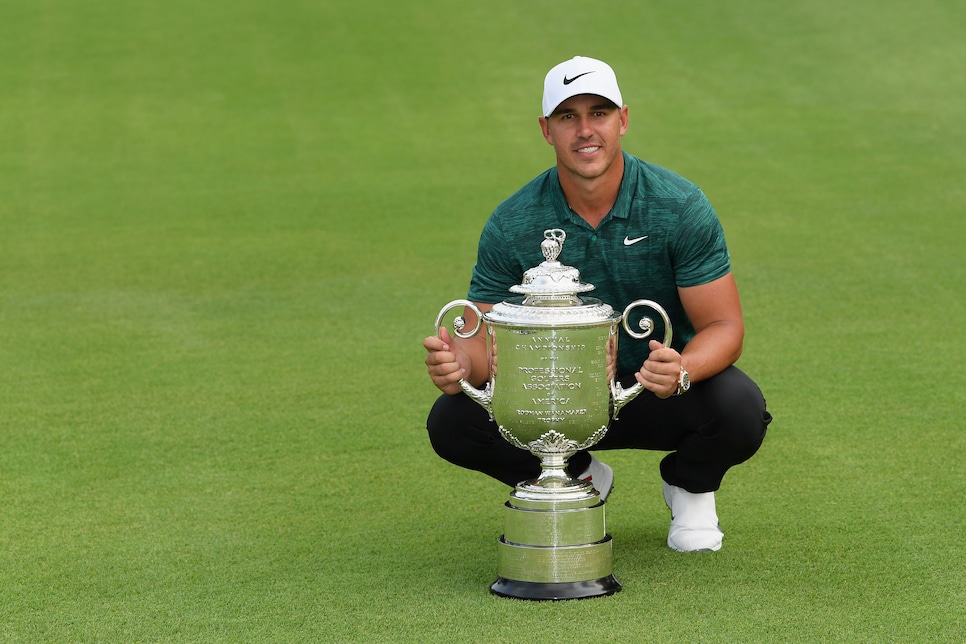 Ross Kinnaird/Getty Images
Koepka climaxed his own remarkable comeback when he won the PGA Championship in August, but, as CBS' Peter Kostis pointed out in a rare moment of TV introspection, he and Adam Scott played in "virtual privacy" in the final group on Sunday because almost everyone on the property was watching Woods—who ended up finishing second.
When CBS showed its "Shot of the Day" from the final round at Bellerive, it wasn't one Koepka pulled off en route to victory but rather Woods' virtually meaningless birdie putt on the 18th hole. It was significant in this sense: Woods and his breathless fans celebrated it as if it had been for the win. There was clearly irony in someone who once said "second place sucks" celebrating finishing second. Being fair, it was also kind of nice to see: someone who rarely seemed to enjoy any of his 14 major victories for more than about 10 minutes, clearly reveling in being able to contend again.
It wasn't Woods' fault that his play made everyone else in golf invisible. It was the fault of the panting fans, the panting media and the panting TV people. I'm not saying what he accomplished wasn't remarkable or wasn't a story—it was and it was.
I had an argument at Augusta with a colleague who told me I should be rooting for Woods to play well because those of us who cover golf are "part of the golf industry." Respectfully, I disagree. It is our job to cover the sport and those who play it, not to promote it or them. I realize I'm in a minority among those who regularly cover golf, but I'm fine with that.
I will leave it to others to cover all things Tiger. I'm very happy to write about Patrick Reed—who, whether you like him or not is far more interesting to talk to than Woods (for the record, I like him)—or Francesco Molinari or Rory McIlroy or Sam Saunders or Erik Compton.
To me, Compton is a perfect example of the kind of story golf people overlook, at least nowadays, in part because they're having paroxysms of joy every time Woods makes a birdie. I know Compton has been written about and talked about in the past, and if you follow golf you know he's had two heart transplants and finished tied for second at the U.S. Open in 2014. But for crying out loud the guy's life should be a movie—or at least a book. No athlete in any sports has ever done what Compton has done. Period.
Several years ago, when I was still working for Golf Channel I suggested the idea of a Compton documentary to one of the higher ups. "I'm Erik Compton'd out," was the reply. Golf Channel had done a seven-minute feature of Compton, which was basically a recycling of a Frank Deford piece on HBO. That was enough of what is arguably the most remarkable and unique story in golf history.
I digress. My point is this: The year 2018 was full of remarkable golf stories. Koepka's two major victories—don't tell me he's boring; winning majors isn't boring—Molinari's remarkable year, including beating Woods on Sunday twice with flawless rounds (outside Washington, D.C., and that event over in Scotland, what's it called? Oh right, the Open Championship); Reed's Masters victory and all the ensuing controversy surrounding him.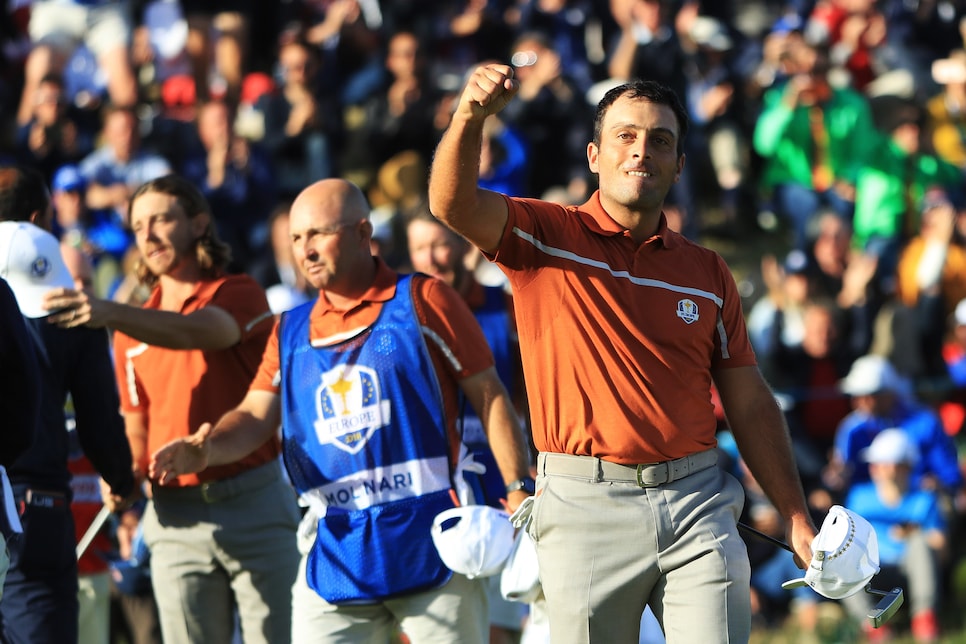 And, oh yeah, the Ryder Cup. Remember two years ago when the U.S. had unlocked the secret of Ryder Cup success with the famed, "Ryder Cup Task Force?" Not exactly.
What happened in 2016 is that Europe had its weakest team in years that included six rookies, none of whom made the team in 2018, and a couple of players Darren Clarke had to put on the team because he needed some experience: Martin Kaymer and Lee Westwood, even though neither was playing very well.
You take that, throw in a golf course set up for the U.S.—wide fairways, light rough and fast greens—and, voila, the Americans all love one another and they win going away. Trust me, if you'd given Tom Watson those conditions, he'd have been a beloved captain.
Two years later, Europe had a stronger team and Thomas Bjorn—not Davis Love III—controlled the setup in Paris: narrow fairways, high rough, slower greens. Voila, Reed's complaining about Jim Furyk's pairings the same way Mickelson whined about Watson four years ago, and Dustin Johnson and Koepka have to be separated at the Sunday night after-party. Mickelson and Woods were awful—maybe they were saving their strength for "The Ripoff" that they staged post-Thanksgiving—and the result was a European runaway.
To me, the story of the Ryder Cup was a lot more compelling than Woods' victory in Atlanta. Was that a story? Absolutely. But people in golf acted as if Woods had carried 10 stone tablets up the 18th fairway with him at East Lake, not a putter.
Now, the drama of the Bahamas—not—is over. Woods has finished 17th out of the 18 players in the field (hard to make that seem exciting) and engendered some controversy with a double-hit Friday that he dodged being penalized for because of golf's new "if you can only pick it up on HD, it doesn't count" rule. Everyone in golf will begin gasping all over again when Woods tees it up in 2019. All of which is fine. When Woods gets in the hunt at a major, I'll be paying rapt attention. Until then I'll be watching the other guys.