News
Tiger's Warm-Up, Minute By Minute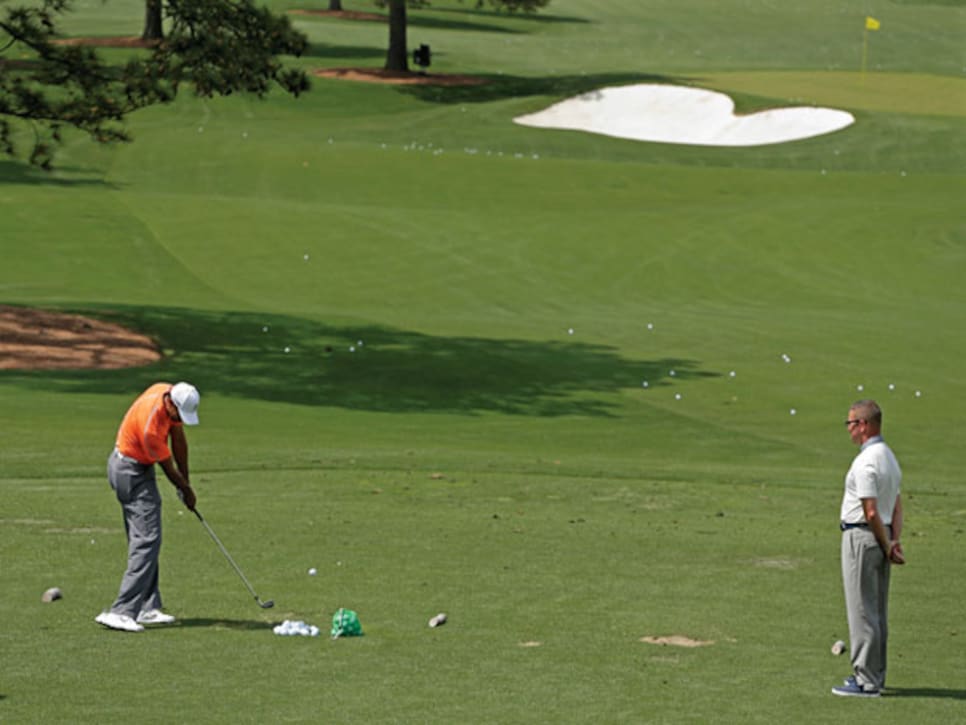 One On One: Tiger Woods with Sean Foley.
Tiger Woods is a creature of habit. During the 2013 Masters, he arrived at Augusta National two hours before his tee time each day. With some exceptions for wind conditions, this was his practice routine, minute by minute:
:00 Gripping the putter with just his right hand, he rolls two 30-footers to the edge of the green.
:01 Drains six four-footers with just his right hand.
:03 Sets up a gate of two tees just wide enough for his putterhead to pass through. Using six balls, he rolls four-footers right-hand only, left-hand only, and then with a normal grip.
:10 Tosses four balls back to caddie Joe LaCava. With the remaining two, rolls putts of varying length.
:17 Moves to the short-game area for chipping and pitching.
:22 Moves to the farthest-left position of the practice tee. First shots are 50-yard pitches to a plate at the front of the range.
:26 Full wedge shots to target greens.
__:30__Aiming at miniature yellow flags that establish the right border of the range, moves sequentially down the bag from short irons to middle irons.
:39 Hits long irons to target greens. Then hits 5-woods.
:44 Takes a three-minute break.
:47 Hits teed 3-woods, then drivers.
:52 Hits seven 8-irons, then three full wedges.
:55 Practices bunker shots.
:59 HIts four teed 3-woods (the club he will use on the first tee).
:60 Breaks before putting for 10 to 15 minutes before the start of his round.