Fan Boy moment
Tiger Woods makes a PGA Tour appearance and fulfills a tour pro's lifelong dream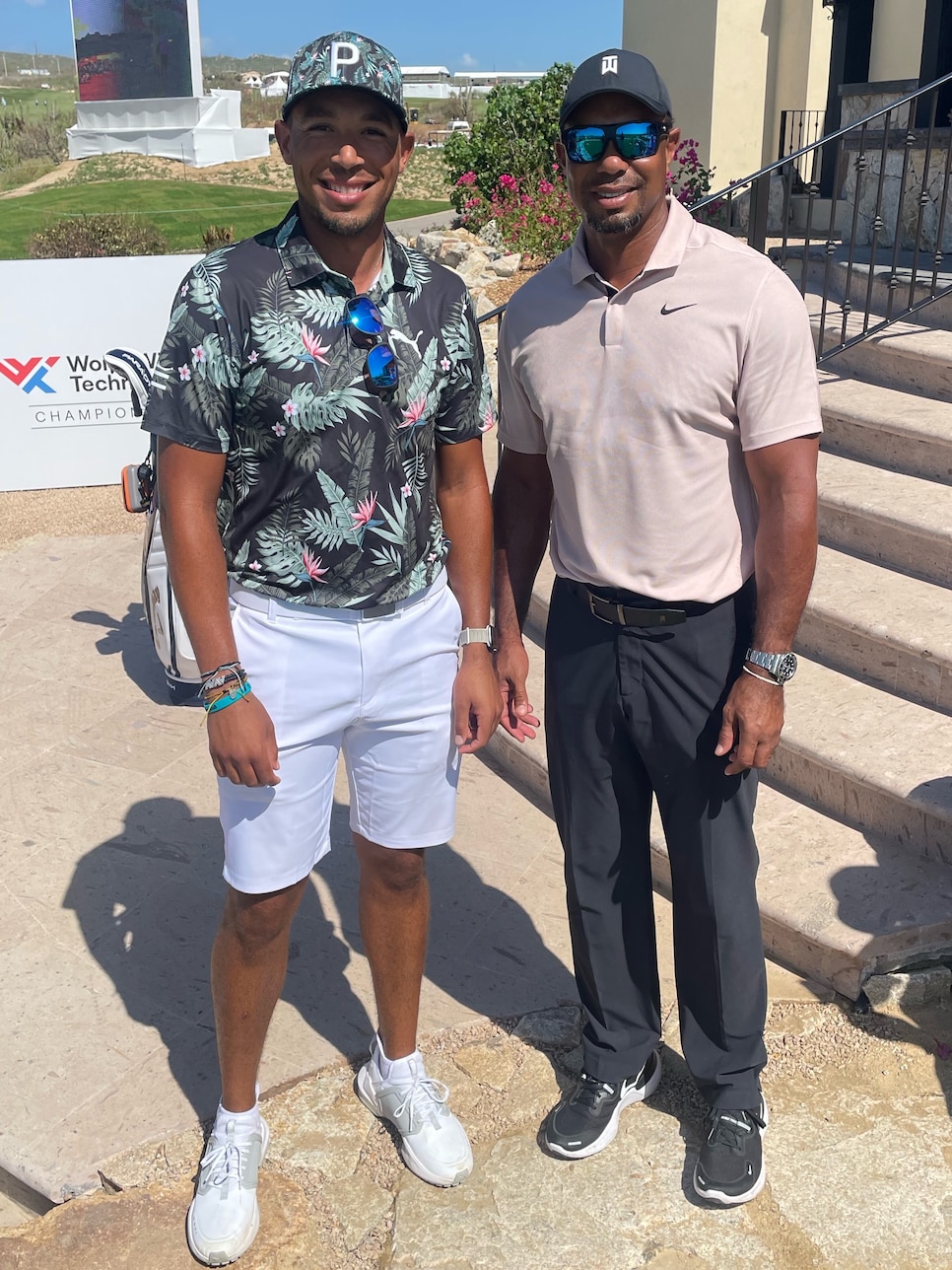 Chase Johnson poses with Tiger Woods while meeting the famed golfer for the first time. (Chase Johnson photo)
It was not the first place you would expect to see Tiger Woods on the last day of October, but then again, there was probably no place he would rather be than Cabo San Lucas, Mexico, for yet another career milestone.
Like a proud dad, Woods on Tuesday tooled around the golf course, El Cardonal at Diamante, that he and his company, TGR Design, fashioned in 2014. It was Woods' first layout that opened, and this week it becomes the first course of his to host a PGA Tour event. The World Wide Technology Championship was played 16 times at El Camaleon Golf Club in Mexico's Riviera Maya, but after Mayakoba chose to host LIV Golf events, the tour moved the tournament this year to the tip of the Baja California peninsula.
Of course, Woods making an appearance already gives the event some extra juice. He's been rarely seen over recent months, not having played since the Masters, though there remains the possibility that he will play in his own Hero World Championship in December.
For one pro golfer, however, Woods' presence meant a lifelong dream was realized.
Chase Johnson, a dominant player this season on the Advocates Professional Golf Association Tour, earned an exemption into the World Wide when he won the APGA event in Cincinnati. In an interview with Golf Digest earlier this month, Johnson, 27, said he idolized Woods from a young age and watched all 82 of his PGA Tour wins on YouTube. Woods' video game was an obsession, as was the movie on Tiger's life story.
But in numerous attempts to get Woods' autograph at the PGA Tour event at Firestone Country Club near his home in Ohio, Johnson failed, despite often looking like a little Tiger clone from head to toe. He recalled coming very close on one occasion, only to have the crowd push over a barrier and send Woods scrambling. "I thought it just wasn't meant to be," Johnson said.
So, imagine Johnson's mind being blown on Tuesday when Woods walked up to the No. 1 tee as Johnson prepared to play a practice round. The younger golfer had delayed his tee time by 20 minutes to get a haircut in the locker room, and that proved perfect timing.
"It was unreal," Johnson said in a text to Golf Digest.
Woods talked about how happy he was with the new tee box and asked Johnson what the cover yardage was to the fairway bunker. Johnson pulled out his yardage book, told Tiger it was 290, and he said, "Yeah, I just hit my weak little cut right of it."
Johnson said they shook hands and he introduced himself to Tiger. A couple of minutes later, as Woods headed for the clubhouse, Johnson asked to get a picture. "I found it an extremely successful interaction. I managed to remember my name and not stutter haha," Johnson texted.
Get this, though: Johnson still didn't get Tiger's autograph. The day was hardly ruined.
"The picture was enough for now," he said. "I'll get the autograph when I get my first win."