News
Tiger Woods live blog: Woods shoots one-under 70 in opening round of Valspar Championship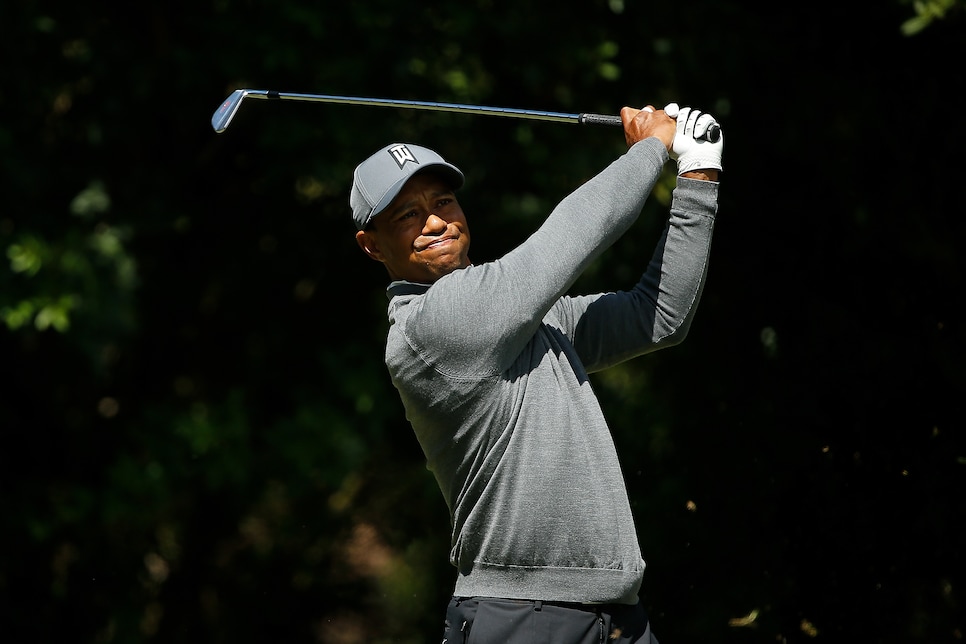 Tiger Woods said on Wednesday that he wanted to know how his stats stacked up against the rest of the PGA Tour. There was just one little problem: He hasn't played enough rounds yet to officially qualify. That should change over the next couple weeks, though, as Woods begins the first of back-to-back starts on Thursday at the Valspar Championship. The 14-time major champ is teeing it up for the fourth time this season, but the first time at this tournament. However, he has competed at Innisbrook before, teaming up with Kelli Kuehne at the 1996 JCPenney Classic. "It was a different game, long driver was maybe 44 inches, maybe," Woods said at his pre-tournament press conference. "Half the guys were using persimmon, balata balls were the No. 1 ball out here. It was just a different game." The style was different, too, as evidenced by the pair's now laughably baggy pants.
5:48: Woods' final stats for his first-round 70? Nine of 13 fairways, nine of 18 greens, and 25 putts. It was also his first sub-par opening round since the 2015 Wyndham Championship, which was also his last top-10 finish on the PGA Tour. Woods will tee it up with Spieth and Stenson again on Friday at 7:56 a.m.
5:43: After his round, Woods spoke with Golf Channel's Steve Sands. Here's what he said of the conditions: "It was brutal out there. We as a group got fooled a lot."
And of that risky recovery shot:
"It didn't feel very good."
Maybe not, but we're guessing it feels a lot better now.
5:37: Woods misses the fairway right on No. 18, but finds the green with his approach. He two-putts from about 40 feet to shoot a one-under-par 70. Woods is currently T-8, just three shots behind leader Corey Conners. More impressively, he beat playing partners Henrik Stenson (74) and Jordan Spieth (76) by a combined 10 shots. Previously, Woods had never beaten Spieth in seven head-to-head rounds, being outplayed by more than five shots per round. For at least one day, he flipped the script.
5:16: More fireworks from Woods as he nearly aces the 17th hole, following up that vintage par save with a vintage shot:
And yes, a vintage club twirl.
5:10: So much for Woods' round settling down. After a pulled iron shot off the tee on No. 16, Woods found himself in a dicey spot in the trees and pine straw. He then did this, which had golf fans everywhere holding their collective breath:
Woods pitched to three feet and converted for the most spectacular -- and dangerous -- par of his latest comeback.
4:50: Woods gets, perhaps, a tad unlucky as his on-line tee shot on the par-3 15th runs just through the green. He comes up just short on his birdie chip, but taps in for another par. Woods seems to have settled down in an up-and-down round, but now he's got "The Snake Pit," the closing three-hole stretch at Innisbrook's Copperhead Course.
4:42: Woods finally makes his first par in nearly two hours, but it's a disappointing one at that. After narrowly missing the fairway with his tee shot, Woods was forced to layup and then misjudged a wedge on his third. But he gets up and down to remain at even.
4:21: Woods' par-less streak continues in a bad way on the par-3 13th. After airmailing the green, Tiger hit a pretty nice pitch shot from a buried lie in the rough to six feet, but lipped out another putt. He's back to even, but he's got a final par 5 of the day coming up next.
4:10: You can't say Woods' round hasn't been eventful. After coming up short in a greenside bunker on his approach to the par-4 12th, he violently lips out a five-footer for par, but makes another five footer to salvage bogey and drop to one under. He hasn't made a par since the seventh hole.
3:51: Woods makes a second consecutive birdie, taking advantage of the 564-yard, par-5 11th despite only hitting iron off the tee. After hitting his second shot to the rough just off the green, Woods pitched to gimme range for his third birdie in the last four holes. Tiger moves to two under for the first time on the day, into the top 10 for the moment, and just two shots behind clubhouse leader Corey Conners.
3:29: Following a bogey, Woods helps his bounce back stats on the par-4 10th. He splits the fairway with another 3-wood, hits it to 15 feet and drains the putt for his third birdie of the day to move back to one under.
3:15: Woods can't keep the momentum going on the par-4 ninth. He finds a right greenside bunker with his approach and after stopping mid-swing on his third shot due to a "Fore right!" shout, hits a nice bunker shot to seven feet, but fails to convert. The bogey gives Woods an even-par 36 on the front nine. On a day without a lot of low scores, Tiger is still the low man in the marquee group, shooting two shots better than Henrik Stenson and four better than Jordan Spieth.
3:00: Technically, it won't go down as a bounceback birdie in the stats, but Woods had to feel pretty good picking up a shot on the par-3 eighth after his short miss for birdie on No. 7. Watch as Woods hits a beautiful shot to 13 feet and drains the putt to get back into red numbers.
2:48: Woods provides his first highlight-reel moment since the first hole by hitting the flagstick on his approach shot on No. 7.
However, he misses his birdie putt from six feet to stay at even.
2:33: Woods pulls 3-wood for the first time and splits the sixth fairway. His wedge finishes a disappointing 25 feet from the hole, though, and he two-putts for another par to stay at even. The crowd following Big Cat remains calm (for the moment) and LARGE:
2:18: Another hole, another adventure for Tiger. This time, however, he's able to save par on the par-5 fifth following a wayward drive right that wound up in an awkward spot above a bunker. From there, Woods hacked back to the fairway and hit a 4-iron from 244 yards to just off the green. After a nifty bump-and-run with a 7-iron, Woods converted from three feet to stay at even par.
1:57: Woods badly misjudges the win on the par-3 fourth, hitting first in his group and sending a 7-iron about 30 yards over the green and into pine straw. With a limited swing thanks to a tree, Woods can only chop one into the rough. From there, he gets up-and-down -- making a five-footer for par -- for a hard-earned bogey to drop back to even par.
1:37: After another iron off the tee into the fairway, Woods' is stunned his on-target approach comes up just short of the third green. He's even more surprised moments later when his 36-footer from the fringe lips out after he started to walk it in. Still one under.
1:20: Woods finds the fairway on the par-4 second with an iron, but seems to misjudge the wind with his approach and winds up on the back of the green. After his birdie attempt from 51 feet comes up eight feet short, Woods makes for par to stay at one under.
1:00: After missing the green left from 225 yards, Woods hit a brilliant flop shot from deep rough. His golf ball narrowly missed finding the hole for an eagle, but he'll happily settle for a tap-in birdie to start his round.
12:46: And we're off! Woods smokes a driver that finds the left side of the fairway. He's in good shape to get off to a quick start on the opening par 5.
12:05: One man who wouldn't be shocked to see Woods win this week? Last week's winner, Phil Mickelson. Here's what he said on The Dan Patrick Show:
11:30: Tiger Woods is in the house, y'all.
As you can see by Woods' sweater (and that dude wearing a hoodie in the background), it's a bit brisk in the Tampa area this morning. That hasn't kept players from posting so pretty decent scores so far, though. Here's a current look at the Valspar Championship leader board.
9:30: On the subject of sample size, Joel Beall has an interesting piece today regarding the number of rounds statisticians need to see from Woods before making any solid conclusions about his game. Check it out. So far this season, Woods has only played 10 rounds in three starts, finishing T-23 at the Farmers Insurance Open, missing the cut at the Genesis Open, and finishing solo 12th at the Honda Classic. He plans to play the Arnold Palmer Invitational next week, but that will likely be his final start before the Masters next month. Speaking of which, you should also check out our top 13 picks (for now) to win this year at Augusta National.
8:46: We're T-minus four hours until Tiger's tee time. Woods is not at the course yet. In fact, he's probably not even close to arriving. We'd like to picture T-Dub cracking open a cold Monster to get his day going, but he's probably been working out for a few hours at this point. Anyway, let's get caught up on what he did during Wednesday's practice round. According to Golf's Dylan Dethier, Woods only hit six greens in regulation, but he made up for that by needing only 24 putts to shoot even par. He birdied No. 18, but the real highlight of the day came when a young fan wondered under the ropes with an interesting T-shirt:
A lot of Tiger fans with kids are upset they didn't think of that first.