News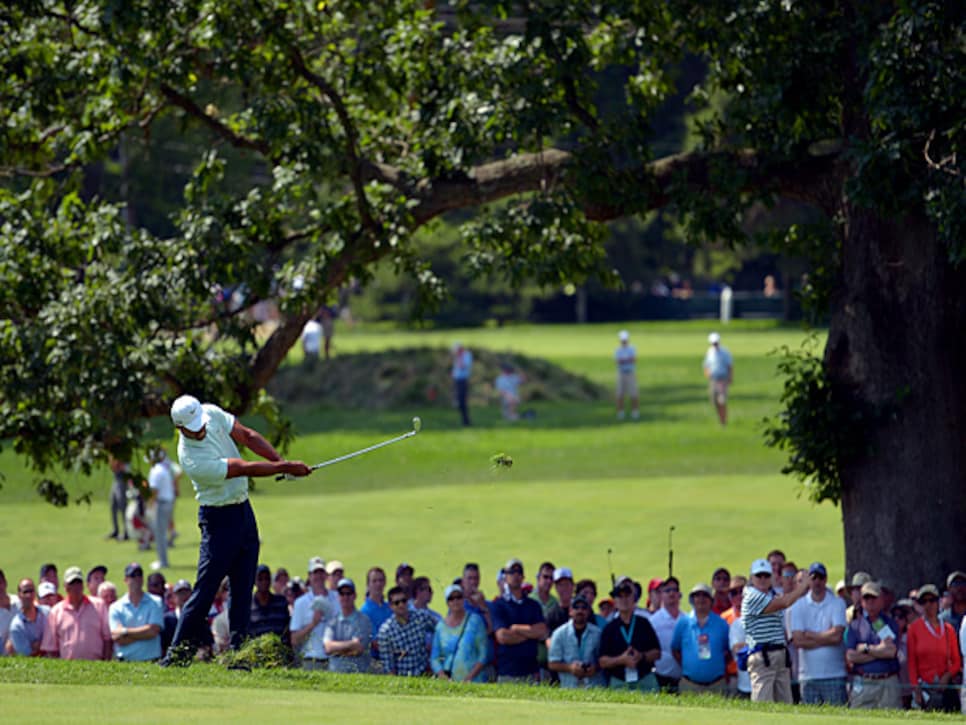 Woods matched his worst score as a pro at the U.S. Open on Saturday with a 76.
ARDMORE, Pa. -- From 12 feet above the first hole, facing a downhill putt that would curl left to right in a hurry, Tiger Woods announced that this U.S. Open had, at last, started. No major really starts until Tiger's name is on the board. The sensational birdie make moved him within four shots of the lead, behind only three players. He had 35 more holes to play. Game on.
Five hours later, an amateur named Michael Kim, 19 years old, made four birdies in six holes and found himself looking at a leader board -- not to see where he stood against par, not to see how close he was to the leaders. "I just thought it was super cool to see my name on that big leader board," he said, his name there alongside "Schwartzel, Mickelson, Donald, all those guys."
All those guys -- but no Tiger.
It's a recurring theme in Tiger's quest for full golfing redemption. He is stuck at 14 major championships, five short of achieving the 19 majors necessary to realize his dream of breaking Jack Nicklaus' record of 18. Woods hasn't won a major since the 2008 U.S. Open, first set back by leg and knee injuries, then by failures in his personal life, and now, it seems, by asking more of himself on major weekends than, at age 37, he can produce.
There's enough in him to win any tournament anywhere, anytime. He is fit, he is strong, he is committed to the idea of Being Tiger Again.
He has rebuilt his game and may have rebuilt his personal life with a relationship with the Olympic downhill skier, Lindsey Vonn. Even this year, Woods has won four times on the PGA Tour.
Still, 19 majors have come and gone since Woods won one. In the spring of his greatness, a decade and more ago, Woods shared the rarified air with no one. He was so dominant that no one else could win a championship unless, in an odd turn of fate, Tiger lost it. Now, in the chill of fall's coming in his career, Tiger has allowed a platoon of challengers to form -- 18 different players have won the last 19 majors. The Schwartzels, Mickelsons, McIlroys, McDowells, all those guys.
Woods is a smart man. He knows what's happening. He knows that every great athlete comes to a period when desire exceeds possibility. But who could say such a thing out loud? They all have become great by proving the implausible possible. No way would Tiger Woods, of all people, admit that he no longer can do what he once did.
Instead, he speaks in euphemisms, as in a brief meeting with reporters after his six-over-par 76 in Saturday's third round ended his chances here. He is behind 30 players. He is 10 shots behind the leader, Phil Mickelson.
He didn't call himself disappointed.
He didn't say he is failing when once he succeeded, on weekends at majors. "I'm playing well enough to do it," he said, "and, unfortunately, just haven't got it done."
He said he was close at the Masters in April -- until "I hit that flag and ended up in the water." Yes, a bad break -- made worse by a brain cramp and an illegal drop costing him a two-shot penalty. In today's round, on the fifth fairway, his drive came to rest in a divot that he said cost him a bogey that "really turned my round around."
These are minor events once forgotten in the glow of brilliant play. On this day, he even hit a shot that a weekend hacker might recognize. From the fringe at the sixth green, no more than 30 feet from the hole, he thought to pop up a lob wedge and let the ball roll to the hole.
We've seen him do it a hundred times.
But this time, "I had to throw it up there and so I had to try and shallow it out and I did it too much." The ball didn't fly a foot, took one bounce, and rolled sideways downhill, winding up, embarrassingly, behind where it started.
Mostly, though, he putted so poorly that a reporter asked, "Do you have a feeling for why you are not putting as well as you did five, six, seven years ago?"
Woods, staring at the man, unblinking: "I think I was leading the Tour the last couple weeks. I don't know what you're talking about."
Reporter: "Well, but at the majors, you're not putting at the majors as well as you used to, do you feel?"
A minute or two later, he admitted, yes, he hadn't putted well. "I just didn't make anything today. I just couldn't get a feel for them. Some putts were slow, some were fast, and I had a tough time getting my speed right. . . I just didn't make the putts I needed to make. . . The first two days, I had like three three-putts and I was four shots off the lead, and I missed a boatload of putts within 10 feet. So I really wasn't that far off."
And after that, I imagine, he went home and began to think about a weekend in July, a weekend at the British Open, one more weekend to get it done.