Random Daggers
Tiger Woods once texted this savage message to a fellow major champ having travel troubles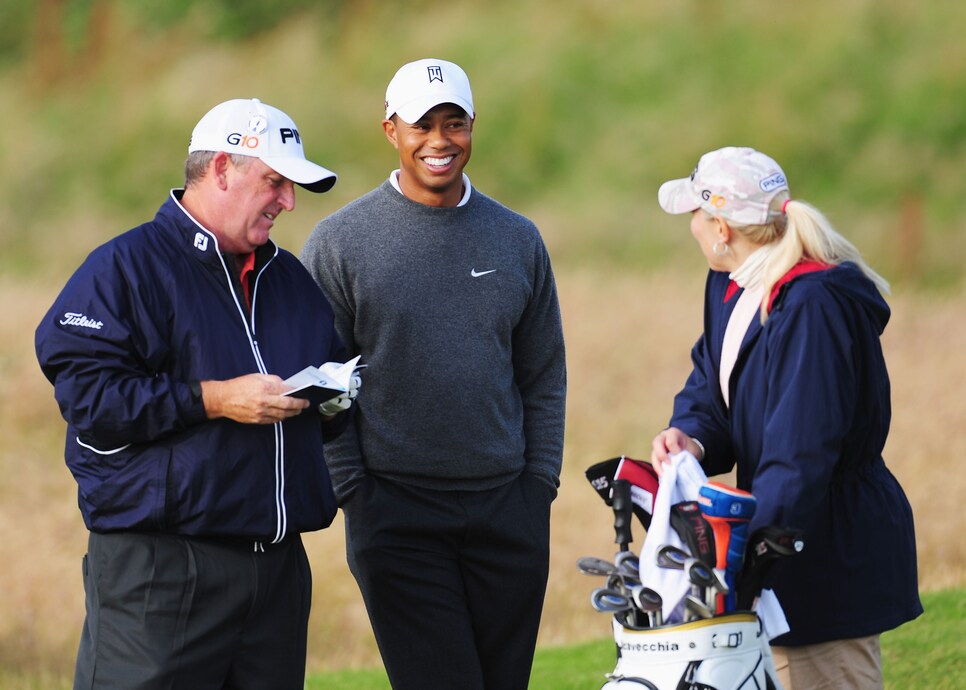 Tiger Woods and Mark Calcavecchia at a practice round ahead of the 2009 Open Championship.
Stuart Franklin
Golf fans miss Tiger Woods as he continues to recover from his latest surgery. So it's always nice for something that pops up that gives us a chance to talk about the 15-time major champ. In this case, though, it has nothing to do with anything he did on the course.
There's a perhaps overused, but pretty accurate phrase that when it comes to interest in pro golf, "Tiger Woods doesn't move the needle, he IS the needle." That being said, the golf legend has made it clear throughout the years that he loves "giving the needle" to his friends and competitors on and off the course. And thanks to another major champ, Mark Calcavecchia, we have a fantastic tale of Tiger doing just that.
In a Friday response on Twitter to fellow PGA Tour Champions player Bob Estes, who was having a miserable travel day, Calc shared a time he had his own six-hour flight delay following a tournament in which Woods played. Frustrated, the 1989 British Open champ texted Tiger, "Gee, thanks for the lift home," referencing the fact that he wasn't offered a ride on Big Cat's private jet. And Woods hit him with a brief, but savage response.
"Play better." Damn, that's cold.
Someone asked if that's really all Tiger texted back and Calc confirmed the concise message.
The moral of the story? Don't expect much sympathy (For the record, Mark and Bob, we feel your pain) from a man who travels exclusively via PJ and a yacht the size of a football field. Oh, and if you want to travel like that? You guessed it, play better.