News
Bumpy Rides For Tiger And Rory At The Honda Classic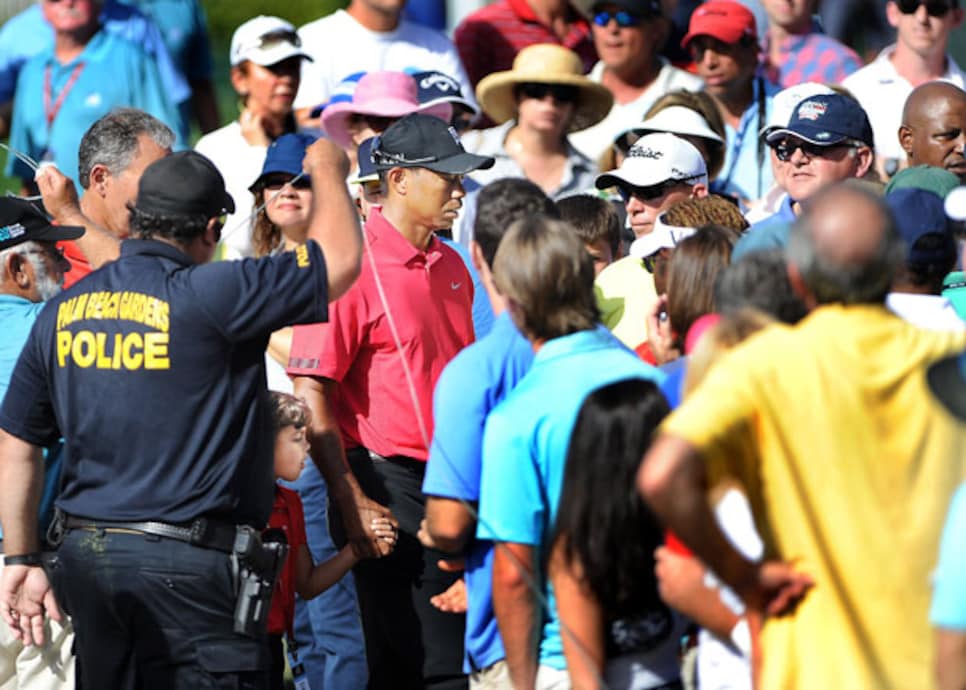 Woods withdrew after 13 holes on Sunday with a bad back.
Tiger Woods was home on Jupiter Island nursing a bad back by the time Rory McIlroy was playing a bad back nine at PGA National. Woods' spasms are chronic; McIlroy's uncharacteristic.
The only time McIlroy blew a 54-hole lead in the United States in four previous tries was his collapse at the 2011 Masters. It wasn't like Woods' 53-for-57 record protecting Sunday leads, but considering the players in contention, and the fact McIlroy won the 2012 Honda Classic, this potential victory looked like a win-win.
For McIlroy, a win would signify his comeback was complete and soften some of the rough edges left by last year's withdrawal at the Honda for what was officially described as a toothache.
For the Honda, a hometown win for the Palm Beach Gardens resident would give the tournament another boost of star power in its ascent as a premier event on the PGA Tour.
Instead, with McIlroy shooting 74 and losing in a playoff to a worthy champion in Russell Henley, this turned out like a root canal for the Northern Irishman. "You know, even if I had had won, it would have felt a little bit undeserved in a way," McIlroy said. "I mean, look, I counted myself very fortunate even to be in the playoff."
You have to admire the kid's honesty and also his perspective. He had a putt to win the tournament after a towering 245-yard fairway wood on the 72nd hole, and fanned it. This was his third stroke play event this year, and he has been in contention three times, finishing T-2 in Abu Dhabi with a final-round 68 and T-9 in Dubai, where he admittedly tried too hard on Sunday. "I just need to pick myself up and get back at it, go down to Doral and try to put myself in a position to win and see if I can do a better job," McIlroy said.
As for Woods, this was his third stroke-play event of the year, and he has not been in contention in any of them. He opened with a T-80 in the Farmers Insurance Open, flew across the globe for a T-41 in the Dubai Desert Classic, and drove away from the Honda in an SUV after his sixth WD in 297 PGA Tour events as a pro.
Walking gingerly to his car, slightly bent over, favoring his injury, Woods was clearly not taking any chances with the Masters six weeks away. This was a recurring issue that Woods dealt with during the 2013 FedEx Cup playoffs, when he gutted out a T-2 at the Barclays and took seven weeks off after the Turkish Airlines Open -- followed by another six weeks after Zach Johnson beat him in the Northwestern Mutual World Challenge.
"If you're hurting, you're hurting," playing partner Luke Guthrie said. Truth is, Woods' golf game is hurting at a time when he least needs it.
"It's too early to tell," Woods said about the severity of the injury, and his prospects of playing in this week's WGC-Cadillac Championship at Doral.
As for the season, it's not too early to conclude that the two biggest stars in the game have their issues -- some worse than others.