News
Tiger Woods, Rory McIlroy and others wear ribbons in honor of those slain in shooting at nearby high school last week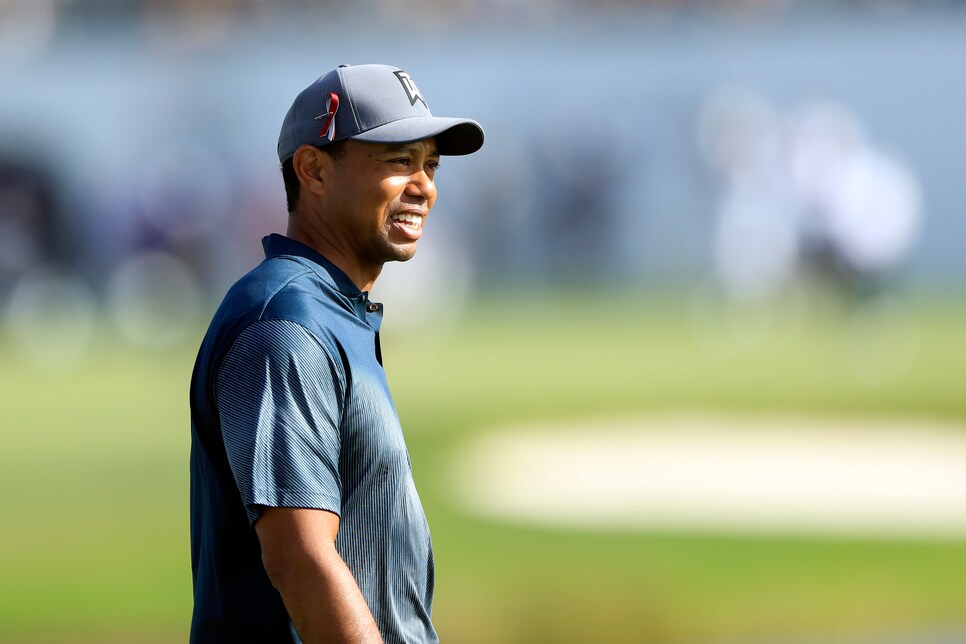 PALM BEACH GARDENS, Fla. — Tiger Woods wore a maroon ribbon with the letters "MSD" written in black on it on his hat during Thursday's opening round of the Honda Classic. So did Rory McIlroy, Justin Thomas and several other players.
It was a show of support in the face of tragedy.
A week ago, 17 people, mostly students, were killed in the mass shooting at nearby Marjorie Stoneman Douglas High School. PGA Tour veteran Nicholas Thompson and his wife, Christen, are alums, having graduated from the Parkland school in 2001, and they wanted to do something.
So Thompson, who isn't in the field this week at PGA National but lives close to the course, provided more than 2,000 ribbons to be distributed among players, caddies, wives and volunteers.
They also ordered more than 3,000 maroon rubber bracelets with the words "Eagle Pride #MSD Strong" written in silver that they're distributing in exchange for donations to help victims and their families. They've also set up a GoFundMe page that sends any money raised to the Stoneman Douglas Victims Fund page. The Broward Educational Foundation fund had raised nearly $2 million by Thursday afternoon.
"It's hard to believe," said Thompson, who through the tournament also had notices distributed to players' lockers about the fund in the hopes of raising more money. "Everyone's kid is going to school, so this, unfortunately, could happen anywhere."
Said Thomas: "It's awful what happened, and any time the tour can support in any way a tragedy or something like that that would happen, we're always going to be for it."
Added Woods, who met with one of the school's students a day earlier and like a lot of players in the field this week lives in South Florida not far from the school: "It's just a shame what people are doing now, and all the countless lives that we've lost for absolutely no reason at all. It's just a shame, and what they have to deal with, at such a young age, the horrible tragedy they are going to have to live with and some of the things we've seen, just don't go away."
Thompson, who set up a tent behind the driving range and on Thursday met with a couple of students from the school at the tournament, said he hopes to visit the high school next week. His goal in the meantime is simply to raise as much money and awareness as possible.
He's also hoping to see some changes, whatever they may be.
"In my eyes, I'm not pro-gun or anti-gun, but I don't think [people owning assault rifles] are necessary," Thompson, whose sister, Lexi, is an LPGA star, said. "Unfortunately, they get in the wrong hands and that's what we need not to happen.
"We need to do something, anything that will make kids safer."