Tiger Is Back (Again)
'It's like Jesus is walking around': Pros react to news of Tiger's return at Riviera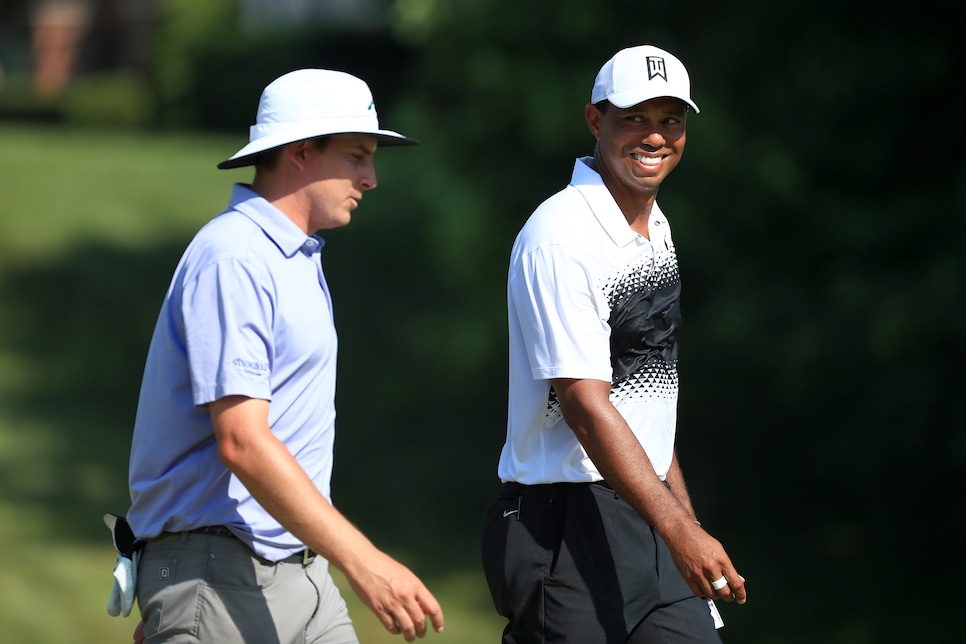 Tiger Woods and Joel Dahmen walk together during the 2018 Quicken Loans National.
Mike Lawrie
SCOTTSDALE — Joel Dahmen was just as pleasantly surprised as the rest of the golf world. In fact, when informed that Tiger Woods had announced he'd be returning next week at the Genesis Invitational, Dahmen's reaction sounded more like the reaction of a fan than of a guy playing next week at Riviera, which he is.
"Sick. Sick," Dahmen said.
Woods sent out a tweet on Friday afternoon that read "I'm ready to play an ACTUAL PGA Tour event next week at the Genesis Invitational." As tournament host, Woods would have been there anyway, but the event takes on a whole new meaning now that he's officially teeing it up, something he hasn't done since the 150th Open Championship at St. Andrews last July.
"The whole vibe on the property changes when he's there," Dahmen said on Friday at the WM Phoenix Open. "It's like Jesus is walking around."
Dahmen would know. At the 2018 Quicken Loans National, he was then still somewhat of an unknown journeyman and got paired with the 15-time major champion in Saturday's third round at TPC Potomac. The experience was everything he dreamed it would be and more. "No one cares what you're doing, and it's almost better that way," Dahmen said at the time, describing what it was like to play with Woods. "You're just in your own little world. You forget what's going on. You almost forget you're playing golf sometimes. You get kind of stuck watching, watching him, the circus around him."
You can bet Dahmen is hoping and praying they get to do battle once more.
"I just hope I'm tied with him after two days," he said.
Tommy Fleetwood, also in the field next week, smiled ear to ear when he heard that the Big Cat was back (again).
"It will be cool," the Englishman said. "Golf's better when he's playing and he's healthy. On a personal level for him, too, he has to be thrilled to compete."
Max Homa is thrilled to compete against Woods, too. In 2021, when Homa won his hometown event, Woods was not in the field, though he was on hand to congratulate Homa and present him with the trophy. It remains one of the most special moments of Homa's career.
"It's awesome, I feel like it's just a treat when he plays," Homa said. "We don't know what his future schedule will be, but hopefully he can play more. It's really exciting he's coming back. Obviously it's his tournament, so it already has a lot of buzz, but for him to be able to play is cool. Everybody's always excited to see how he's swinging it and how he's doing, so it'll be fun to watch."
Even if they need to drag Woods around the course, Homa says they will.
"I imagine we'll be carrying him down the hill on 1 and up it on 18. Which no one would mind."
Patrick Rodgers, a fellow Stanford Cardinal who tied Woods' record of 11 victories in college, was understandably pumped. He'll be on the grounds next week as well, in search of his first tour win at age 30. Rodgers has two top-15s at Riviera in his last four trips.
"Stoked," Rodgers said. "It's great, as good as it gets. Great for the tour."
Next week will mark Woods' first official non-major PGA Tour start since October 2020 at the Zozo Championship. It is a rather large deal, and it couldn't have come at a better time for the tour. From the WM Phoenix Open to Tiger at Riviera, it's safe to say the circus is very much in town.