News
Tiger Woods' quest to show kids, his own and those on the PGA Tour, how he became a YouTube legend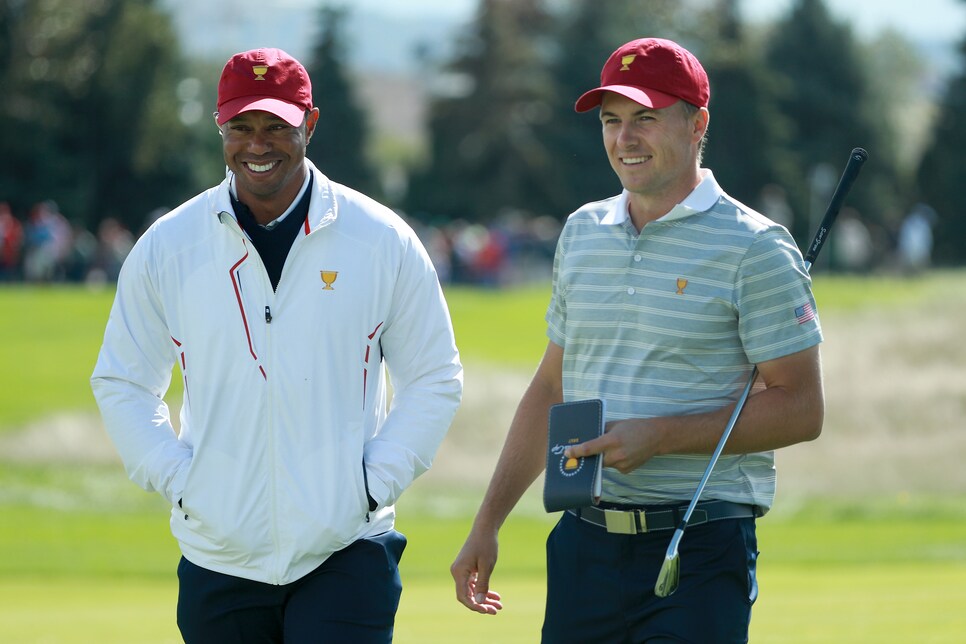 Photo By: Scott Halleran/PGA Tour
NEW PROVIDENCE, Bahamas — Tiger Woods, YouTube golfer.
That's how Woods' two children, daughter Sam and son Charlie, refer to their 14-time major champion father. At just 10 and 8 years old, it's all they know.
"I never thought my kids have understood what I've been able to do in the game of golf because they always think I'm the YouTube golfer," Woods said Tuesday. "They've never seen me in action."
Indeed. Sam was 6 when Woods won his last tournament, in 2013. Charlie was only 4. Neither was born yet when Woods seven straight starts from mid-2006 through early 2007.
The perspectives of 24-year-old Jordan Spieth and Justin Thomas don't differ that much, either.
The month before Woods said, "Hello, world," in the summer of 1996, Spieth celebrated his third birthday. Both were just barely teenagers the last time Woods won a major, at the 2008 U.S. Open at Torrey Pines.
Thomas, who has played a handful of rounds with Woods of late, said he still searches the Internet for clips of Woods in his prime. And five players in the field at this week's 18-man Hero World Challenge, including Spieth and Thomas, have never even played in a tournament where Woods was the winner.
"When I turned pro, I think Jordan was still in diapers," said Woods, who returns this week after a nine-month absence following a fourth back surgery earlier this year. "In an ideal world, I would like to have them feel what some of my past guys had to go against all those years."
In those years, YouTube wasn't even yet around for much of it.
By the time the company was founded in February 2005, Woods had already amassed 47 of his 90 worldwide titles, including eight of his 14 majors.
By the time Spieth and Thomas reached the PGA Tour, Woods was mostly a broken shadow of his former self. Since the beginning of 2014, he has made just 23 starts, three of those coming in the last two years.
Now comes another comeback. Every shot and score and movement will be scrutinized and analyzed.
Woods is more patient than the rest of us. If there's one thing he has learned by now it's taking the long view. We should, too, even though we won't.
"I don't know what my body can and can't do yet," Woods said. "I've only been doing this for a month, so give me a little bit more time, a little better understanding, and especially let me play this event and see what I can and can't do. I'll have a better understanding once I'm in game speed."
Why will this one be different than a year ago?
"Last year I was still struggling with a little bit of pain," Woods continued. "I was able to hit some good shots, able to play, but in looking back on it now, I look on it as playing in slow-mo but it was as hard as I could hit it. I didn't realize how bad my back had become and how much I was flinching and just how slow I was. I didn't realize it because it's been a slow degrading process. I thought I had some speed, thought I was playing halfway decent, shot some good scores, but now I've looked back on it and man, I didn't even have much at all."
Meanwhile, in the makeshift media tent just outside the interview room where the tournament host looked healthy, relaxed and even cracked a few jokes, clips of the 2000 U.S. Open at Pebble Beach played on the handful of televisions lining the wall.
The picture was grainy and faded, Woods' lean and sinewy figure draped in baggy clothes that flapped in the breeze, a young Steve Williams on the bag, as one towering arrow after another struck its target with exactness en route to a record 15-stroke romp. It was the 100th playing of that tournament and it looked like it was from 100 years ago. At least in relative terms, it might has well have been.
That Tiger Woods isn't walking through the door, though a wistful Woods would like to show off for his kids in person just so they could see he's more than an Internet sensation.
"[Sam] just thought it was so cool I was hitting it where she couldn't see it," Woods said. "She said, 'How do you see that golf ball?' I said, 'It's only going about 320,' just being a complete smartass about it. Charlie said the same thing, he wants to compete, he wants to play with me, those are things that are special."
Woods' game was special once, too. Can it be again? Can he be better than the YouTube legend?
"That's going to be hard," he said. "I mean, I was pretty good."