The Loop
Tiger Woods prop bets, Paige Spiranac gives a golf lesson to a pro surfer, and an all-time on-course prank
Welcome to another edition of The Grind, where we are witnessing quite the peaceful transfer of power in this country. No, we're not talking about Donald Trump taking over as President for Barack Obama, but rather Tiger Woods taking back the PGA Tour. After 17 months, the 14-time major champ finally returns to an official, full-field tour stop as the game's main attraction -- and no one seems to mind.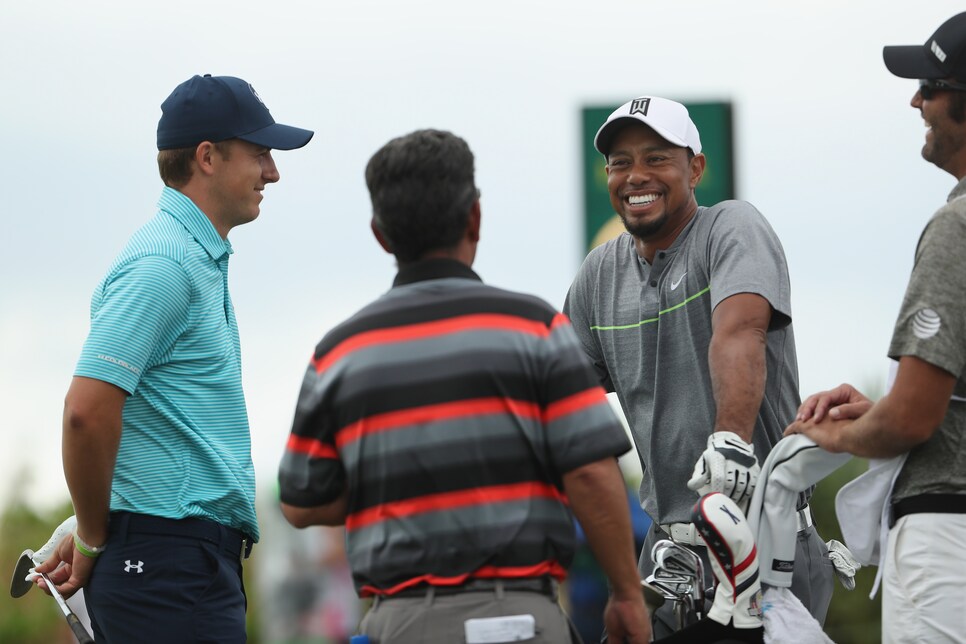 Whether Woods will be more than a figurehead remains to be seen, but we're glad he's back. And sportsbooks around the world are as well. So from Tiger prop bets to another 59 to Obama's golf trash talk, here's what has our attention this week.
Hudson Swafford: The 29-year-old jump-started his PGA Tour career by winning the CareerBuilder Challenge for his first tour title in 93 starts. And his winning birdie came when he stuffed his approach shot to about a foot on the tournament's penultimate hole. Not bad for someone who previously had never finished better than T-8 on tour.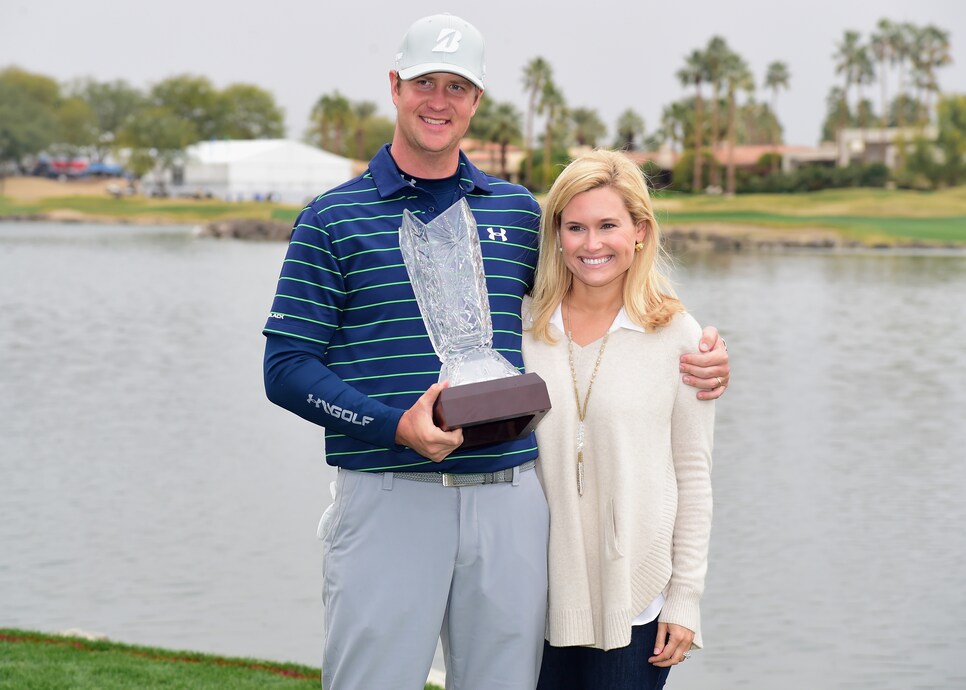 Adam Hadwin: The Canadian came up just short of his first PGA Tour title, but he still made news in becoming just the tour's eighth golfer to shoot 59 during the Saturday's third round in Palm Spring. Even more impressive is that he pulled off the feat on a par 72, just the fourth golfer to do that. Oh, and he's the first golfer whose national anthem is "O Canada" to accomplish it.
Gonzalo Fernandez-Castano: A missed cut wasn't the Spaniard's best week on the course, but we appreciated his effort in Palm Springs. Here he is stripping down to his boxers to play a (splendid) shot:
We're also buying the sense of humor he showed after:
And we're also buying whatever detergent he uses. Those boxers were such a bright white they were practically glowing!
All these low scores: Congrats to Hadwin and Thomas for being the latest to join the "59 Club," but it's a club that's growing too quickly. These days, it seems like we're on "59 Watch" 24/7. And it may not seem like it yet, but we'll soon get to the point where these scores aren't going to even feel special. A 59 is still an incredible feat, but I'm hoping not to see one for at least a couple weeks.
The most expensive house in the U.S.: A $250-MILLION Bel-Air property has everything you could ever want, from a helicopter to a wall of candy dispensers in a game room filled with glass foosball tables.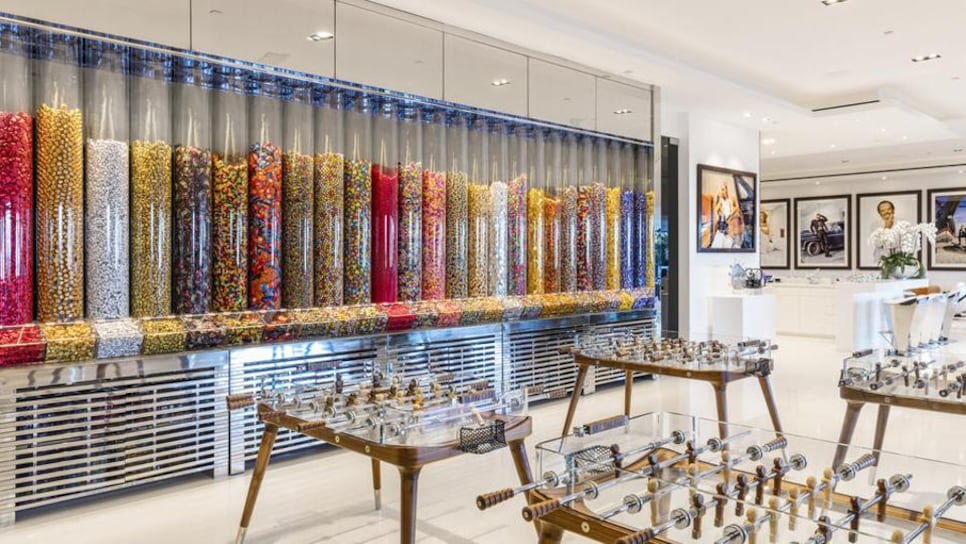 Pretty cool, but where are the golf amenities for that price?! We'll pass.
36-hole tournaments: Of course, it's easier for this to happen on the senior circuit since they usually play only three rounds to begin with, but it still never feels like a proper tournament. Well, unless Bernhard Langer wins, which he did at the Mitsubishi Electric Championship. Obviously. Sure, it would have been nice to see Langer battle Fred Couples in the final group at the PGA Tour Champions' season opener before high winds cut it short, but let's be honest, we would have ended up with the same result.
The PGA Tour heads from Palm Springs to La Jolla's Torrey Pines for the Farmers Insurance Open, aka the real start to the season.
Random tournament fact: Tiger Woods is playing this week. Yep, little-known fact. Some other facts? Woods has won eight times at Torrey Pines, but it's also the site of his withdrawal two years ago when he said he couldn't activate his glutes. Let's hope that doesn't happen again.
RANDOM PROP BETS OF THE WEEK
-- Tiger Woods will NOT have the most money wagered on him this week: 1 MILLION-to-1 odds
-- We will overreact to whatever Tiger Woods does this week: LOCK
PHOTO/INSTAGRAM OF THE WEEK
Chris Paul shared this photo with Barack Obama in honor of the President's eight years in the White House. It's a great picture, but what Obama wrote at the bottom is even better:
"Chris -- this is me talking smack about how I'll whup you playing golf!"
The European Tour hit another home run with a viral video idea, this time having a fake TV reporter bother some of the world's best golfers. It's called "The Awkward Reporter" and it's hysterical. Check it out:
There are so many good parts, but the "Liam Westwood is a name synonymous with golf" line cracks me up the most. We'd love to see "Mirage Sports Media" show up at a PGA Tour stop at some point this season.
VIRAL VIDEO OF THE WEEK (HERO DIVISION)
Watch this cameraman risk his body and his expensive equipment to save Phil Mickelson's visor:
How about that hustle?! Of course, this could have all been avoided if Phil was still wearing those binder clips.
THIS WEEK IN TOUR PROS BEING TOUR PROS
Here's Jaye Marie Green practicing on the beach for the LPGA's season opener in the Bahamas:
Nice swing. Nice dance. Nice hashtag. #Grind? We love it!
THIS WEEK IN PAIGE SPIRANAC BEING PAIGE SPIRANAC
Paige hung out with pro surfer/model Anastasia Ashley:
And gave her a "golf lesson":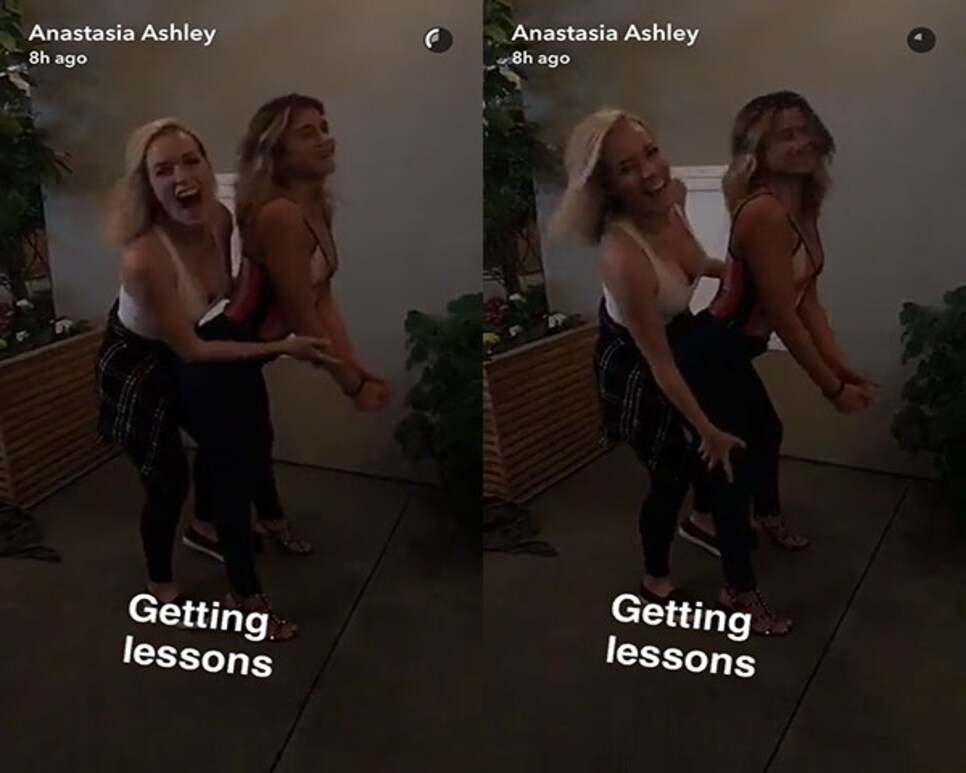 "Watches, I think all that I can make, the earnings from last year has gone to buy all of my watches. So I have a lot of work to do. That's why I play a lot around the world, that you guys see. I spend a lot of it on all that stuff." – Kiradech Aphibarnrat, who also owns 15 pairs of Yeezys. OK then.
THIS WEEK IN BELEN MOZO MAKING US FEEL BAD WITH HER TRAINING
Yep, we'll be sure to try that routine out and send you a video, Belen! #Nope
Steve Stricker says vice captain Tiger Woods is already calling him with ideas about the Presidents Cup. Tiger might like this whole captaining thing more than playing. . . . China closed 111 of its golf courses in its government's on-going war with the game. Just a heads up in case you were thinking of taking a golf trip there. . . . Steven Spieth told ESPN he had to give a Chipotle card back to his older brother because he used it too much. Too bad, because that could have really come in handy for his final semester of college. . . . And finally, I was way late to this craze, but I recently discovered Dots on my iPhone.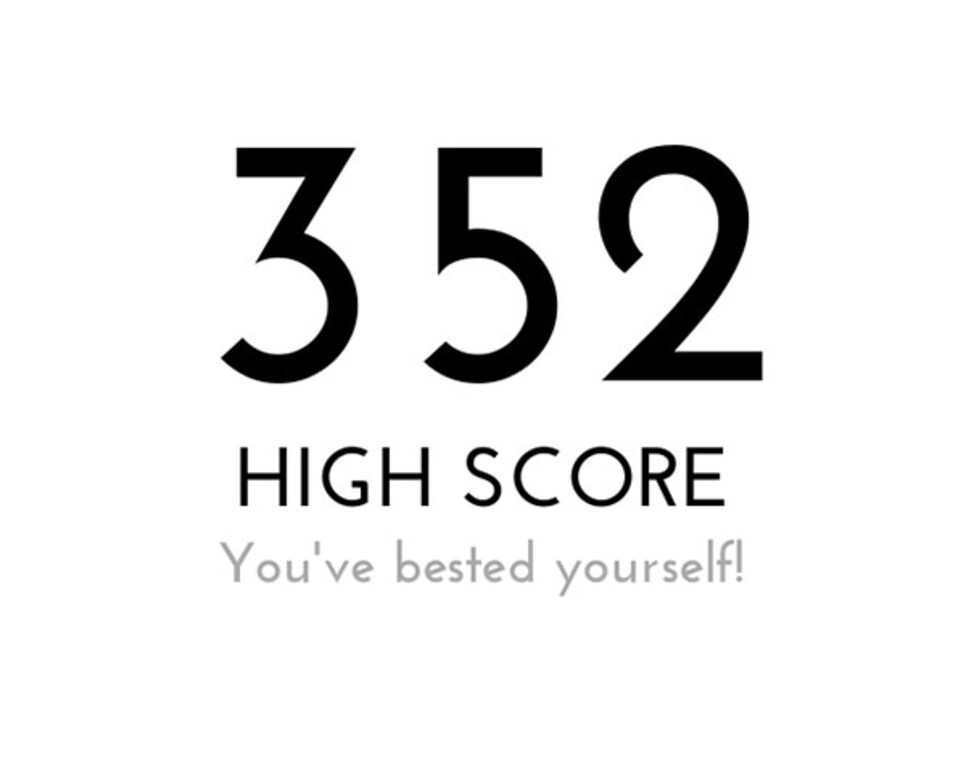 I'm pretty proud of that high score, but I'm also announcing my retirement from this addictive game since I developed a twitch in my arm from playing too much.
RANDOM QUESTIONS TO PONDER
Should we be worried about all this wind?
Who's going to shoot 59 this week?
Will Tiger's glutes activate?