Tiger Watch
Masters 2022: The big disadvantage Tiger Woods faces in his comeback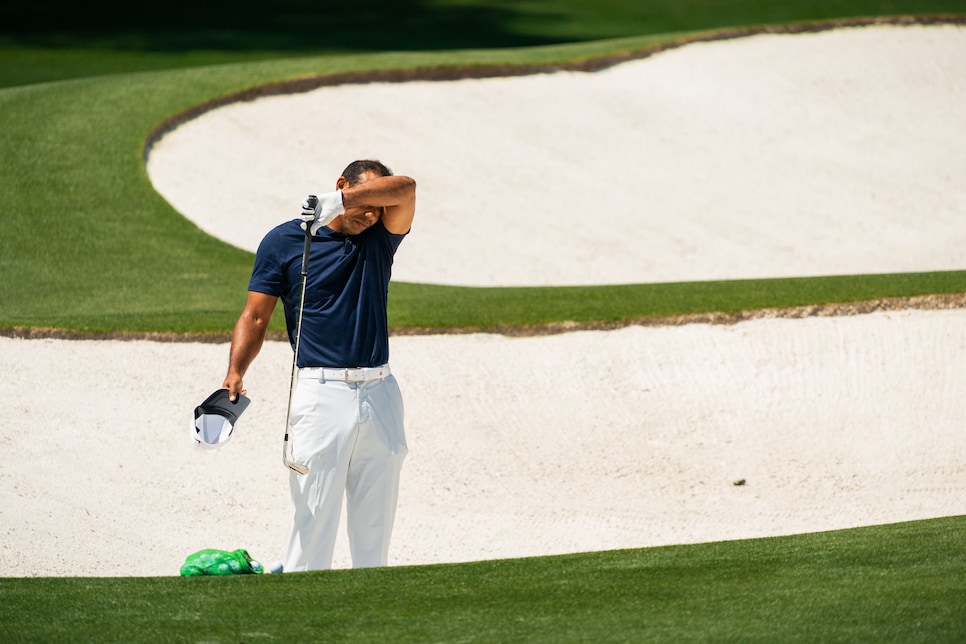 Tiger Woods working on the Masters practice area on Monday.
JD Cuban
AUGUSTA, Ga. — In Tiger Woods' prime, before all the surgeries, his practice routine looked something like this: Wake up, run four miles, lift weights, hit balls for three hours, play 18 holes, work on his short game, run another four miles and, if someone else is down, play basketball or tennis.
Woods has said in the past that if he could give his younger self one piece of advice it'd be to not run quite so much, for he believes it caused significant damage to his left leg and back. But Woods does not regret hitting all those balls or playing all those rounds; he knew he wouldn't be out-prepared by anyone and built up a golf stamina that allowed him to maintain deep focus for four straight days.
Now, of course, things are different. Woods had undergone 10 surgeries—five on his left knee, five on his back—before his right leg was crushed under the weight of an SUV in February 2021. It's unknown exactly how many times his right leg has been operated on, but it's not one, and it's not two or three, either. These days, he needs roughly three hours of preparation to get his body ready for a round of golf, and the wind-down time isn't much (if at all) shorter. And even after all that prep, he can't grind for hours on end like he used to. Not even close.
"I can chip and putt, but it's going out there and hitting like—you know, like all these young kids, like I used to go out and hit a ball for four or five hours, go out and hit a thousand golf balls a day," Woods said after shooting one-under 71 to open the 2022 Masters, his first competitive round in 17 months. "That doesn't happen anymore.
"I can't do that anymore, and I have to rely on, OK, pick one thing to work on, and hopefully that works out today. Hopefully tomorrow I'll be able to work on it again, and sometimes that doesn't happen. Sometimes it may be two or three days before I'll be able to work on it again. We'll just try and keep progressing, keep picking it off."
Tiger says that in the meantime, if he can't hit balls, he'll do what he can to keep getting his body stronger. "Let's keep getting it as mobile as possible given the circumstances that I have and keep working at it."
The lack of practice helps explain Woods' loose ball-striking during Thursday's opening round at August—particularly the nasty pull he hit four times with driver. To use a famous Tiger-ism, he simply hasn't "gotten the reps" he'd like to feel comfortable hitting a full array of shots. And he's unlikely to ever be able to return to anything resembling that routine of old.
The good news for Woods is that he still has among the world's best short games, and he knows the intricacies of Augusta National like few others. (Hence, the five green jackets). He may not be able to rehearse the draw 3-wood he needs off the 13th tee as often as he'd like on the range, but he has 25-plus years' worth of memories of pulling off that exact shot. It's why he believes his current game, imperfect as it may be, can win the Masters this week, why that 71 was still good enough to be tied for 10th after 18 holes, just four shots back of leader Sungjae Im. Woods might not be able to flush 10 4-irons in a row and have the Trackman numbers look identical, but that's not what Augusta calls for.
"I know where to hit it to a lot of these pins," Woods said Thursday, "and I miss in the correct spots and give myself good angles."
Sound like driving range golf to you?