News
Tiger Woods passes his toughest test yet, shoots a 70 on a brutal day on a tough course at Valspar Championship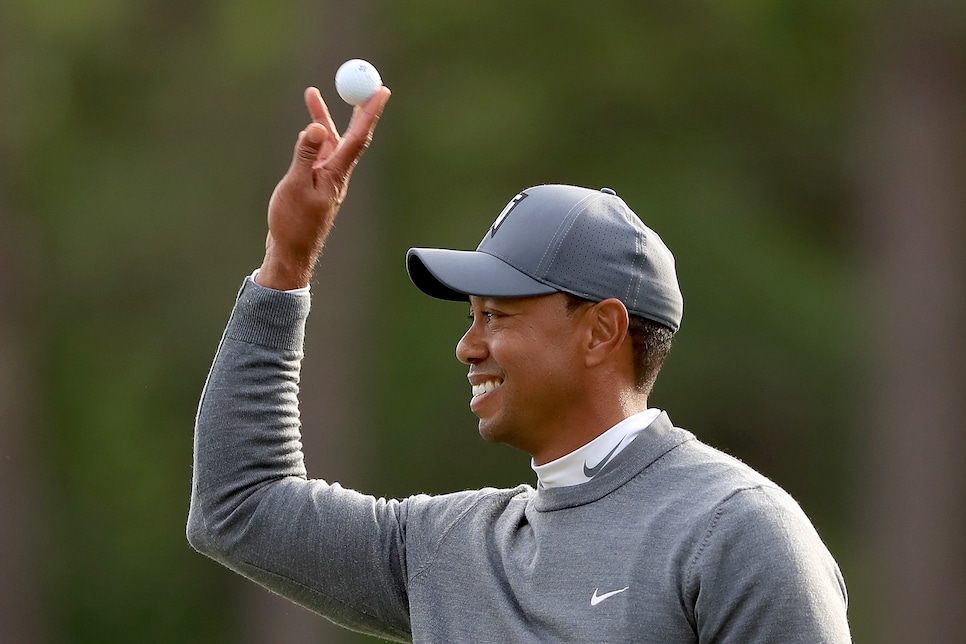 Sam Greenwood/Getty Images
PALM HARBOR, Fla. — Tiger Woods has always preferred to play his golf on courses where something around par is considered a good score. When you're so much better than everyone else, doing so eliminates much of the field that way.
The Copperhead Course at Innisbrook certainly fit that bill during Thursday's opening round of the Valspar Championship. In cool, blustery conditions, it played more than a stroke-and-a-half over par with only 27 players in red numbers and no one going lower than four under.
Woods was one of those players in red, shooting a one-under 70 to trail leader Corey Conners by just three strokes.
"Today was tough, man," Woods said. "I don't know if these people really understand how hard it was out there trying to pull a club, trying to figure out the wind direction, the gusts. The wind was up and down and into the wind and just hit walls up there. We hit some shots and the whole group got fooled a lot today. That's rare. But it happened today. It was just a tough day all around."
Still, Woods saved his best for the most difficult of moments.
After pulling his tee shot left and into the trees on the 453-yard par-4 16th that doglegs right around the water, he found himself in a precarious position on the pine straw. With a tree in the way on the follow through, Woods swung anyway, hooding an iron to keep the shot low enough to get through an opening and the club ricocheting off the bark and out of his hands.
"The hand is fine," Woods said. "I didn't hit my hand. My forearm hit the tree a little bit.
"I tried to warn all the people there, move them out of the way because I didn't know if I pulled back on that at all and tried to really use my hands and flight that ball down and if that club catches and breaks, it's going to be right over there. I was worried about that. Once they got cleared out, I figured I could put some speed into this thing and I was going to feel it. But I pulled it off."
There were a few other shots he did, too.
Woods opened his round by blistering a driver down the middle of the first hole, drilling an iron long and left of the green and nearly holing a flop shot for eagle before tapping in for birdie on the par 5.
On the eighth, he tossed a 6-iron downwind to 13 feet on the 220-yard par-3 and made another.
There were other birdies, too—a 12-footer from hole high on the 10th, followed by another at the par-5 11th and a beauty of a 5-iron on the 200-yard par-3 17th that he gently cut to inside two feet.
In his last start, Woods played the toughest three-hole stretch at the Honda Classic (Nos. 15 through 17) in a collective eight over for the week. Thursday, he was one under on Copperhead's most difficult trio—Nos. 16 through 18.
He also dusted his playing partners, Jordan Spieth and Henrik Stenson, who shot 76 and 74, respectively.
"This was the hardest of all the tests because the wind was all over the place," Woods said. "Joey [LaCava, his caddie] and I really had a hard time today figuring out what to hit and lot of the time many of them, what the trajectory is, am I going to hit it above the tree or around tree height? Those are all different distances the ball travels."
And at times Woods paid the price like everyone else, mixing in four bogeys on the afternoon and hitting just half his greens in regulation and seven of 13 fairways.
Still, there was plenty to be happy about. This is, after all, just Woods' 11th round of the year and he is only three strokes off the lead.
"I'm pleased with every aspect of my game," Woods said. "I drove it well, I hit a lot of good iron shots today and I had some good speed on the putts. I thought I really did well today, overall."
Indeed. This was a tough test that he easily passed.