News
Tiger Woods' off day still gives him hope for a ninth win at the Arnold Palmer Invitational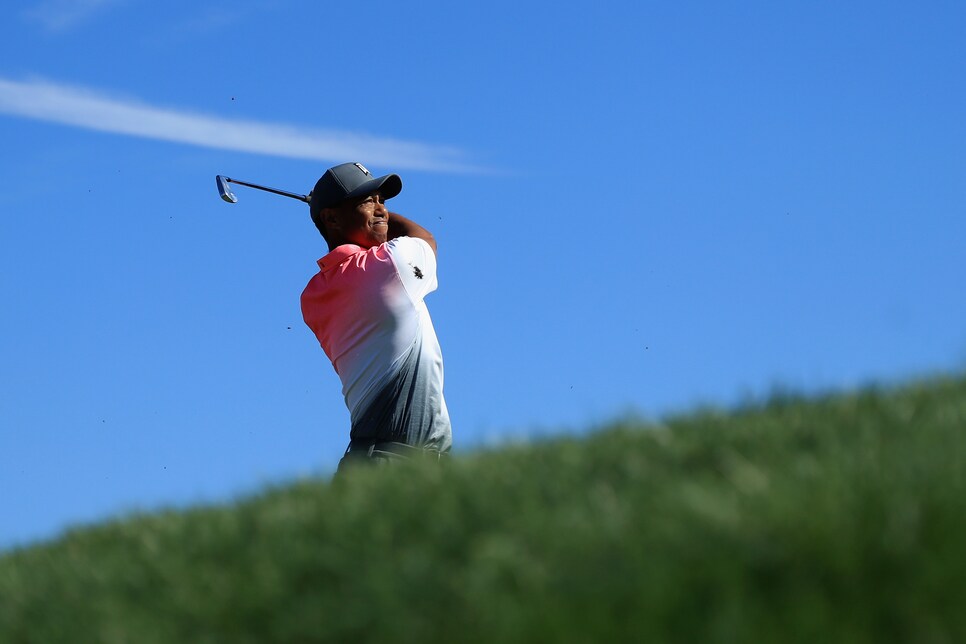 Sam Greenwood/Getty Images
ORLANDO — Tiger Woods didn't have his best stuff Friday at the Arnold Palmer Invitational. A few years ago, that would have meant trouble. A few years before that, he would have found a way to salvage something around par.
Chalk up another reason to think the new Tiger is looking more and more like the old Tiger.
A properly mundane even-par 72 at Bay Hill Club & Lodge didn't do much for his rabid fans, but it was useful to the man who shot it. Though he lost ground to the leaders, Henrik Stenson and Bryson DeChambeau, he still has a chance to end his winless drought stretching to 2013. At four-under 140, Woods is seven strokes back.
Four of his eight wins in this event came after trailing through 36 holes. In 2008, he trailed Vijay Singh by seven shots, but produced a pair of 66s and won by one stroke over Bart Bryant.
"Today was a hard fight. It was a grind. It wasn't sharp, but I hung in there and just kept grinding away and chipped away at the golf course," said Woods, who didn't look comfortable most of the day tee to green. "I didn't hit the ball close, I didn't hit the ball well, but I was just hanging in there, hanging in there, and just trying not to shoot myself out of the tournament, just keep myself in the tournament. I thought something in the red would be great, and I just wasn't quite able to do it, but came close."
He came within a whisker. His 15-foot birdie try on 18 grazed the right edge of the cup but wouldn't fall. Woods flipped his putter to the ground as he fell to his knees.
Woods bogeyed twice on his outward nine, including at the opening hole when he whipsawed his opening tee shot left behind a grove of trees. He also bogeyed the ninth when his 61-foot birdie try went 74 feet and off the green. He missed the comebacker from the fringe.
Birdies at the inward nine par 5s, the 12th and 16th, got him back to even.
His day was full of adventure, including a par save at the par-4 15th when he struck a poor approach into the front bunker and found his ball semi-plugged and hugging the left edge. Standing outside the bunker, Woods somehow managed to get the clubface on the ball and splashed out to 22 feet, from where he drained the putt.
"That was ugly, yes," said Woods, who was an Orlando resident for several years before moving to Jupiter, Fla. "The hard part, besides it being buried, is that it was so far up against the lip that I was afraid that my shaft might hit the lip before my clubhead could enter the sand. So I took a pretty big swing at it to make sure. Normally, I wouldn't have taken that big a swing from that short a distance, but I was just afraid that if my shaft hit that I might just leave it right there in that same spot."
There weren't too many pretty moments, except on the greens where Woods needed offset missing eight greens by requiring only 27 putts. He hit eight of 14 fairways for the second straight day.
The final score looked a far sight better than it might have without Woods' ability to scramble.
"I was fighting but didn't hit anything close," he said. "I had a couple wedges in my hand, and didn't hit them within 20 feet. So, it was a little off today, and the only thing that I felt really good with was my putter. Even though I blew it off the green on nine, I hit a beautiful second putt and the putter was releasing and flowing, really felt good. But I just couldn't get to the greens fast enough."