News
Tiger Woods live blog: Tiger loses to Lucas Bjerregaard on 18th hole in WGC-Match Play quarterfinal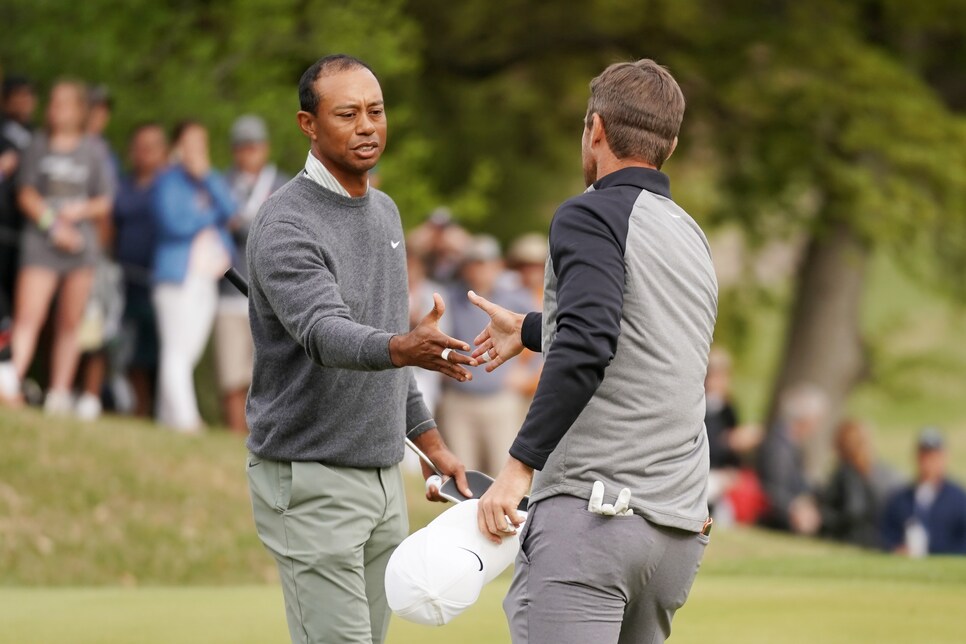 It wasn't the birdie-fest that Patrick Reed vs. Rory McIlroy was at the 2016 Ryder Cup, but the Tiger vs. Rory still delivered on the entertainment scale on Saturday morning at Austin Country Club. Woods had it in the bag early, commanding a 3 up lead through 11 holes, but McIlroy was able to make it interesting with back-to-back birdies at 12 and 13 to cut the lead to 1 up. All that was left for Rory was to square the match and then it was on.
It looked like he'd easily tie it up at the par-5 16th, where McIlroy laced a 395-yard drive and set himself up with a wedge into the green. Meanwhile, Tiger was in a fairway bunker, his ball up against a lip and leaving him with nothing but a pitch out. With Woods still away for this third, he hit a 200-yard approach shot 20 feet from the hole, a putt he probably would have to eventually make just to halve the hole.
In a shocking turn of events, Woods never even hit the putt, as McIlroy made a complete mess of the hole after his mammoth drive. He missed the green short and right with his second, ending up in the rough above a bunker, a worse spot than being in the bunker would have been. As he struggled to find his footing and then finally did, McIlroy blasted a chip over the green, his balling rolling over the cart path and up against some railroad ties. He did not get relief, and had to take an unplayable, choosing to go back to the original spot. He left his fifth in the bunker, then tried once more to hole out for bogey before conceding the hole. With a wedge in and a prime chance to square the match, McIlroy walked off with a double bogey, which put him 2 down. Disastrous. Catastrophic. You name it, it was all of the adjectives.
Woods gave him one last chance at 17, where his ball came up short of the green and nearly rolled into the hazard. He chipped his next up 15 feet short, and McIlroy lipped out a birdie putt. Woods's putt was to win, and it caught the left edge and dropped, giving him a 2 and 1 victory. The 14-time major winner will now face Denmark's Lucas Bjerregaard in the quarterfinals this afternoon. Keep it right here for all the important updates from their match.
6:10 p.m.: It's over. And something different than we expected happened. After dumping his second shot into a bunker, Tiger hits a great third to set up a four-foot par putt. Meanwhile Bjerregaard hits it to 20 feet and two-putts for par. So we're going to extra holes, right? Wrong. Woods lips out the par putt to give what was a well-played match in difficult conditions an ugly, stunning end.
Bjerregaard will play either Matt Kuchar in a semifinal tomorrow morning with the winner playing the victor of the other semifinal between Francesco Molinari and Kevin Kisner. On the bright side (not really) for Tiger? He avoids 36 more holes on Sunday and can give that back a rest. We'll see him tee it up for real again at Augusta National in 12 days.
6:02 p.m.: As if this match wasn't tense enough, now Tiger and Bjerregaard will play a little game of closest to the pin on 18. Both hit solid drives that wind up in nearly identical spots in the right rough on the short par 4. They will face pitches over a bunker to an uphill green and Woods will go first.
5:55 p.m.: Bjerregaard bangs it in for birdie putting all the pressure on Tiger and. . . he answers! EXPECT ANYTHING DIFFERENT!!!
5:52 p.m.: Oh, baby, what a match! Bjerregaard hits a great wedge to about 12 feet and Woods answers with a wedge of his own to about six feet. To a pretty daunting pin position no less. Both will have great looks at birdie coming up.
5:47 p.m.: Remember when I said Bjerregaard was going to get a read from Tiger's long eagle putt? Well, he took advantage. The Dane coaxed in the downhill 30-footer to steal the hole from Tiger and pull even in the match. Wow.
All tied up with two holes to go.
5:40 p.m.: If you were wondering if Tiger Woods, a 43-year-old golfer with a fused back, had anything left in the tank playing his 33rd hole of the day, wonder no more:
Woods' drive finishes 345 yards away and he finds the green with his second on the par-5 16th. However, so does Bjerregaard, who just won't go away. In fact, Bjerregaard should be able to get a bit of a read from Woods on his eagle attempt. Stay tuned.
5:31 p.m.: Tiger retains his lead barely as Bjerregaard's birdie putt juuuuust slides past the hole. Tiger then had to clean up his par putt from about four feet, but he converted. One up with three to play.
5:26 p.m.: Woods hits first from nearly 30 yards(!) farther away and hits his approach to the middle of the green, missing the backstop behind a front pin. Bjerregaard hits a much better shot to 15 feet right of the hole. It looks like he'll have a good look at tying up this match again.
5:19 p.m.: Both Bjerregaard and Tiger smoke tee shots on the par-4 15th hole. Woods will be away.
5:15 p.m.: As expected, both two-putt for par. Woods remains 1 up.
5:12 p.m.: Woods and Bjerregaard follow up those solid tee shots with solid approach shots into the tough par 4. Woods is just off the back in the fringe, but will be putting from a similar length (20ish feet) for birdie.
5:08 p.m.: Woods and Bjerregaard both hit solid 3-woods up the right side on the par-4 14th. After an ugly 11th hole, their play has picked up with those traded birdies on the last two holes.
5:07 p.m.: Quick update on the only other match going on right now. Sergio Garcia continues to occasionally jaw with Matt Kuchar following what happened on the seventh hole. Garcia has calmed down enough to play better, birdieing the 10th hole to cut Kuchar's lead to two holes. They are heading to the par-5 12th.
5:03 p.m.: The safe play by Bjerregaard looks like it will work out after he hits a nice wedge to about five feet. Woods follows with some absolute short-game wizardry. He plays a bump-and-run chip that trickles to within tap-in range. Bjerregaard answers with a birdie of his own, although it almost lipped out, to stay 1 down. Regardless of how this match turns out, the 27-year-old Dane has handled himself admirably in this high-pressure situation.
4:56 p.m.: For the first time all week, Woods goes for the green on the short par-4 13th and hits a beautiful 3-wood. His ball lands pin high before taking a big bounce over the back. Tiger gets a bit unlucky with a downhill pitch from the rough, but he's still in decent shape. Bjerregaard follows and surprisingly lays up with an iron to the right side of the fairway.
Elsewhere, it looks like Kevin Kisner will be the second player to advance to the semifinals after sticking his tee shot on 17 to near gimme range and Louis Oosthuizen following with a shot into the penalty area. The should-have-been Ryder Cupper Kisner—at least, according to Lee Westwood—will take on Ryder Cup star Francesco Molinari Sunday morning.
4:52 p.m.: WOW! Bjerregaard drains his birdie putt from the fringe and Woods answers with a birdie of his own.
Tiger remains 1 up going to the drivable par-4 13th that Woods made that eagle on after laying up yesterday.
4:49 p.m.: It took awhile for Bjerregaard to take his drop, but he hits a solid layup. From there, a disappointing pitch comes up just short of the green. Woods' pitch sneaks onto the putting surface and he'll have about 10 feet for birdie for a slight advantage.
4:40 p.m.: After an OK drive on the par-5 12th, Woods' layup just rolls into the rough, but should be fine. Meanwhile, Bjerregaard went way left where Woods was yesterday and is working on taking a drop.
4:32 p.m.: It was a bit more difficult than he would have liked, but Woods wins the 11th hole to retake a 1 up lead. Bjerregaard found the green with his third from the drop, but couldn't make a 20-footer. Meanwhile, Woods' chip raced about 20 feet past, but he two-putts to win the hole. In other news, there's some drama in the Sergio Garcia-Matt Kuchar match. Garcia appeared to halve the par-3 7th hole, but he angrily raked away a tap-in before Kuchar could give it to him.
And there are some serious takes right now on Twitter:
While we're still trying to sort out what exactly happened, we know Garcia has NOT handled things well since. He missed a short putt on the next hole then hit his ensuing tee shot off the map. He's now 3 down through nine.
4:23 p.m.: Tiger has a huge opening after Bjerregaard splashes his tee shot on the par-3 11th. Woods takes more club and hits it over the back of the green to an impossible spot, but at least he's dry.
4:18 p.m.: Tiger goes first and rams his putt through the hole from 50 feet. He makes the comebacker for par forcing Bjerregaard to knock in his birdie from six feet for the win and he does. We are all square, excuse me, tied through 10 holes.
4:13 p.m.: After Woods and Bjerregaard split the 10th fairway with irons, the Dane takes dead aim at a back flagstick and hits a fantastic approach. Woods follows with a poor wedge and is in danger of losing his lead in the match.
4:03 p.m.: Bjerregaard hits a disappointing approach shot, but he two-putts for par, knocking in a five-foot comebacker. He then makes Tiger putt from inside three feet again, but unlike on No. 7, Woods converts to remain 1 up as they make the turn. Elsewhere, Louis Oosthuizen and Matt Kuchar also have 1-up leads in their matches, while Francesco Molinari continues to dominate Kevin Na. The European Ryder Cup hero is 6 up through 11.
3:51 p.m.: Tiger has driven it well on the par-4 ninth all week, but he pushes one slightly this time. He's fortunate that his ball stays out of a fairway bunker, but he's a good 40 yards being Bjerregaard, who split the middle.
3:48 p.m.: Bjerregaard and Tiger both save pars, halving the hole. Tiger leads 1 up through eight.
3:41 p.m.: Tiger hit a wayward drive behind some trees at No. 8, and his punch out clipped a branch and left him with an 87-yard wedge on his third. After Bjerregaard's second went over the green, Woods flipped a wedge to inside five feet. This was a big chance for Bjerregaard to square the match, but now it looks like Tiger may escape with a halve.
3:31 p.m.: Would you believe me if I said Bjerregaard still won the hole after lipping out his five-footer for birdie? Well that's what happened. After Tiger came up just two feet short with his birdie putt, he then missed the short par putt as well. Bjerregarrd somehow cuts it to a 1 up lead with a par. Pillow fight on that hole.
3:28 p.m.: Tiger's drive at the par-3 seventh was left and long, but on on the back edge of the green, leaving him with 50 feet for birdie. Bjerregaard went directly at the stick and put it five feet from the hole, setting up a great look at birdie to cut into this lead. What a stud.
3:21 p.m.: Bjerregaard's third just caught the front part of the green, and he settled for a two-putt par. Woods splashed one out from the bunker to five feet and lipped out what would have been his fourth birdie in a row. Bullet dodged for the Beer Garden, who is 2 down through six.
3:15 p.m.: Bjerregaard's drive at the par-5 sixth went well right, and he played one over the trees and into the fairway up near the green, setting up a short wedge shot with his third. Tiger's drive was right down the pipe, and then he hit a perfect cut 3-wood that took a wild bounce onto the green but rolled all the way off into a greenside bunker. Not the best break, but still a great shot from Woods.
3:05 p.m.: Another birdie and another W for Tiger as he goes 2 up. He's now won three straight holes with three consecutive birdies. Don't let him get hot!
3:01 p.m.: Tiger and Bjerregaard find another fairway, and Bjerregaard hits first and lands it safely on the green but will have a long birdie putt. Woods cuts a wedge in there and gets it to spin right, rolling to about 10 feet from the cup. He's officially DIALED in.
2:54 p.m.: Strong effort from 30-plus feet for Bjerregaard but it just slips by. Tiger cleans up his birdie and takes a 1 up lead. That was a quick swing.
2:48 p.m.: Tiger hits a perfect high draw into the par-3 fourth and almost aces it. He'll likely have to putt it anyway, but it might as well be in for birdie already. Bjerregaard is a little long, and will need to make just for a halve.
2:45 p.m.: Bjerregaard's birdie putt comes up a foot short, giving Tiger an opportunity to tie the match, which he did, rolling in his birdie in the center of the cup. All square through three holes.
2:42 p.m.: They each found the fairway again at No. 3, and Bjerregaard went first with his second, hitting the green but coming up well short of the hole. Tiger went for the flag, landing it about 10 feet past and setting up a good look to square the match.
2:32 p.m.: Tiger nestles his long birdie putt up to tap-in range, and Bjerregaard misses his birdie. He remains 1 up, but that was a big opportunity for him to take control of this match early.
2:28 p.m.: Bjerregaard knocks his close, within 10 feet. Tiger, not so much, as he pulls his approach and it spins back on the green at least 40 feet from the hole.
2:26 p.m.: Tiger and the Beer Garden spilt the fairway with woods at the par-4 second. Couple of short wedge shots coming up.
2:18 p.m.: Bjerregaard hits a perfect chip that rolls a few feet past the hole. Tiger follows with a great chip of his own and gets his par, but he goes 1 down after Bjerregaard drains his short birdie putt. Good start for the heavy underdog.
2:16 p.m.: Tiger got another bad lie in a bunker and had to just chip it out in front of the green. Looks like he should have an easy up-and-down though, which means Bjerregaard will likely have to make birdie to win the hole.
2:10 p.m.: With the tees moved up at No. 1, Tiger pulls driver and pulls it into a bunker down the left side. Bjerregaard stripes a wood down the middle of the fairway. Not looking forward to having to type out Bjerregaard for the next four hours, but I'm going to grind through it for you, the readers. Heroic stuff.
2:03 p.m.: If you're interested in this type of stuff, Tiger Woods is -200 on DraftKings, while Lucas Bjerregaard is a juicy +150 underdog. Again, if you're interested in that type of stuff. I'm personally not. Not in the slightest. Carry on.
1:45 p.m.: The first two quarterfinal matches are underway. Tiger Woods and Lucas Bjerregaard will go off at 2:10 p.m. ET.
1:25 p.m.: It's a shame that it feels like Rory kind of gave the match away on the 16th. Had he even just halved, the match likely would have gone the distance, and had he won like he probably should have it would have been all square at the 17th. Still, it delivered on the entertainment scale, even if Rory didn't have his best. Woods is not complaining.
"It was a fun match for us, I know that we battled pretty hard against one another, and we thoroughly enjoyed it," said Woods. "I was fortunate to come out on top."
Next up for Woods is the Beer Garden, better known as Lucas Bjerregaard from Denmark. Safe to say American fans might learn who this guy is this afternoon! Keep it right here for all the latest updates from Tiger v. Beer Garden. Time is TBD for now but we'll update you as soon as it comes out.
1:22 p.m.: BANG! Tiger holes his par putt to win the match, 2 and 1.
1:20 p.m.: Woods didn't have much of a stance, so he played a little bump and run to about 15 feet. Rory's long birdie putt hits the right edge of the cup and lips out. Tiger's par putt is to win the match.
1:17 p.m.: Tiger comes up short at the par-3 17th, and it nearly rolls back into the hazard, barely hanging on. McIlroy then finds the green but has a long putt for birdie, one you would think he'll need to make. Though if Tiger can't chip one close, McIlroy might get a gift similar to the one he just gave Woods at 16.
1:11 p.m.: Rory went back to the spot he originally hit from, hoping to hole out for par. Instead, he leaves it short in the bunker in front of him and tries to hole that out as well. He did not, and he's conceded the hole. To call this shocking would be the understatement of the year. Woods is 2 up with 2 to play after looking like it would be all square.
1:07 p.m.: Oh. My. Goodness. Rory's ball actually ended up in the rough above the bunker, a terrible spot. McIlroy then chips it miles over the green and it ends up against a few railroad ties. Hewon't get relief, and will have to take an unplayable. After hitting a 395-yard drive, having a wedge in AND having Tiger in a tough spot, he's going to lose the hole outright. What a disaster.
1:03 p.m.: From 204, with a 14 mph downwind, Woods hits one on the back of the green and sets up a good look at birdie. Rory, who hit a 395-yard drive, had no more than a wedge in and completely missed the green, finding a bunker. What a preposterous turn of events. Tiger looked DEAD, and now he appears to be in better position than McIlroy.
Whoever eventually wins this match will take on Lucas Bjerregaard in the quarterfinals after he defeated Henrik Stenson, 4 and 3. Stenson was on fire yesterday, and yet Bjerregaard was in control for the entire match. The Beer Garden is the real deal.
1 p.m.: Tiger wasted very little time, knowing he had only one option. Woods pitches out and is still away on this third.
12:56 p.m.: Oh boy. After Rory hammers a drive in the fairway, Tiger hits his left into a fairway bunker and it takes one hop and goes up to the lip. He'll likely have to pitch out, while Rory will easily hit the green in two. Trouble for Woods.
12:50 p.m.: Tiger's birdie putt was a poor one, and he left himself with seven feet for par. Rory then chipped one to gimme range, forcing Tiger to have to make to keep the lead. Woods pures it and walks it in to stay 1 up. CLUTCH. Three to play. What else do you want people?!?!?
12:41 p.m.: Great break for Tiger thanks to the gallery, as his ball ended up with a nice lie and a good look at the green. He then stripes one from 190-plus yards onto the green, and the crowd erupts. With the pressure on, Rory goes pinseeking, but overcooks it and misses the green to the left, leaving a testy chip. Some real VAGARIES of match play here.
12:39 p.m.: Rory smokes a driver at No. 15 right down the middle. Tiger, um, did not smoke one down the middle. Looks like he sniped one badly to the left that the gallery was there to block from being really bad, luckily for Woods.
12:30 p.m.: Good chip to tap-in range for Rory yields a concession from Tiger, who follows with a similar shot that's just outside the circle of trust. McIlroy doesn't concede, and Woods putts out and makes his par. Interesting. Tiger remains 1 up through 14 and walks off the green staring a hole through the ground. Here we go!!!
12:26 p.m.: In some heavy wind, Rory takes aim at the flag and lands it on the green but it had too much spin on it, rolling of the front of the putting surface. Tiger goes next from 135 yards, and he does the exact same thing as McIlroy. They'll both have fairly straightforward chips from the fairway.
12:20 p.m.: Iron off the tee at No. 14 for McIlroy, and it's a beauty down the left side of the fairway. Tiger hits a good one as well, and they'll both have wedges into the green.
Elsewhere, we have a few results, as Kevin Kisner was the first to advance with his 6 and 5 victory over HaoTong Li. In the quarterfinals he'll get Louis Oosthuizen, who defeated Marc Leishman 2 and 1. The third to move on was Francesco Molinari after taking down Paul Casey 5 and 4. Can anyone stop this guy?
12:18 p.m.: Tiger's chip scooted a few feet past the hole, but he makes the difficult comeback putt for par and puts all kinds of pressure on McIlroy. Rory comes up clutch, making the birdie putt to make it a 1 down deficit. It's officially ON.
12:13 p.m.: Woods left himself with a tricky 70-yard wedge shot, and suddenly some weather also rolled in, making it an even bigger challenge. Tiger hit a poor shot well over the green, and Rory took advantage of the opening, chipping it to about five feet. He'll still have to make that to win, and Woods will attempt to apply some pressure with his third shot coming up.
12:07 p.m.: After winning his first hole of the day, McIlroy goes first at the 13th, hitting a 3-wood off the tee and smoking it just right of the green. Woods is sticking with his strategy from yesterday, playing in iron safely into the fairway. It worked on Friday...
12:01 p.m.: Rory nearly chips in for eagle, rolling it just past the hole to two feet. Woods didn't give him the putt, then juiced his 24-foot birdie putt about four feet past and still didn't concede the hole. Finally, after missing his par putt, he concedes, and now he only leads 2 up as they head to the driveable par-4 13th. Talk about a HUGE moment in the match.
11:57 a.m.: At the par-5 12th, Tiger's drive found a fairway bunker, forcing him to lay up. With his third he played a wedge all the way back to the pin but spun it back some 25 feet. Rory, meanwhile, smoked a drive and then hit the green with his second shot and just rolled into the fringe. If McIlroy doesn't win this one, he's in deep trouble.
11:46 a.m.: Going to sound like a broken record, but Woods hits another great putt that comes up just short, and McIlroy gives him the par. Rory does the same, hitting one on line that just slowed up before the hole. No blood. Rory remains 3 down through 11.
11:40 a.m.: Woods plays one safely left of the pin at the par-3 11th and will have a long birdie putt coming up. McIlroy nukes a 6-iron over the green. Not great.
11:35 a.m.: Another great roll from Tiger that comes up jusssst short again. Rory follows with a good effort of his own that misses on the low side and rolls three feet past, and Woods doesn't give it to him. Oh dear ... Rory lipped it out. Yikes. Tiger is 3 up through 10 thanks to that gift.
11:32 a.m.: McIlroy and Woods each had little wedge shots into the 10th green and they are both long, basically right next to each other on the dance floor. Looks like Tiger will putt first.
11:27 a.m.: Rory and Tiger both play irons off the tee at No. 10 and it's a stripe show. Both in the fairway and about five yards apart from each other.
11:21 a.m.: Great roll from Tiger, but it comes up one revolution short and he has to take a par. It ends up being enough for a halve, as McIlroy misses what felt like a must-make six footer for birdie. Tiger makes the turn 2 up.
11:18 a.m.: Rory stuffs one in there tight at No. 9, while Tiger hits his a little farther than he may have liked, but it still had a little spin on it. Woods will putt first from around 20 feet.
11:14 a.m.: Tiger SMOKES a driver down the ninth fairway, rolling out to 364 yards. Rory lays back with a 3-wood and still pipes it 333 yards. Couple wedge shots coming up.
11:06 a.m.: McIlroy goes with the Texas wedge in Texas, and hits by far his best putt of the day, rolling it just past the hole to kick-in range for par. Tiger follows and has to hit a wedge over some sprinkler heads in his line, and he comes up eight feet short of the hole. No problem, as Woods strikes his putt and walks it in a la Kevin Na to stay 2 up. McIlroy thought he was going to get a gift there and instead remains in a hole. We'll see how that affects him mentally heading to No. 9.
11:02 a.m.: After a lengthy wait, Tiger tries to play a huge cut into the green and it just misses right of the putting surface. That's his first missed green in regulation of the day, and yet he's still in a better spot than McIlroy, who just badly missed the green left and long.
10:54 a.m.: Another miss for McIlroy, this one from 11 feet. Starting to feel like one of those days on the green for the four-time major winner. No blood there, as Woods stays 2 up. They both just found the fairway at No. 8.
10:45 a.m.: At the long par-3 eighth, Woods hits a 6-iron that doesn't draw enough, landing just barely on the putting surface. Needing to make something happen, Rory takes dead aim with his 6-iron and knocks one inside 15 feet. Still very early, but this feels like a hole McIlroy needs.
10:42 a.m.: Rory misses again, and Tiger drills his birdie putt right in the center of the cup. Woods is 2 up through six.
10:39 a.m.: Woods shows off some serious short-game wizardry at the sixth, aiming at the left edge of the green, playing a low runner and letting it feed all the way to the hole and nearly drop. He's inside of five feet for birdie, while McIlroy's chip rolled about 15 feet past. Another huge moment early in the match.
10:36 a.m.: Woods found a fairway bunker off the tee at the par-5 sixth, but still manages to hit a perfect second shot with a 3-wood from the sand. He's just short of the green for his third. McIlroy, meanwhile, crushed a 332-yard drive down the middle, then pulled an iron left of the green but got a decent hop to the right. Going to be another up-and-down contest here at the sixth. Advantage goes to Tiger, who is in the fairway while Rory is in the rough.
Elsewhere on the course, we might get our first result sooner rather than later. Kevin Kisner is 4 up through nine holes in his match with the young HaoTong Li, who just won his first hole of the day with a 62-foot birdie conversion:
Maybe that will give him some momentum, but he's got work to do. Ahead of that match, Louis Oosthuizen leads Marc Leishman 2 up through 10 holes.
10:27 a.m.: McIlroy was away, hitting his chip to around six feet. Tiger followed with a chip to inside of five feet. McIlroy misses on the low side and Tiger bangs in his birdie for the first won hole of the match. Woods is 1 up through five.
10:19 a.m.: At the short par-4 fifth, Rory and Tiger both take driver, McIlroy hitting a high fade that bounces up just a yard short of the green and Woods hitting a low bullet fade that rolled up near the green as well. Chipping contest coming up.
10:11 a.m: McIlroy didn't get his birdie putt to the hole, settling for par. Tiger's slides right over the right edge. Wow. All square through four. Rory dodged a big bullet there.
10:09 a.m.: McIlroy goes first at the par-3 fourth and his 7-iron was right on the flag, but it caught the slope and rolled back to outside of 30 feet. Tiger saw an opening and went right at it, drawing a 7-iron just right of the pin to about 10 feet. Big moment coming up here.
10:04 a.m.: Rory's putt was tracking but it came up inches short and Tiger have him the par. Woods' hit a good putt but it just misses on the left side. Both their putts looked to be tracking with a little left to right break before snapping back to the left right at the end. No blood.
10 a.m.: Rory's drive with a 3-wood appeared to end up in the rough, but it actually bounced back into the fairway. Woods hit a wood as well and found the fairway, then went first, spinning back an iron off the slope from 165 yards to about 25 feet. McIlroy went next, hitting his second just outside of Tiger's ball. Rory will show Tiger the line on his birdie putt.
9:54 a.m.: Woods just misses his birdie and is given the par. McIlroy holes his 12-footer on top to halve the hole. Quite the par save.
9:52 a.m.: McIlroy gets very aggressive with his bunker shot, flying it all the way over the flagstick and getting it to check up. He stills has about 12-14 feet for par, but that's still a great result from where he was. Tiger's birdie putt is now to win the hole.
9:47 a.m.: From 194 yards out, Tiger hits a great iron shot right over the flag that rolls out to 20 feet. McIlroy follows with a below-average shot from the bunker, and it ends up well short of the green and rolls into another bunker. Advantage: Tiger.
9:45 a.m.: McIlroy's drive finds a bunker at No. 2, so Woods decides to lay back with a 3-wood. It backfires, as he hits a wipey fade well short and right of the fairway into the rough. Going to be a long second shot in.
9:41 a.m.: Woods birdie putt never had much of a chance, but he makes his par. McIlroy then scares the hole with his 24-footer, but just misses the left edge. All square through one.
9:38 a.m.: Tiger's wedge shot takes a bad kick off a mound just in front of the green and it sends the ball skidding past the hole about 25 feet. McIlroy is a little long as well, though he's inside of Woods.
9:32 a.m.: If their drives are any indication, this match is going to be off the chain. McIlroy tees off first and absolutely laces a driver 340 yards down the middle, then Tiger follows and does the same, edging the young buck by two yards. Let's get it on!
9:30 a.m.: HERE. WE. GO. In case you're not pumped enough, this old Nike commercial should do the trick:
Forgot about how good that ad was, probably because we all thought Tiger's career was over a few years after this was made. Not the case anymore!