News
High Marks For Woods' Learning Center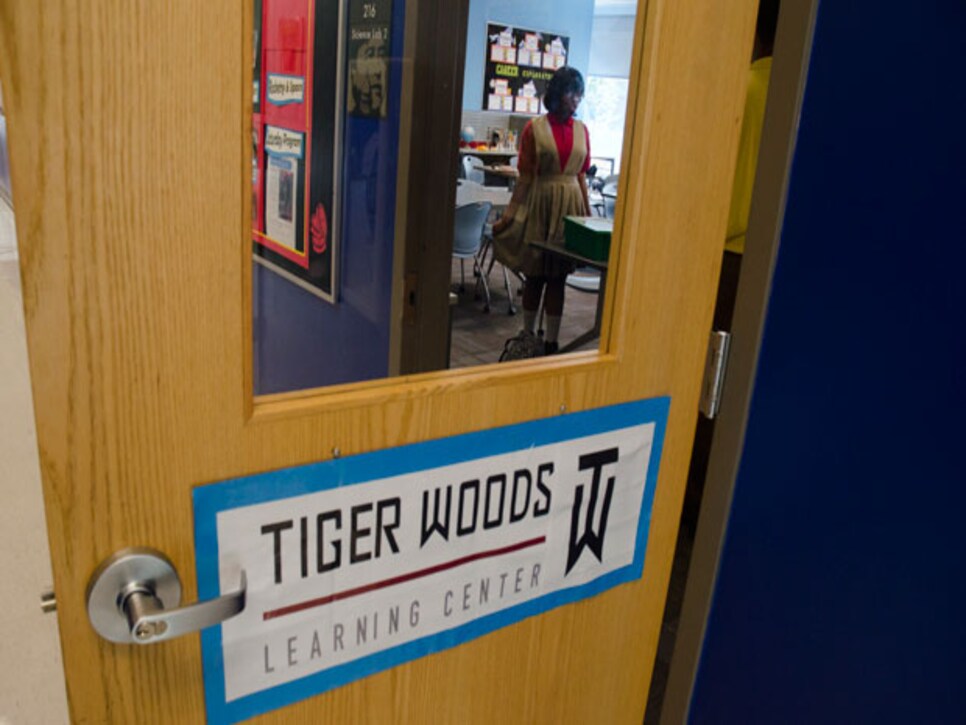 Zachary Wilson doesn't play golf. Nor do most of the students I met last week during a visit to the Tiger Woods Learning Center after-school program at Murray Middle School near Zach's home in Stuart, Fla., not far from Tiger's home base on Jupiter Island. Most didn't even know that Woods missed the 78th Masters after having back surgery, but they do know and love the science provided them by the world's No. 1 golfer.
Zach is considered one of the success stories to come out of Murray Middle. Zach's father has been in prison for most of his son's childhood. The boy's mother did time too. The grandfather who raised Zach caddies at the Jupiter Island Club in the winter and at Old Oaks CC in Westchester County, N.Y., in the summer, but Renford George never really connected Zach with golf.
Zach is now a 17-year-old sophomore at South Fork High School, where he wrestled heavyweight and will vie for the starting nose guard position at spring football practice. His goals are to play college football for Florida State and eventually become a cosmetic surgeon. Right now he's working his way up from part-time bagger and cashier to customer service at the local Publix supermarket.
To hear Zach tell it, his turnaround traces to his taking a forensic science lab, which was offered after school when he was an eighth-grader. Instead of being a troublemaker in the classroom, he found a pathway to become a difference maker in society. "It's about what you want to do with your life," Zach said. "It's an eye-opener. You can be good in arenas you never thought you could be good in, like science."
Since the launch of the Tiger Woods Learning Center in 2006 in Anaheim, Calif., his learning centers have focused on college access programs and career opportunities in science, technology, engineering and math. At Murray Middle the cost was $150,000 to start up and maintain the program over three years. The Tiger Woods Foundation provides the computers and audiovisual equipment and also provides a stipend to cover the cost of the teachers.
I decided to follow the money and it led me not only to Wilson, but also to a group of more than 100 middle school students who've benefited from the learning center. Among them, Jack Sopotnick dreams of being an engineer, and Ryan Wu a doctor. Greg Lukens sees himself as an astronomer, and Rai'me Weaver wants to be a chemist.
On the day I visited, they were making a presentation to their parents in video game design. Rai'me's father, Raymond, went to Murray Middle in the 1970s, on the same grounds of the last segregated school in Martin County. In his line of work as a pastor, he sees the light not only in his daughter, but in her classmates.
"These are 14-year-old kids," he said. "They want to be chemists, engineers, doctors, astronomers instead of rappers, movie stars and athletes. These are people entrusted with the next generation of life. These are our leaders."