News
Tiger Woods' latest comeback comes with more than a small dose of optimism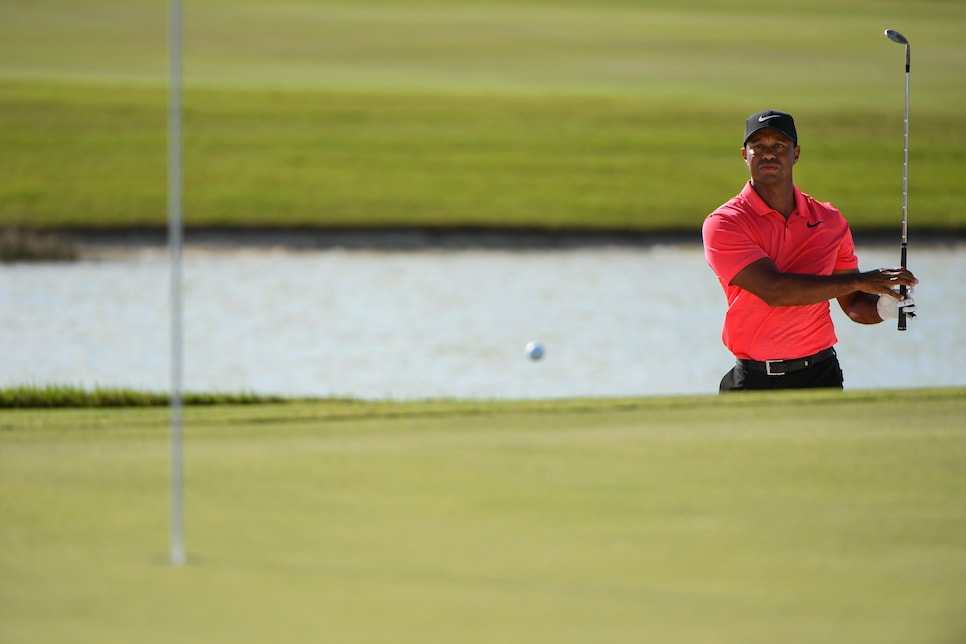 Photo By: Ryan Young/Getty Images
Processing Tiger Woods' current comeback is a strange exercise. Mystery abounds as always, but somehow less so than in the past. Even though he's older and seemingly more banged up, there's a case for optimism.
Woods has been making comebacks – from injuries and personal difficulties – since 2008. None have been as successful as that first one, returning from knee surgery to win the U.S. Open at Torrey Pines, and most haven't worked out very well. So it's reasonable not to expect much when Woods plays in the Hero World Challenge in three weeks. Since he had a first microdiscectomy (the removal of part of a spinal disc to alleviate nerve pain) in March 2014, very little has gone right.
The previous comeback at the same time last year ended up looking very much like it might be his final one. After a 16-month absence from competition forced by two more procedures on the disc in late 2015, Woods showed up at the Hero, made a surprising number of birdies (24, along with six double bogeys) and, though he beat only two players, got good reviews. He seemed to be moving more fluidly, and he set an ambitious playing schedule going forward. But hopes were dashed almost immediately when he badly missed the cut at Torrey Pines and in early February withdrew in Dubai with back spasms. He hasn't competed since.
It furthered the cynical view that Woods is only playing – or showing off his swing – to retain his endorsement deals. Some thought Woods' priority is orchestrating a graceful end to his career as a warrior brought down by injuries, rather than from self-inflicted mental wounds stemming from Thanksgiving 2009. That narrative gained more fuel when Woods announced on April 20 that he had just undergone the most extensive surgery of his life – a fusion of the lowest spinal vertebrae (L-5) with the first vertebrae of the sacrum (S-1).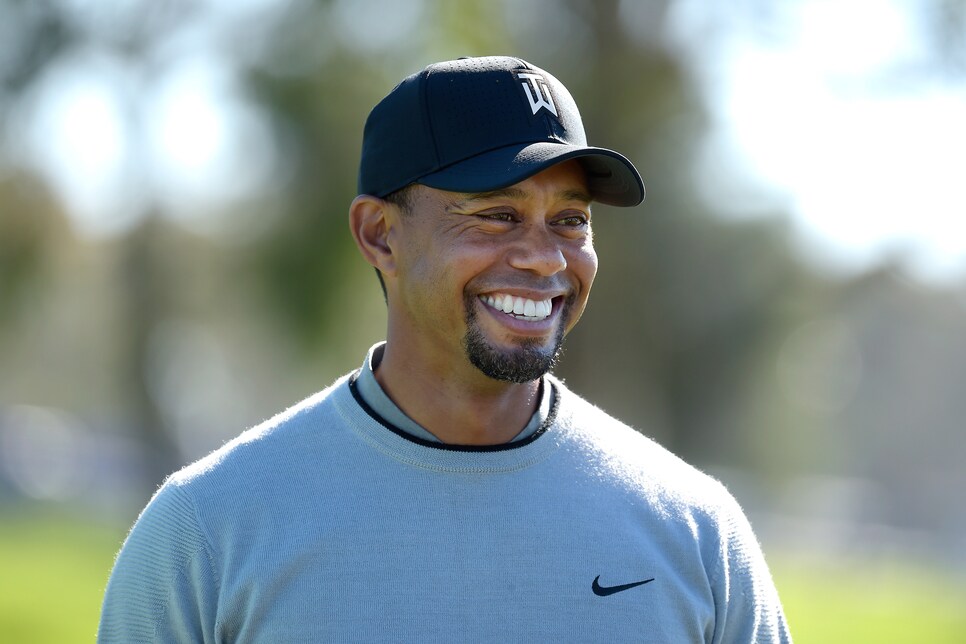 After the admittedly stop-gap measures of the microdiscectomies, the "anterior interbody lumbar fusion" was an all-or-nothing play in terms of future competitive golf. When the healing process goes well, the material that has been inserted into an area opened up between the vertebrae adheres and hardens, ending the cycle of disc fragments or hardened spinal fluid wreaking havoc with nerves. The goal is the end of spasms or shooting pains, and since it is an area where there is virtually no rotation, there should be little if any loss of range of motion. It gives Woods a chance to take a clear-minded, healthy and pain-free cut at the once ball again.
Woods carried out his rehab cautiously and slowly. As late as the Presidents Cup in early October, where he served as an assistant captain, he gave no indication when he would be able to swing a club. But a week later, doctors cleared him to practice, and Woods over the next few weeks released videos of himself first chipping, then hitting an iron, a driver and even a "stinger" with a long iron. By most expert accounts, the swing looked good. Last Monday, the 1,180th-ranked player in the world announced he would be playing in the Bahamas.
Even for those who had grown bored with Woods' on-again, off-again pattern, the situation is irresistibly intriguing. Woods will be 42 on Dec. 30, but his body remains trim and strong. It may be nearly a decade since he won his 14th major, but it remains hard to accept that there isn't at least some great golf inside of him.
When in public, Woods seems to be carrying himself more lightly. At the Presidents Cup, he interacted easily with the team and engaged in a memorable hug with Phil Mickelson. Some of his tweets have been humorous. Last week he devoted more than an hour to a podcast hosted by UConn women's basketball coach Geno Auriemma (a good friend of Woods' caddie, Joe LaCava). When it came to his game, he couldn't suppress his enthusiasm. "I can't believe how far I'm hitting the golf ball."
Woods didn't discuss the elephant in the room, his arrest in May for suspicion of driving under the influence, but the aftereffects could be a net positive. Certainly video of his sobriety tests were embarrassing, and Woods had to appear in court last month to plead guilty to a reduced charge of reckless driving. But after 23-time Olympic gold medalist Michael Phelps, who turned his own life around after a DUI arrest, told the New York Times he considered Woods' mistake "a massive scream for help," the incident began to be widely considered as an opportunity for Woods to take stock.
"Some people might want to say that Tiger just had a bad night, but there were five different drugs in his system that night," says Hank Haney, who was Woods' coach for six years until 2010. "He had to address that, and it looks like he has."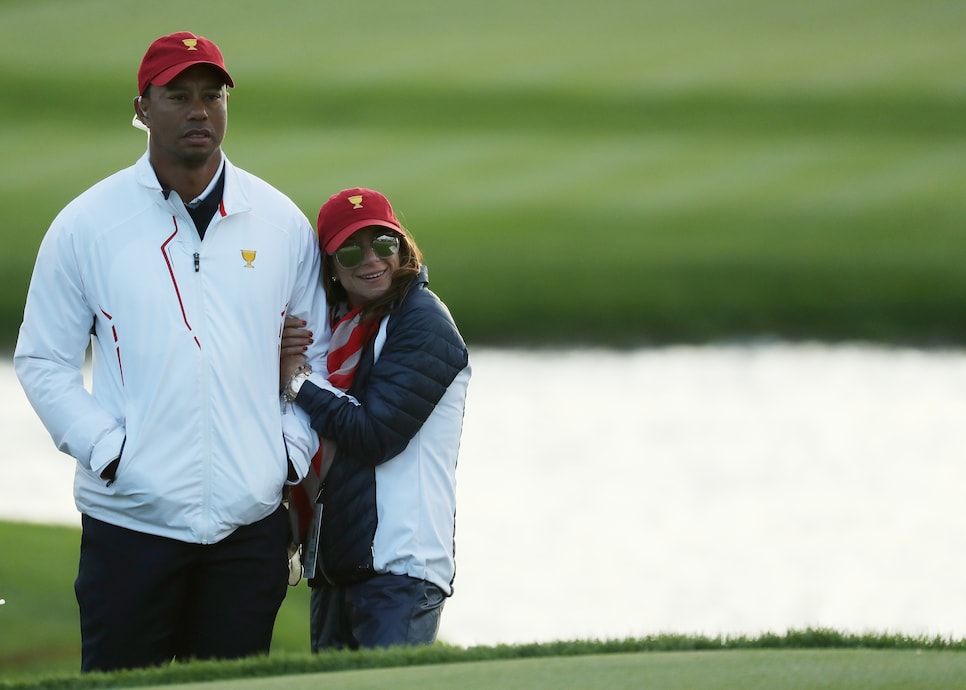 Woods is keeping that area of his life private, but he's been glad to share that he's currently pain free. "It was instant nerve relief," he said five weeks after the fusion surgery. "I haven't felt this good in years." Woods has made similar post-injury claims before, when subsequent events proved that he had obviously indeed been hurt. But his words hold more water this time, supported by recent accounts from three former major championship winners.
Two-time U.S. Open winner Retief Goosen in 2012, at age 43, had disc replacement on two vertebrae higher than the location of Woods' procedure, in a place where the spine undergoes more rotational stress during the golf swing.
"At that point, I couldn't have played golf again without the surgery," says Goosen, whose last victory came in 2009. "It was successful. I have zero back pain. I haven't lost any range of motion or any speed and don't have any trouble hitting the ball."
Since the surgery, Goosen hasn't had much success, managing only seven top-10s on the PGA Tour, with a best of T-2 at Puerto Rico last year. But he doesn't blame the surgery.
"My short game and putting aren't as good, but that's unrelated to my back," said the 48-year-old South African. "I don't see any reason Tiger wouldn't have a similar experience as far as his swing."
Two more aged Hall of Famers—Lee Trevino, 77, and Lanny Wadkins, 67 —both have had a long history with back problems. Both described excruciating pain that was completely alleviated in their most recent back surgeries that were similar to Woods'.
Wadkins in 2008 had double spinal fusion on higher vertebrae than those Woods was operated on. "It was immediate improvement," he said. "Just a little soreness, and then making sure I did no twisting for three months. But because the pain had gone away, I couldn't wait to do the rehab. I became the go-in-early-and-stay-late guy. Within five months, I was hitting drivers, which is the easiest club to hit post surgery. The short irons force you to bend over a little more and stay in your spine angle.
Mike Ehrmann/Getty Images
"I really lost very little, if anything. Unfortunately, I did it at a time when my competitive career was basically over. Maybe a little rotation, but that goes as we get thicker anyway. Tiger is in so much better shape, he may rotate just as much."
Wadkins expects more good and possibly great golf from Woods. "I really feel that pain-free, Tiger has a good chance," he said. "For all he's been through, he's still got a lot going in his favor. Frankly, it's amazing to me how many people almost seem like they want him to be done. Why would you want him gone? All he does if he comes back and plays is make our game better. Can you imagine if Tiger could come back and play at a really high level? Where he can win tournaments competing with these kids today? It would be some of the most exciting stuff we've ever seen."
Trevino, the winner of six majors and 29 PGA Tour titles, along with 29 more on the then-Senior Tour, has battle-tested knowledge. Trevino's back went bad in 1975 after he was hit by lightning at the Western Open. He had a disc removed the next year, and with diminished swing speed but plenty of guile won the Vardon Trophy in 1980, and memorably, the 1984 PGA at age 44. He stayed mostly healthy for his prodigious senior run. But in 2003 his back flared up so severely that he thought he might never play even recreational golf again.
"I was dead on my back for three months," Trevino said. Desperate, he traveled to Germany to have space-making steel rollers, called "X-Stops," implanted in his spine.
"I came out of that surgery painless, which was an unbelievable feeling," remembers Trevino. "We flew home, I did my rest and rehab, and pretty soon I felt so good I went absolutely crazy hitting balls and playing. I mean, I couldn't swing hard enough at it. I was just so happy. I just wish that had happened when I was 44 instead of 64."
Trevino believes that Woods will have a similar experience. "My prediction, he'll come back in a blaze of glory," Trevino says. "He's not too old, far from it. If he gets fixed, when he comes back to hitting and feels no pain, he's going to be so happy, that he may be more dangerous than he was before."
Trevino doesn't discount the possibility that Woods' fusion won't work. "Hey, if they couldn't fix him, then it is over," he said. "You can only chase a rainbow so many times. But I'd say there is a good chance they fixed him. Then watch out. Anybody who says he isn't still hungry is crazy. Listen, the few times that I've seen him, all he wants to do is bury people. He wants to bury the golfers. That doesn't stop. He's got more killer instinct than anybody I have ever seen."
It's a view of Woods more common among players than other observers, and generally more strongly held the better the player. Such kindred spirits can most identify with the deep fulfillment the game can provide to a player touched with a special gift. And how it becomes clear with age that no other activity in life outside of family will ever match that fulfillment.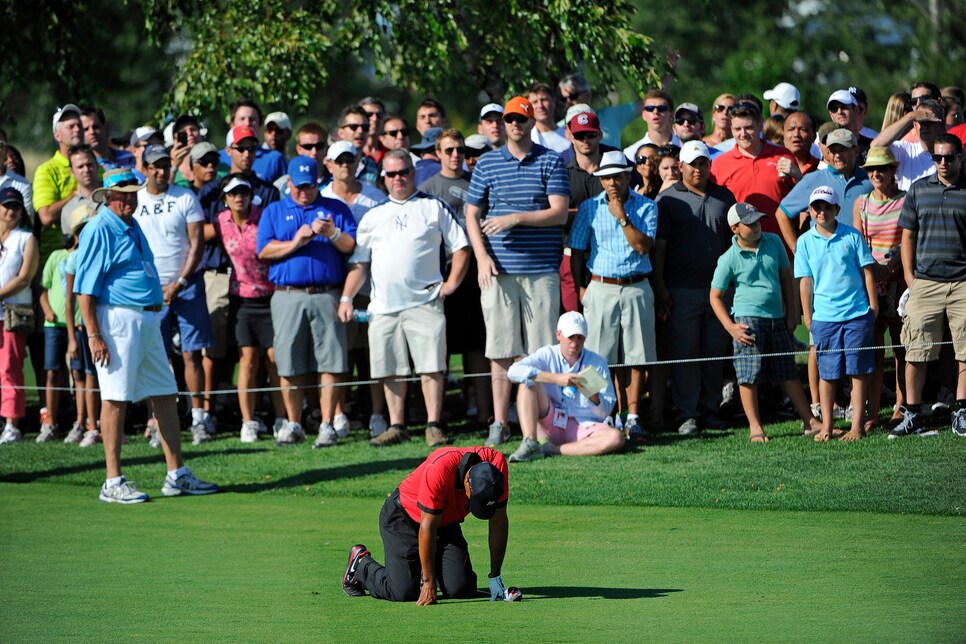 Former Open champion Ian Baker-Finch sensed happiness in Woods when he recently saw him playing with friends at Medalist C.C. in Jupiter, Fla. "I think Tiger must love the game as much as the game loves him, or he wouldn't continue to play," he said. "If his back allows him to practice, he will do everything he possibly can to come back to play. Because he is Tiger and so mentally capable, I believe that if he's healthy, he will figure it out. His competitive spirit also gives him a desire to find out where he stacks up among the other players."
It's what Haney, a close observer of Woods and hard grader in his assessment of his former charge, perceived when he went out on a limb to publicly proclaim that Woods would definitely begin his comeback at the Hero.
"I knew he was going to play, because what else was he going to do?" Haney said glibly, before elaborating. "Every athlete in the history of sports, when they get hurt, in their minds they circle a date when they can come back. He's now missed enough golf. For a time, he might not have missed golf that much. But that was basically a drug addict that didn't miss golf. A clean and sober Tiger misses golf."
Haney is impressed with what he saw in the short videos that Woods released, and made these points.
--"For the first time since 2010, it looks like a swing he can play with. I know what he can play with and what he can't play with. And I feel he can play with that swing."
--"The main thing is that he is not getting the club behind him on the downswing, which causes his two-way miss. It's what he has to do to keep his driver in play."
--"He's showing the stinger shot again. I don't know why he ever stopped using that, but it was one of his great weapons."
--"As far as swing speed, I think he knows he has sufficient speed to play well or he wouldn't be trying to play."
--"The short game is still an unknown issue. But if he's telling people he's having chipping contests in his backyard with Rickie Fowler and Justin Thomas, it's because he was not afraid to embarrass himself. Before he was not chipping in public. If he had had trouble in his backyard, that would have gotten out."
--"So much is said about the young guys being so good. But this is Tiger Woods, who did and maybe can do things they haven't. At the Presidents Cup, he really saw those guys up close, and it probably helped his confidence."
Not that Woods won't have psychological hurdles when he again puts his game on display. For all the talk of the soft landing at the Hero - on a forgiving course he knows well, in a relaxed event with an 18-man field - there will still be plenty of pressure on Woods. Scrutiny will be high as ever for the player whose historical greatness means his competitive game will never escape judgment. He also admitted to Auriemma that despite assurances that the fusion is solid, he'll have to get over a fear of hurting himself when making hard swings. "Still in the back of my mind I remember making those swings and ending up on the ground," he said.
But the most astute judges - his fellow players – are the least surprised when the game produces the miraculous, and know firsthand that Woods is probably golf's all-time leader in miracles.
"A lot of guys have won majors in their 40s. It's there, it's a fact," Ernie Els told CBSSports.com. "If myself, Phil, Vijay, Darren Clarke…if we can do it, he certainly can do it."
On Auriemma's podcast, Woods also alluded to how his two young children, Sam and Charlie, "always tell me that I'm the YouTube golfer…They don't really know me as the golfer. They know me as the guy who's injured."
If Woods can somehow stop being that guy, there will be nothing more intriguing in all of sport than the golfer to emerge.