News
A complete history of Tiger's many comebacks, and how they really turned out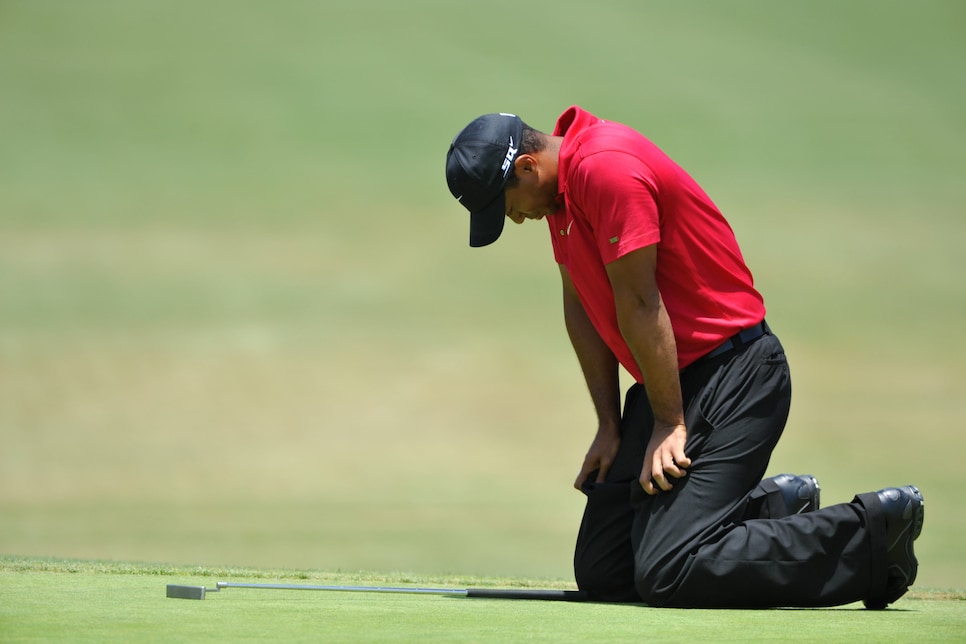 The circumstances were all different, so let's review Tiger's various comeback appearances, and what they portended for the weeks and months to come.
Why he had been out: Woods had surgery to drain fluid from his left ACL and remove several cysts at the end of his two-major 2002 season.
The comeback, short term: Woods missed the first five events of 2003, but came back to play the Buick Invitational at Torrey Pines, which, it turns out, is where he now tends to open the year even when he's healthy. The appearance was a success. Woods played 27 pain-free holes on Friday, shot a pair of 68s over the weekend and captured the first of seven wins at Torrey Pines.
The comeback, long term: On the surface, it was a productive year. Woods remained healthy, won five times and was named the PGA Tour Player of the Year. But it was also a year in which he had just one top 10 in the majors, and in which he split with his first pro coach, Butch Harmon. Also, as we later learned, Woods had growing concerns about the fragility of his knee, which led him to an eventual swing change under new coach Hank Haney.
2006 U.S. Open at Winged Foot
Why he had been out: After a T-3 at the Masters, Woods lost his father, Earl, to cancer in May. As he grieved, he missed two months of action.
The comeback, short term: Although a tune-up event before facing a brutal test at Winged Foot likely would have helped, Woods said he simply wasn't ready to compete. As a result, he was ill-prepared for the Open, shooting a pair of 76s to miss the cut for the first time as a pro in a major.
The comeback, long term: Once he worked through the rust, Woods was back to his dominant self. He was a runner-up at the Western Open a few weeks later, then captured an impressive, emotional win at Hoylake. He hit just one driver all four days and broke down after tapping-in on the final hole for a two-shot win. Remarkably, Woods never lost the rest of the season, capturing a second-straight major at the PGA Championship at Medinah and five other wins worldwide.
2008 U.S. Open at Torrey Pines
Why he had been out: In addition to a ruptured Achilles sustained while jogging at the end of 2007, Woods continued to have nagging pain in his left knee. After a promising start to the season, with three wins and a runner-up finish to Trevor Immelman in the Masters, Woods underwent another surgery and missed the next two months.
The comeback, short term: We all know how that turned out. While still clearly in pain, Woods gutted his way to what many say was his most impressive performance, a playoff win over Rocco Mediate for his 14th career major.
The comeback, long term: Actually, that was it. What we learned later is that Woods still had ligament damage in his knee and had two stress fractures in his left tibia. Doctors had advised him to not play in the Open, but he insisted. Once it was over, he required reconstructive knee surgery and missed the next nine months.
2009 WGC-Accenture Match Play Championship
Why he had been out: Woods was still rehabbing his knee when 2009 began, and he wasn't ready to compete until early March.
The comeback, short term: Woods returned to great fanfare in the desert, but it ended up being a short stay. After an opening-round win over Australian Brendan Jones, Woods was bounced by South African Tim Clark in the second round.
The comeback, long term: Over the course of the season, Woods appeared to regain strength in his leg -- and some of his old swagger. He ended up winning six times and captured his second FedEx Cup title. But it was also a year in which he was famously surpassed by Y.E. Yang at the PGA Championship, and one in which much larger problems were festering below the surface.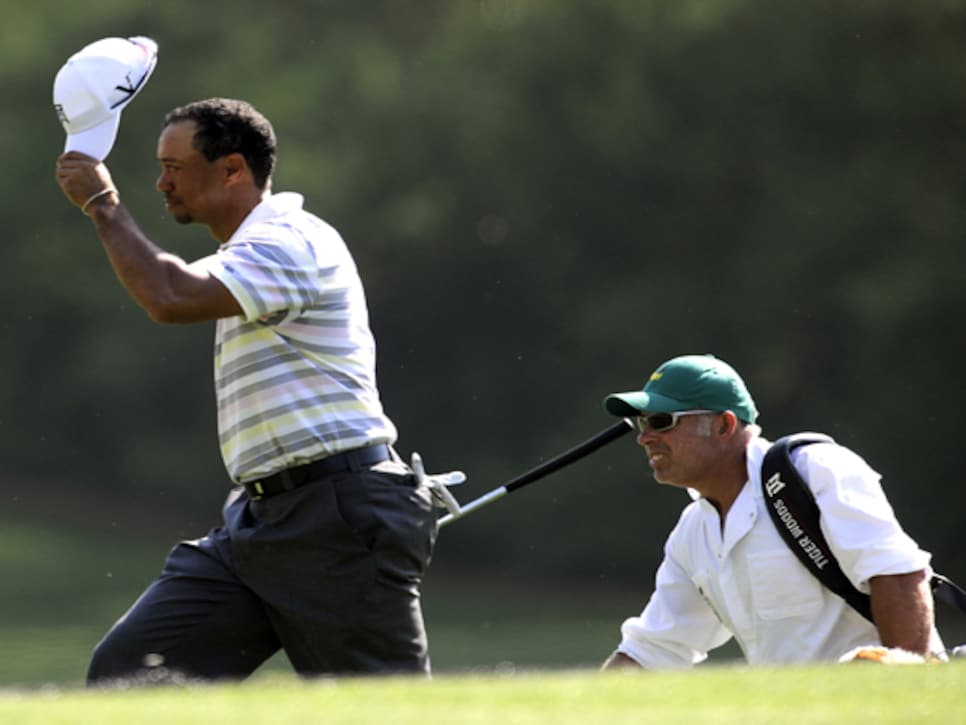 Why he had been out: This was a weird one to explain to the kids. When his history of extramarital affairs was revealed in staggering detail toward the end of 2009, Woods was publicly and privately shamed. He split with wife, Elin, and announced he was temporarily stepping away from the game.
The comeback, short term: After a series of public mea culpas, Woods returned at Augusta, and at least made it interesting. Having gone five months without playing competitive golf, he opened with a 68 and ended up T-4, five shots behind winner Phil Mickelson.
The comeback, long term: Still reeling from the scandal, Woods struggled through much of 2010. He popped up on another major leader board, this time the U.S. Open at Pebble Beach, but fell short again and ended a season winless for the first time in his professional career.
2011 Bridgestone Invitational
Why he had been out: Woods' leg problems returned at that year's Masters, when an awkward shot from under the Eisenhower Tree on Saturday led to a sprain in his left Achilles. Then came more pain in his knee and calf at the Players, and Woods was forced to miss both the U.S. and British Opens.
The comeback, short term: Woods returned at one of his favorite haunts, Firestone, and by his standards struggled, finishing T-37. In the next week's PGA Championship, he missed the cut in a major for only the third time in his professional career.
The comeback, long term: Because of how much time he had missed during the year, Woods didn't qualify for the FedEx Cup Playoffs, and didn't play again until a Fall Series event at the Frys.com Open in October. But the good news was the time off gave Woods a chance to regain strength in his leg, and put in his first real extended work under new coach Sean Foley. Although still searching for his first major since 2008, Woods went on to win eight times over the next two seasons.
2014 Quicken Loans National
Why he had been out: After undergoing a microdiscectomy on March 31, Woods missed more than 11 weeks, including the Masters and the U.S. Open.
The comeback, short term: In his first tournament back, which also happens to be the PGA Tour event he hosts, Woods bogeyed seven of his first 12 holes en route to a 74 on a very difficult Congressional Country Club. He shot 75 the next day to miss the cut.
The comeback, long term: Thus began a frustrating run of golf for the 14-time major champion. Woods made one cut the rest of the 2014 season, finishing 69th in the Open Championship at Hoylake, missed the FedEx Cup Playoffs and Ryder Cup, and returned in early 2015 to see serious deficiencies arise in his short game. The year that followed featured major lows (nine scores of 75 or higher in official play) and a few highs (a T-17 in the Masters, an opening 64 and a brief run in contention at the Wyndham Championship), but it was all for naught: that September, Woods had the first of two microdiscectomy surgeries on his back.
2016 Hero World Challenge
Why he had been out: The aforementioned microdiscectomy surgery forced Woods away from golf for more than 16 months. After serving as an assistant captain for the victorious U.S. Ryder Cup team and briefly contemplating a return at the Safeway Open, he opted instead for the friendlier surroundings of his own no-cut Hero World Challenge played in the Bahamas.
The comeback, short term: There was plenty of rust and one magical 65 in the second round, but what seemed to be the most encouraging aspect of Woods' four rounds in the Bahamas, in which he shot four-over par and finished 15th out of 18 players, is that he seemed to make it through the tournament without injury.
The comeback, long term: Yeah, about that. It turns out Woods wasn't tournament ready, and his back wasn't nearly as strong as first hoped. Woods made his 2016-17 PGA Tour debut a little more than a month later in the Farmers Insurance Open, but missed the cut with scores of 76 and 72, and then headed overseas to play the following week's Dubai Desert Classic. There Woods shot 77 in the first round, then withdrew in the second round because of back spasms. After withdrawing from a series of tournaments he was scheduled to play, including the Masters, Woods undergoes another serious back surgery in April. He hasn't played competitive golf since.