Tiger Watch
Tiger Woods is playing in a tournament on Monday in Ireland. So what is the J.P. McManus Pro-Am anyway?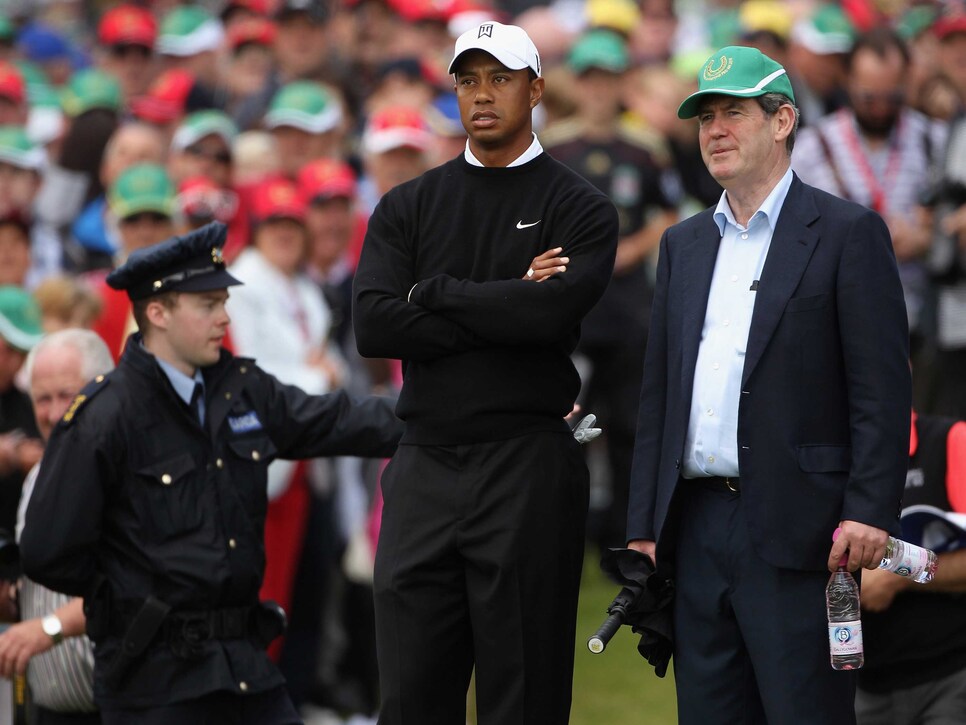 Tiger Woods stands with JP McManus during the first round of The JP McManus Invitational Pro-Am event at the Adare Manor Hotel and Golf Resort in 2010.
Andrew Redington
There was no sounding of the alarms on Golf Twitter over the weekend, no wild frenzy from fans watching anxiously to see if a certain iconic golfer's private jet had taken off for a trans-Atlantic flight. Unlike the Masters, PGA Championship and U.S. Open, Tiger Woods had never been coy about his intent to play in the upcoming Open Championship at St. Andrews. He's called the Old Course his favorite in the world, and it's a layout that would seem well suited for a 46-year-old still recovering from significant injuries to his right leg after his horrific car accident in February 2021.
Tiger arrived on Sunday, this video of his arrival that the DP World Tour shared via Twitter.
Given Woods' limited schedule as he continues to recover from his injury, it's only natural to ask What is the J.P. McManus Pro-Am? and Why is Tiger playing in it? After all, Woods struggled with fatigue when he played at the Masters in April, finishing 47th, and the PGA Championship in May, withdrawing before the final round. He skipped the U.S. Open in June to rest up for the Open. Why then play a week ahead in a pro-am?
Well, this isn't just this isn't any pro-am. The two-day event is hosted by McManus, an Irish businessman and philanthropist who owns, among other things, Adare Manor, which is scheduled to host the 2027 Ryder Cup. McManus, 71, first put on the pro-am in 1990 and has held it every five years through 2010. Tiger has previously played in it in 2000, 2005 and 2010.
The event, meanwhile, has been an impressive fundraiser for charities in the region. According to the pro-am's website, €140 million has been raised in the first five events. The pro-am was scheduled to be held for a sixth time in 2020, but was delayed due to the COVID pandemic, making this year's event a much-anticipated return.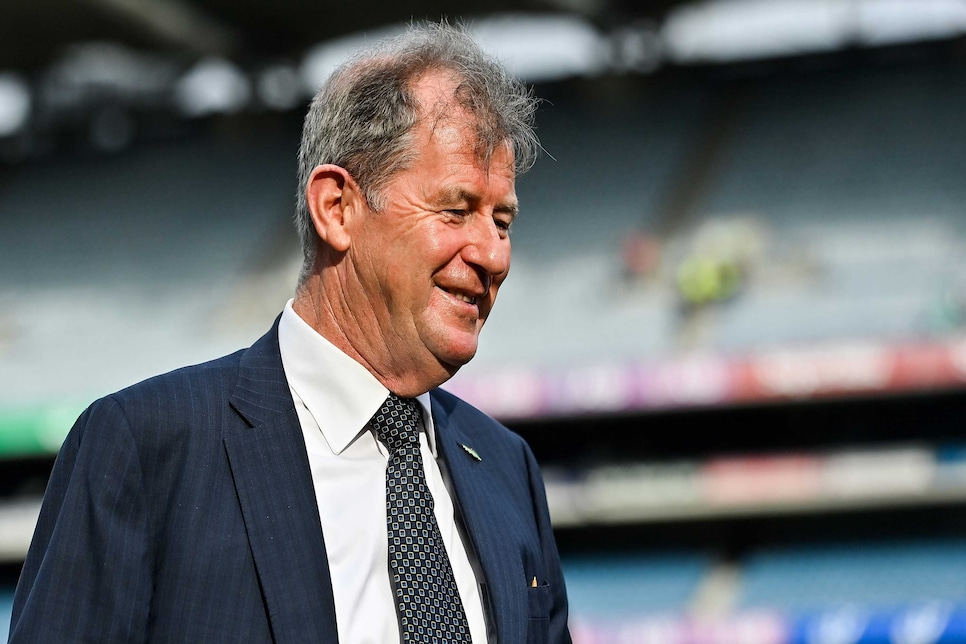 JP McManus after the GAA Hurling All-Ireland Senior Championship Final match in 2021.
Brendan Moran
And just how popular is the event? Well, the field of pros is a who's who of golf that would make the PGA Tour, DP World Tour and LIV Golf officials jealous. Nine of the top 10 players in the World Ranking are competing, and roughly 30 of the top 100 players, each paired with three amateur partners. They include: Scottie Scheffler, Matt Fitzpatrick, Jon Rahm, Bryson DeChambeau, Justin Thomas, Rory McIlroy, Collin Morikawa, Jordan Spieth. It's not just men's professionals playing; Leona Maguire, the first Irishwoman to win a LPGA Tour event, is also playing.
The list of pros competing isn't the only thing that's impressive. There are also some recognizable names among the amateurs, including Niall Horan, Jamie Doran and Bill Murray. Also playing is PGA Tour Commissioner Jay Monahan (his pro is Tom Hoge and other amateurs are Johann Rupert and Phil Hogan) and DP World Tour CEO Keith Pelley (his pro is Brandon Stone and other amateurs are Guy Kinnings and Keith Waters).
Woods is playing with Irish businessman Michael Smurfit, Tony Smurfit and Sharon Smurfit. The family's company once owned the K Club outside Dublin.
If you're interested in watching, the pro-am will be streamed on Peacock from 9 a.m.-2:30 p.m. EDT on Monday and Tuesday, with a replay shown on Golf Channel from 7 p.m.-12:30 a..m. each night.