News
Tiger Woods, Jordan Spieth, and Rickie Fowler paired together at BMW Championship with their seasons on the line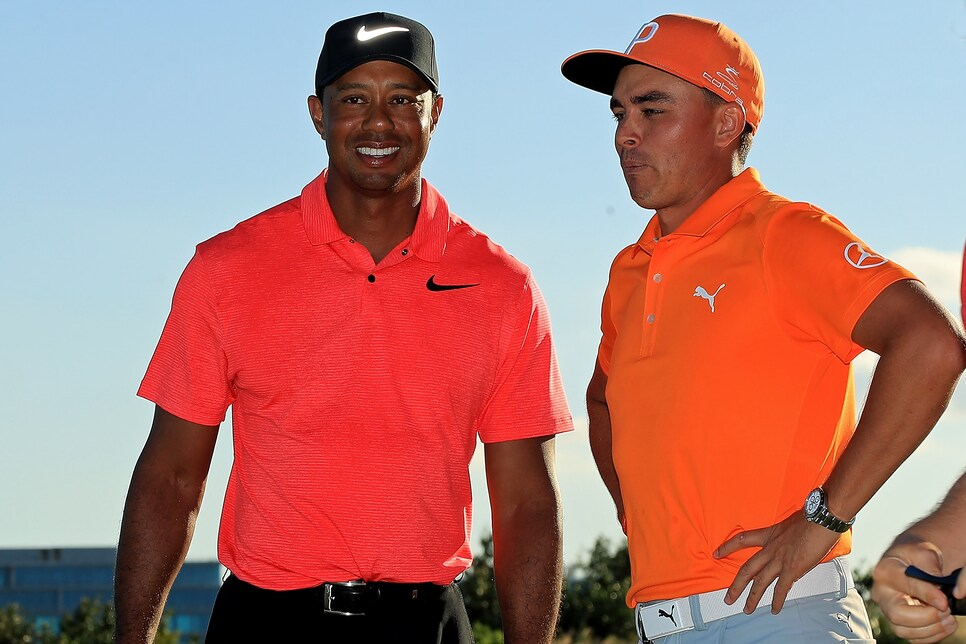 The most-watched group the first two days at this week's BMW Championship will also produce the most FedEx Cup Playoffs drama. Tiger Woods, Jordan Spieth and Rickie Fowler will play together on Thursday and Friday at Aronimink Golf Club with all three facing the distinct possibility that this will be their final PGA Tour start of the 2017-'18 season.
The star-studded trio was grouped based on FedEx Cup standings following the first two playoff events. Woods (No. 25), Fowler (No. 26) and Spieth (No. 27) will need solid weeks if they are to stay in the top 30 and qualify for the Tour Championship in two weeks.
Interestingly, all three are currently mired in extended winless draughts. Woods, who sat out much of the three previous seasons with back injuries, hasn't won since the 2013 WGC-Bridgestone Invitational. And it's been more than 12 months since a victory for both Spieth and Fowler.
Spieth (T-12) and Woods (T-24) are coming off disappointing Sunday finishes at the Dell Technology Championship. Fowler could have improved his playoff standing had he played in either of the first two postseason events. Instead, he sat out with an oblique injury that plagued him throughout his T-12 at the PGA Championship last month.
"It's nice to be back healthy, without pain," Fowler said at Tuesday's pre-tournament press conference. "I feel like I'm a lot more rested and ready to go than most guys here. It could end up being a good thing."
Spieth won the 2015 FedEx Cup, while Woods remains the only two-time winner of the PGA Tour's postseason since its inception in 2007.Woods, who is playing in his first FedEx Cup Playoffs since 2013, appears on the verge of making a second putter switch in as many weeks.
After ditching his TaylorMade mallet for a TaylorMade TP Juno before last week's event, the 14-time major champ was seen practicing with his old Scotty Cameron putter at Aronimink on Tuesday. Woods swapped out the putter that he's won 13 of his major titles with ahead of the Quicken Loans National in June and had close calls at both the British Open and PGA Championship.
Woods, Fowler, and Spieth will tee off Aronimink's 10th hole at 11:30 a.m. ET on Thursday and off No. 1 at 12:25 p.m. ET on Friday.