The Loop
Tiger Woods is dangling a sword over my head, and has been for almost three years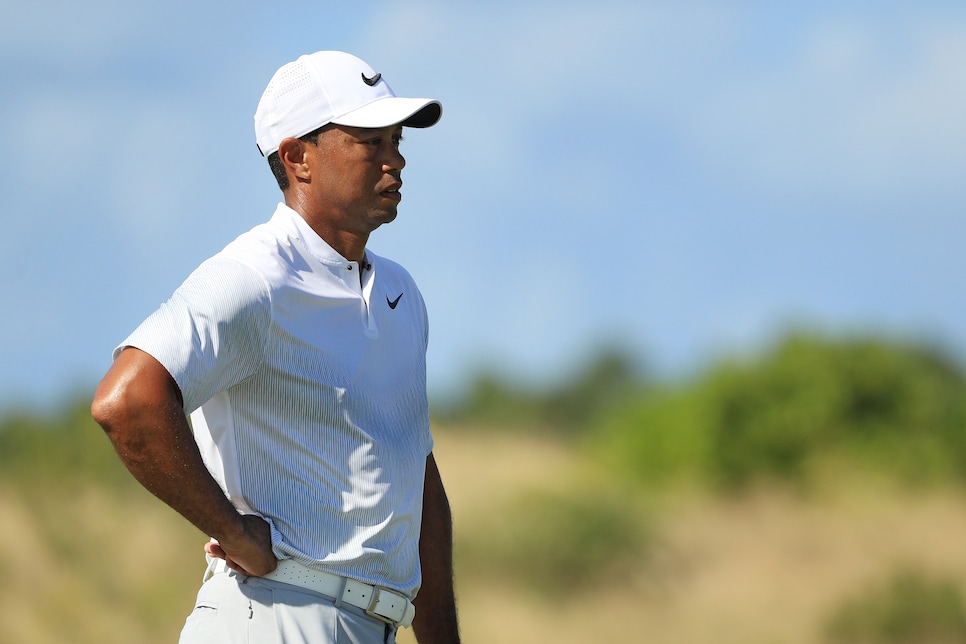 If you ever want to be harassed on the Internet for a very long time, my advice is to write a take that could be proved wrong at any moment, but cannot be proved right for a decade or more. That's what I did in July 2015, when I wrote an article for this very website called "Tiger Woods is totally, completely, unequivocally, and utterly done."
That's an emphatic opinion. But as you can already tell, it's an opinion that can only be correct if one of two scenarios plays out—Tiger Woods gets so old or injured that his done-ness is self-evident, or, God forbid, Tiger Woods dies. (Note: I do not want either of these outcomes, but especially not the second one.) Since Tiger is alive and not quite ancient, I'll be waiting a long time for a payoff—too long to be rewarding. I like to be right immediately, like when I told my Ohio State friend that his team was going to get screwed out of a spot in the playoff. I issued that take at 8am Sunday morning, and by 1pm, I could laugh in his face. It was great.
With the Tiger situation, it will take forever to be vindicated. Conversely, I'm never more than two or three tournaments away from public humiliation. Back in 2015, after I wrote the article, he eked out a top 10 at the Wyndham, and my Twitter was aflame with people roasting me. In late 2016, he had one good day at the Hero World Challenge, and the trolls returned in force. Now, just this weekend, he did a pretty good job for an entire event at the Hero, finishing 9th out of 18 golfers. Yet again, I'm in the crosshairs. In the past, he's always managed to get hurt pretty quickly after any positive results, and then the Twitter armies recede into the mist. This time? Who knows, man. Insiders are saying he's in good form, he's posting rounds in the 60s, and the sky is the limit. I might be toast. And unless I can bribe my editors into deleting the article, that bad take will be around until the bitter end of the universe.
Which leads me to the other worst part of that original take—it sets me up against a Tiger Woods comeback. Do you realize how much that sucks? On one side of this battle is me, the guy from 2015 who was annoyed that American press coverage centered around Tiger instead of the fun young players, and fired off an angry take for kicks, never imagining it would follow him around across the years. On the other side is a Tiger Woods comeback, which every golf fan in his or her right mind is dying to see. And I am too! I want Tiger to win more majors! But if I root for him, that means I'm also rooting to be harassed by a 66-year-old man from Dubuque who barely knows how to turn on his computer, but has figured out how to call me a piece of shit on Twitter.
I hate this, you guys. I want out. I want a time machine with which to undo that take, even if I'm right in the end. It's like investing in a company that makes its profits by killing cute animals. Either you lose all your money, or you get rich on dead puppies.
What I'm trying to say is, never write for the Internet.
The Week's Most Humiliating Way to Lose a Basketball Game: Georgia Tech
Georgia Tech vs. Grambling, final seconds, Grambling trailing by one. Grambling guard drives, attempts a shot, misses, and then THIS happens:
The crazy thing is, I've watched it maybe 20 times, and I still can't tell if the guy had a temporary mental lapse and was trying to tip it into the wrong basket, or if it was an accidental colliding of hands. I'm leaning towards the latter, and I'm about 85% there, but I can't rule out the brain fart. Or wait...what if he did it on purpose as an act of sabotage??? This is the JFK assassination all over again—what happened out there? I need a 3-hour film from Oliver Stone STAT.
This Week's Good Decision Within a Bad System: Alabama to the playoffs
A week ago, I wrote about how much it sucks that there's no eight-team playoff in college football, since it almost always excludes a team with a legitimate shot to win the national title, and does so unfairly. Saturday came, and yet again we saw a mini-nightmare scenario play out—Ohio State won the Big Ten championship over Wisconsin, which meant there was now a debate between the Buckeyes and Alabama for the fourth and final spot. Wisconsin could have made it easy by winning, but no...the ironclad rule is that everything must be as arbitrary and nebulous as possible. The system stinks.
However, within that broken framework, there was still a smart choice to make, and that choice was Alabama. The Crimson Tide had a pretty weak schedule all year, and the only time they played a top tier team (Auburn), they lost a close game on the road. That cost them a berth in the SEC championship game, and a chance to make a strong closing argument. But you'll notice that of the three demerits I just listed, two are not Alabama's fault. They can't control their schedule (the SEC West was weak, and their first game of the season, a win against FSU, seemed way better at the time). They can't control the fact that they had to play a road game in order to make the conference title game. They could control the outcome against Auburn, but ask Georgia—who beat Auburn this past weekend in a revenge game—how much it sucks to play in Jordan-Hare Stadium.
Meanwhile, Ohio State got killed at home by Oklahoma, and then suffered a really embarrassing blowout loss to Iowa. That's two losses to Bama's one, and the second loss was really, really bad. Sure, they won the Big Ten, but what does that really mean? Does that really compare favorably with Alabama missing out on their conference title game due to bad luck? It's apples and oranges, so for me, the losses matter the most. Ohio State did not deserve to be left out of the playoff, but they didn't deserve to go in ahead of the Tide. This was a lose-lose decision, but it was still the right one.
Sports Tragedy I Still Can't Believe of the Week: The World Cup Debacle
Confession: I'm not a big soccer guy. I keep thinking I should pick an EPL team to follow, especially since I never watch NFL football on Sundays anymore, but I just never make the effort. I will occasionally watch Euro Cup every four years. Occasionally. I'll never watch MLS until they bring a team to Raleigh. But one thing I love, even as a non-soccer guy?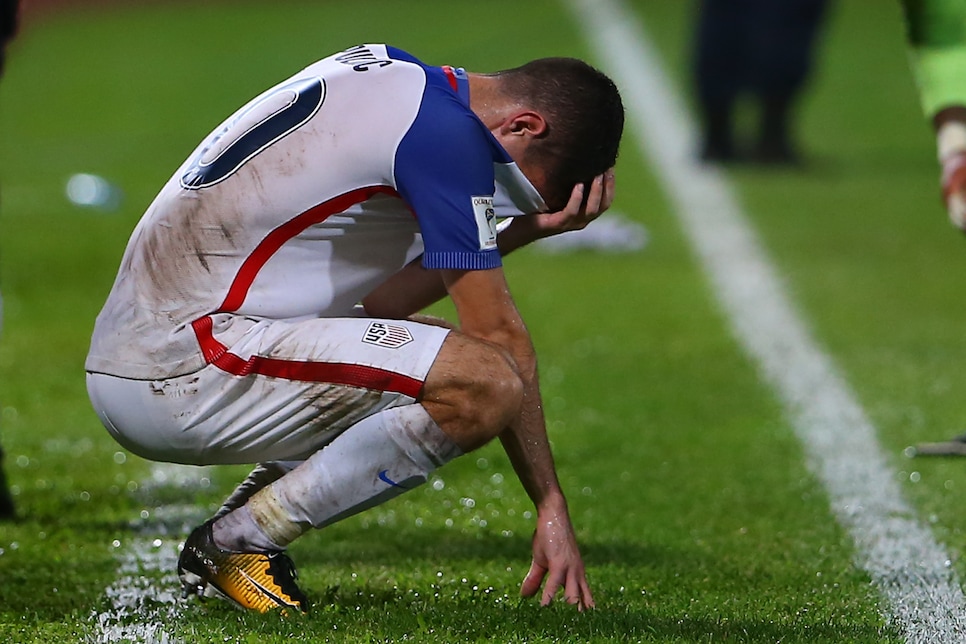 It's so good. It's such a wild, weird celebration. I love drinking with strangers and going crazy when the U.S. does something good. And they usually do! It's usually weird and spectacular, and then we fizzle out. The whole thing rules, at least until the final when two European teams pretend to be injured for 90 minutes and someone wins on penalty kicks.
I still cannot believe that we missed the damn thing this year. It's such a kick in the teeth. The groups came out this week, which is always fun, and you know what I noticed? No America. It's still true, and I still can't process it. And now we have to wait four more years just for the chance to make it back? NOT GOOD. We are not a patient people. This summer is going be such a bummer. I can't remember the last time something this terrible happened and we had to wait four years to undo...
Finally, Here's a Dude Posterizing His Teammate
This needs to happen more often. I would love a poster of Russell Westbrook dunking over Carmelo, or Kemba Walker jamming it in Dwight Howard's face, and you know you would too.