News
Hideki Matsuyama has shot to end Spieth-like drought and other Saturday takeaways from BMW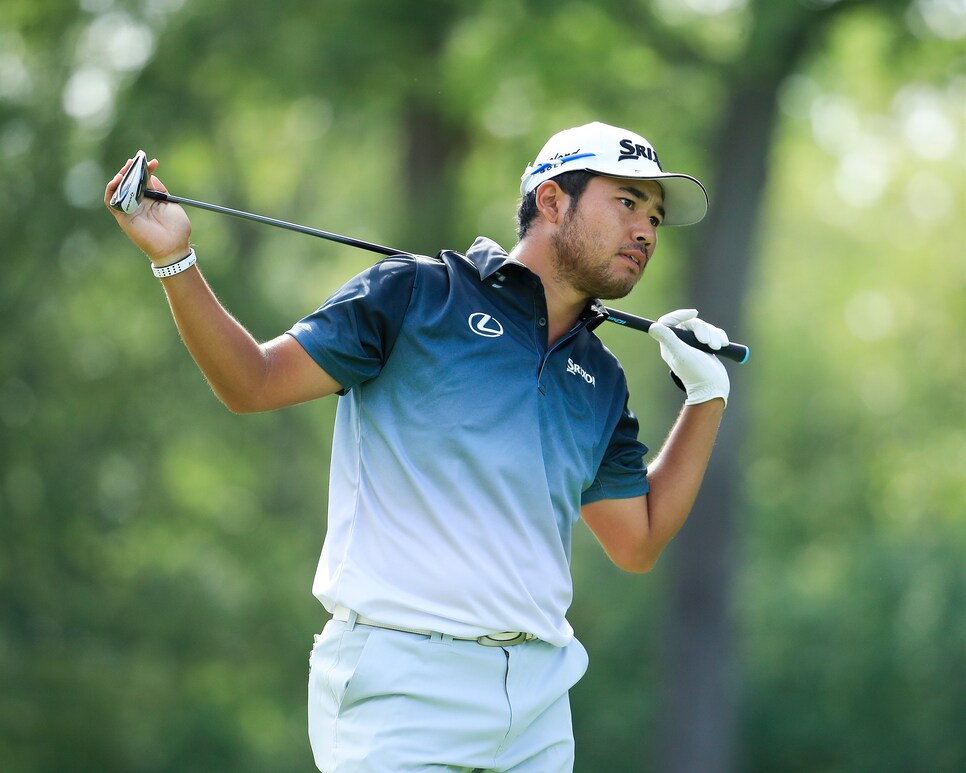 Hideki Matsuyama is trying to win on the PGA Tour for the first time since 2017.
Andy Lyons
It's been a quarter century since a player won a tournament on the PGA Tour (non-major division) at even par, a mark that could be in jeopardy come Sunday at the BMW Championship.
Though predicted overnight night rains never came at Olympia Fields, scoring was once again difficult for Saturday's third round. Through 54 holes, only two players—Dustin Johnson and Hideki Matsuyama—are under par, with both sharing the lead at one under for the tournament. Everyone else, meanwhile, is over par.
Here are five takeaways from Saturday at the BMW.
It's been three years since Hideki Matsuyama won, with his last victory coming at the 2017 WGC-Bridgestone Invitational. If that sounds like a familiar drought, it should.
It's nearly identical to the one of Jordan Spieth, whose last win came at that year's Open Championship at Royal Birkdale, two weeks earlier than Matsuyama's. Of course, only one of them even has an opportunity to end the winless stretch this week, thanks in part to a fast start in the third round.
Matsuyama's biggest shot of the day? A hole-out from a greenside bunker for eagle at the first. It helped produce a three-shot swing between him and playing partner Dustin Johnson, who inexplicably bogeyed the hole.
Johnson made up for it with three birdies and just one bogey the rest of the way, while Matsuyama made three bogeys and just two birdies as each shot 69.
"Great start and then just had to hang on," Matsuyama said. "Just tried to do what I could to stay in, and I was happy with how it went."
On Saturday, it was announced during the Golf Channel broadcast that Rory McIlroy's wife Erica is expecting the couple's first child, a girl, any day.
"I'm just waiting for a phone call," McIlroy said. "I was waiting for a phone call last week and it didn't come, and then [my caddie, Harry Diamond] has been keeping his phone in his pocket just to make sure, but nothing as of yet."
Perhaps that explains McIlroy's indifferent play and outlook at times in recent weeks. Still, after a so-so 73 on Saturday he'll enter the final round just three off the lead.
And if that phone call comes?
Said McIlroy: "I'm out of here."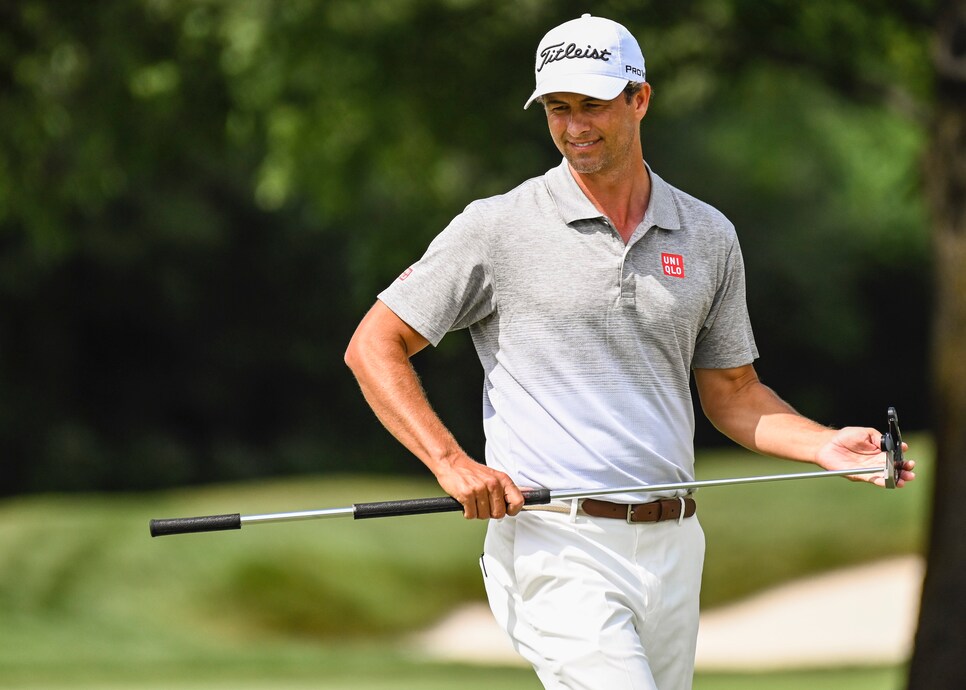 Adam Scott of Australia smiles after missing a birdie putt on the ninth hole green during the third round of the BMW Championship.
Keyur Khamar
Great Scott, what's going on in the name of Adam?
For all the things to be envious of when it comes to Adam Scott—Jim (Bones) Mackay added to the list on Saturday with the story of Scott once hitting Phil Mickelson's left-handed driver 285 yards down the middle at East Lake—the Aussie's putting wouldn't rank high on the list.
Except this week, which so far has played out a little like "The Opposite" episode from "Seinfeld."
Scott ranks near the bottom of the 69-man field in strokes gained/off-the-tee this week. On the greens? He's second in strokes gained/putting. Go figure.
"I had been generally putting really well, and [last] Saturday in Boston I had the worst putting of recent memory, and it really annoyed me," he said. "I've been just determined to get refocused on the putting after that kind of off day and not let it slip my confidence in everything I've kind of worked on with the putting, because it's a lot nicer to play when you're putting good."
Statistically, Scott is right. His putting isn't nearly as bad as perceived—he ranks 51st on tour this season and was 31st last year—and it helped him at times on Saturday, particularly on a couple of nice lags from long distance, a 20-footer for birdie on the 15th and an important save from 10 feet on the 18th that kept him just two off the lead going into Sunday.
"This kind of fast green is really what I like to putt on, with slope, as well," Scott said, adding he hasn't changed anything in his technique lately. "I think it's to my advantage."
Rahm's incredible penalty
Jon Rahm will enter Sunday with a chance to win for the second time in his last five starts thanks to a 66 that not only tied for the low round of the week but has the Spaniard just three off the lead.
If not for an incredible brain cramp, though, he would be even closer.
Rahm realized the mistake immediately, called for a rules official and was hit with a one-stroke penalty.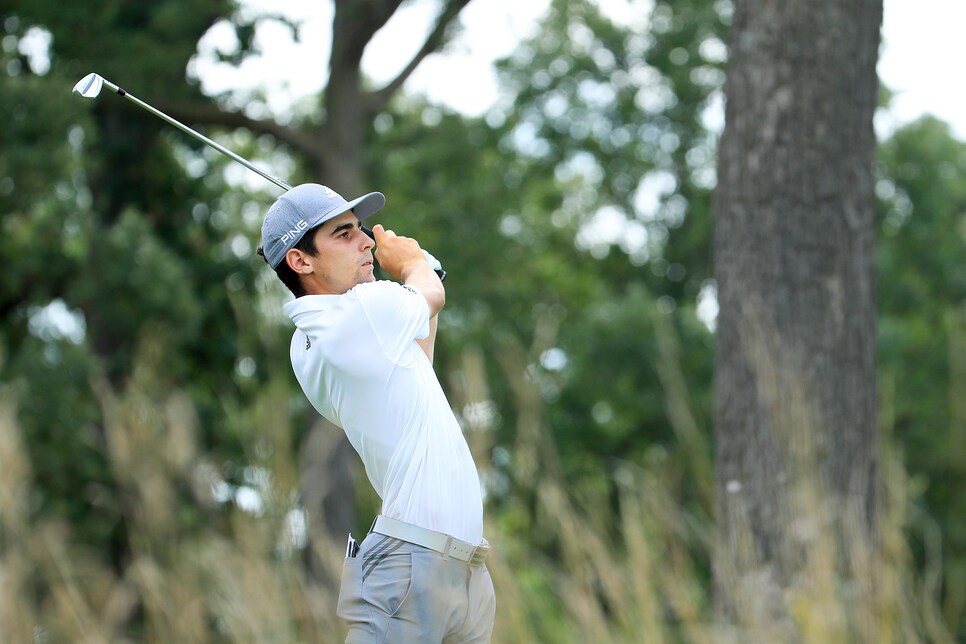 Joaquin Niemann plays his shot from the sixth tee during the third round of the BMW Championship.
Andy Lyons
"I'm proud of being able to maintain my composure afterwards," he said. "I think the most important shot of the round was that second putt, the six-footer for bogey. Technically it helped out a lot. I was able to tell myself I was 1-under par through five holes."
As for an explanation, he didn't have one. He was as dumbfounded as everyone else.
"We don't see those on the PGA Tour and usually it's not followed by a 66 on this golf course," Rahm said. "I just hope I don't lose by one. I'm just going to say that. I just hope. And if I do, well, very well—my fault."
The tournament within the tournament
While Tiger Woods' season will come to an end on Sunday because he will fail to qualify for next week's Tour Championship, two players dramatically improved their chances of making it to East Lake.
Joaquin Niemann, who entered the week 31st in the points standings, shot 68 to move to a tie for third and a projected 18th in the FedEx Cup standings. Should the 21-year-old Chilean advance, he would be one of the younger players to qualify for the season finale.
Mackenzie Hughes, meanwhile, became the first player this week to record two sub-par rounds after a 69 on Saturday. That moved him into a tie for third with Niemann and up to a projected 22nd in the standings. It would also be Hughes' first Tour Championship should he qualify.
Among the perks for doing so? A spot in the field at Kapalua in January and all four majors next year.