Tiger Woods flashes some signature moves, Pat Perez inspires golfers everywhere, and Rickie Fowler returns to a special place with his special lady
Welcome to another edition of The Grind, where we're beginning to understand how crazy this whole Tiger Woods situation seems to non-golf fans. On Sunday, I excitedly showed my wife the tweet of Tiger hitting driver and promptly fired up my laptop just as we were about to sit down for dinner. "You have to write something now because Tiger Woods swung a golf stick?" That's right! (By the way, she more than made up for the "golf stick" line with a tremendous batch of pesto.) Then on Monday, I told her I had filmed a Tiger video at work that day. "You made a video about Tiger's little video?" Right again!
You are using an unsupported version of Internet Explorer. Please upgrade to Internet Explorer 11 or use a different web browser.
Yes, most golf fans are total suckers when it comes to Tiger Woods and believing that any little thing he does is proof that he's BACK. But between him flashing a vintage club twirl and him donning his signature Sunday-red shirt, can you blame us? In any event, we'll try to remain calm and keep the rest of this week's Grind as Tiger-free as possible. After all, there will be plenty of time to talk about TW's triumphant return in weeks to come. Whoops, there we go again. . .
Pat Perez: With a four-shot victory at the CIMB Classic, Perez picked up a third career PGA Tour title and climbed into the top 20 of the Official World Golf Ranking for the first time. For guys like me who'd rather do anything than go to the gym, this dude is an inspiration.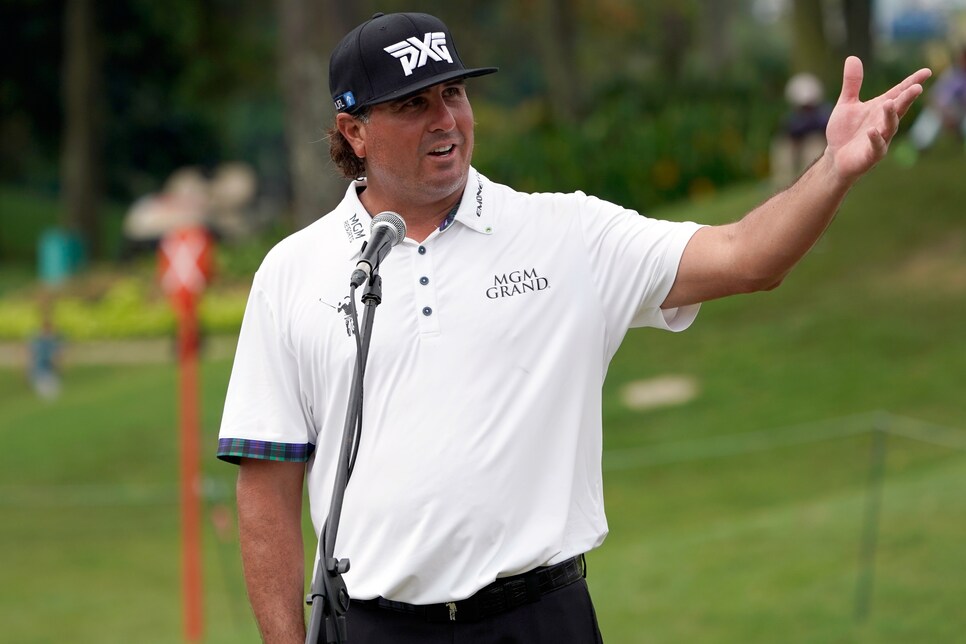 And now that he's playing the best golf of his life at 41, he should also serve as motivation for a certain other 41-year-old out there. . .
Tyrrell Hatton: For a second straight week, Hatton won on the European Tour, this time claiming the Italian Open to move up to No. 17 in the OWGR. And in a country more celebrated for its food than perhaps any other, Hatton had his celebratory meal at. . . Burger King.
Hey, sometimes you just crave a Whopper. Even when you're almost literally in Rome. And those onion rings with the zesty sauce? Delizioso!
A round with Phil: If we had a spare $250,000 lying around, that is. That's what Charitybuzz expects to get for a foursome with Phil Mickelson -- and lunch! -- at his home course in Rancho Santa Fe. The proceeds go to Operation Healing Forces, so it's for a good cause. Plus, the gambling advice and stock tips you'd receive from the five-time major champ would be worth that hefty price tag alone.
Rory's childhood home: For not much more than the price of a round of golf with the five-time major champ Mickelson, you can own the childhood house of the four-time major champ from Northern Ireland. And it's quite lovely. In addition to the four bedrooms and two bathrooms, there's a hitting bay in the basement and a beautiful outdoor putting green.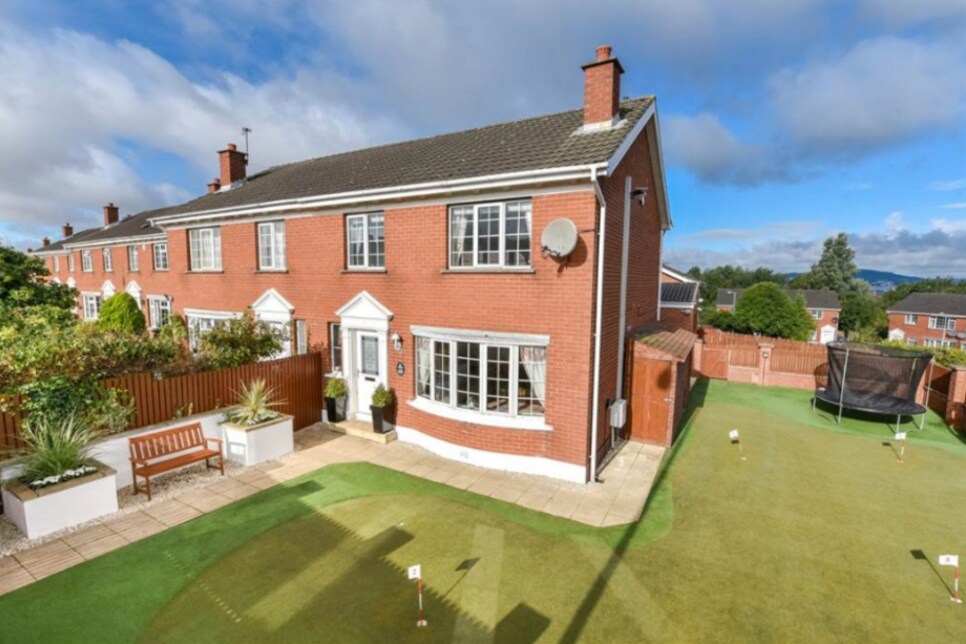 This explains why McIlroy turned into such a great golfer. However, it does not explain his putting stats this year.
Turf wars: When there weren't enough spots on the range for PGA Tour pros playing in the CIMB Classic to warm up following a lengthy weather delay on Friday, some of the guys found spots to practice on Kuala Lumpur's other course, which is hosting an LPGA event next week. And several LPGA stars including Jessica Korda and Brittany Lincicome weren't happy. Sorry, but this doesn't seem like a big deal considering just three years ago the U.S. Open and U.S. Women's Open were played at Pinehurst on back-to-back weeks.
Michael Jordan's lungs: In an interview with Cigar Afficionado, the legendary basketball player and avid golfer said he smokes six cigars a day. It's not too surprising considering just about every photo of Jordan playing golf includes a smoke stick (Is that a phrase?) dangling from his mouth.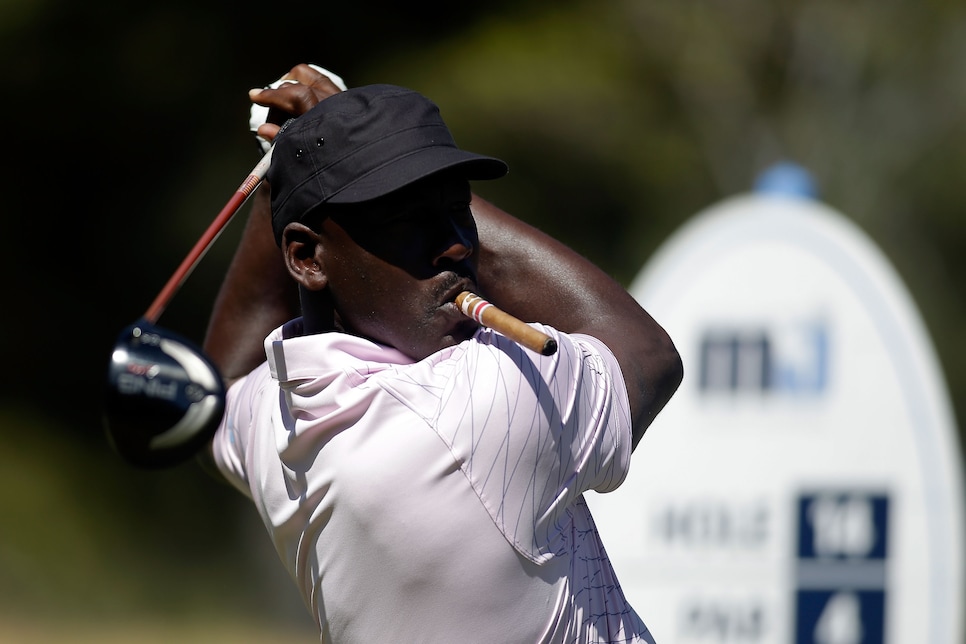 But it's still a bit alarming from a health perspective. Then again, this is a guy who barely needed sleep during his playing career. He'll probably live long enough to smoke stogies (that's the phrase I was looking for!) with his grown-up great grandchildren.
Mascots with golf clubs: I've never been a mascot guy, but I know from my sister who tried out to be the Miami Hurricanes' Sebastian that it's extremely difficult and uncomfortable. So the last thing I'd recommend doing is giving a golf club to one of these people struggling to breathe and see. But the University of Oregon's duck recently got ahold of one – and a cheerleader nearly got decapitated as a result:
That really could have put a damper in that young lady's Saturday night plans.
The PGA Tour heads to South Korea for the CJ Cup @ 9 Bridges (Using the @ symbol instead of writing out "at" is so on trend), aka that new event on the PGA Tour schedule. It will quickly become known as that tournament with the island-green closing par 5. Well, to those who stay up really late to watch the TV coverage.
Random tournament fact: The purse for this inaugural event is $9.25 MILLION, making it the second-biggest purse for a non-major/non-WGC event all season. Oh, and it's a limited field with no cut. Cha-ching!
RANDOM PROP BETS OF THE WEEK
-- Golfers in South Korea are there because they heard good things about the course: 9.25 MILLION-to-1 odds
-- Tiger Woods will play in this year's Hero World Challenge: 10-to-1 odds
-- Tiger Woods will do something this week that causes me to drop whatever I'm doing to write about it: LOCK
It's actually a combo of two photos, both involving Sergio Garcia and Austin Connelly, that were taken 18 years apart. The two first met before Garcia's first pro start at the 1999 Byron Nelson, and this past weekend, they were paired together for the third round of the Italian Open.
VIRAL VIDEO OF THE WEEK (TOUR PRO DIVISION)
Here's Jamie Donaldson pulling off the prettiest driver-off-the-deck shot you'll ever see:
I know he'll always be known for that winning wedge shot at the 2014 Ryder Cup, but this was pretty special.
VIRAL VIDEO OF THE WEEK (EX-TOUR PRO DIVISION)
Greg Norman is coming back to competitive golf! For one event, at least. Norman will team up with Greg Norman Jr. for the PNC Father-Son Challenge in December. And the two made the announcement with this amusing video:
By the way, Greg Norman is in decent shape for a 62-year-old.
"I'm not going to change anything. I'm still not going to work out. I'm still going to have a bad diet and I'm going to enjoy myself." – Pat Perez, AKA the anti-Greg Norman
THIS WEEK IN TOUR PROS MAKING US FEEL BAD WITH THEIR TRAINING
Nope, not this week! No workout videos that make you tired just watching them. Instead, enjoy this a photo of Pat Perez living it up. At Bojangles'.
THIS WEEK IN MODELS PLAYING GOLF
Introducing Sistine Stallone, the daughter of Sylvester Stallone:
Sistine has a solid swing, but I was more amazed to learn Sly has four daughters. In the Rocky series, he only has Rocky Jr.!
THIS WEEK IN DUSTIN JOHNSON-PAULINA GRETZKY PAT PEREZ-ASHLEY PEREZ AND RICKIE FOWLER-ALLISON STOKKE PUBLIC DISPLAYS OF AFFECTION
A week after celebrating the big 3-oh, Ashley celebrated her husband's big win with this sweet message.
Aww. And Rickie Fowler returned to his alma mater, Oklahoma State, to be the grand marshal at homecoming. And he brought his girlfriend for the first time:
Congrats to Matt Parziale, a 30-year-old firefighter from Mass., on winning the U.S. Mid-Amateur. Even more impressive? He was back working at 7 a.m. the following day! Talk about a true grinder. . . . I had a fun and wide-ranging chat with Jerry Kelly (the dude really knows his Wisconsin football) ahead of the PGA Tour Champions Schwab Cup Playoffs, which start this week. Good luck to Jerry and all the other senior players trying to end Bernhard Langer's reign. . . . And good luck to John Daly on his new line of adult beverages. I know they're pretty stiff (8 percent alcohol by volume) and I'm sure they're tasty, but I know how tough the beverage industry is from watching "Shark Tank." . . . Speaking of shelf space, I snapped this sad photo in a grocery store the other day. It's like watching a beloved species slowly going extinct.
And yet Diet Coke Lime and TAB live on? Disgusting. RIP Coke Zero.
RANDOM QUESTIONS TO PONDER
Can anyone stop Bernhard Langer in the Champions Tour Playoffs?
Can anyone stop the Warriors from winning another NBA Championship?
Where would you go for a celebratory golf meal? Other than Burger King, of course.