The Loop
The PGA Tour's day of reckoning, another amateur golf controversy, and Rickie Fowler takes his relationship to the next level
Welcome to another edition of The Grind, where we have never had a more difficult start to the week thanks to Sunday night's preposterous Game of Thrones episode and Monday's solar eclipse. We wound up reluctantly partaking in both, but they are two of the most overrated phenomena of our lifetime. And they're impossible to avoid in an office setting, especially when you have a good view from your desk: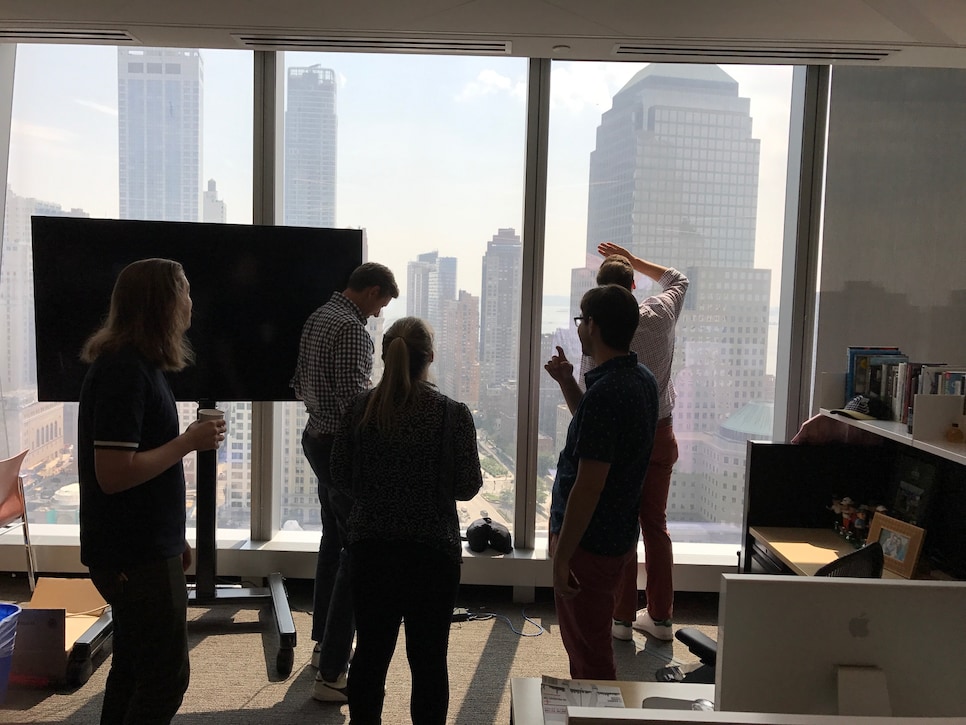 But let me be clear that I was much more concerned about power shifting between nations at the Solheim Cup and the job drama at the PGA Tour's final regular-season event. And isn't a more impressive path of totality making it through six consecutive matches at the U.S. Amateur unscathed? So without further ado, let's talk about everything happening in golf. And if you've read this far, congrats on not staring up at the sky too long.
Henrik Stenson: Last year's Champion Golfer of the Year needed 13 months to win again, but he did it in spectacular fashion at the Wyndham Championship. This time, the Swede's back-nine birdie binge outlasted a hatless youngster instead of a veteran wearing a hat with a binder clip. It was good to see King Henrik back in form.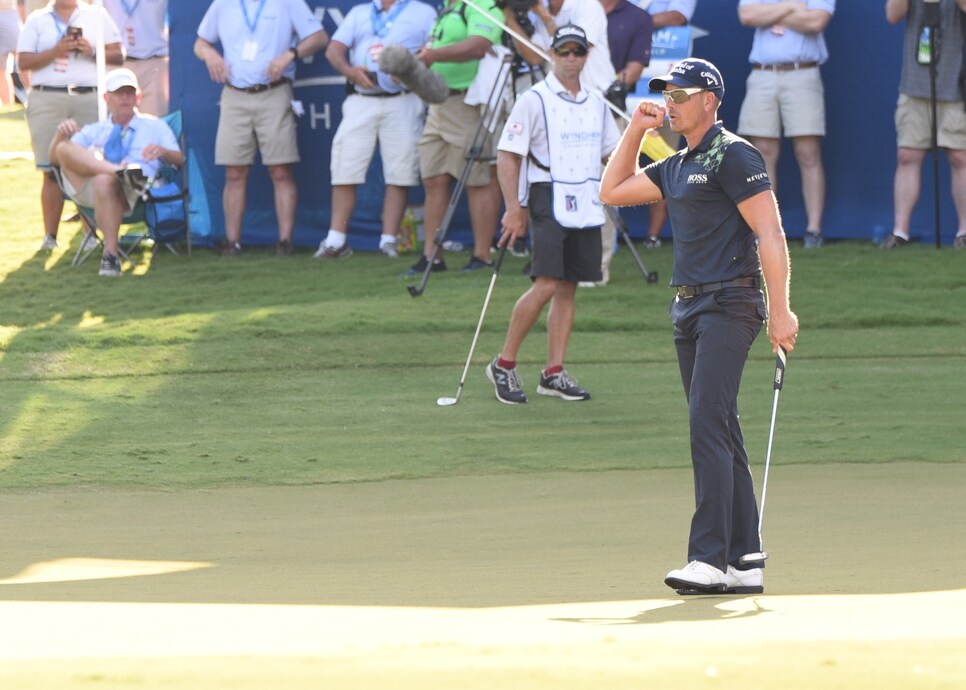 Outside of Stenson's record-breaking Open victory, it's amazing that this is Stenson's first PGA Tour title since the 2013 Tour Championship. I'm also buying Ollie Schniederjans, an up-and-coming star whose performance would have greatly helped my fantasy team – if I remembered to plug him in the lineup. Whoops.
U.S. Women: Yes, the Solheim Cup is an event the American women should win on paper, but how many times have we said the same thing about the American men at the Ryder Cup? Super sub Paula Creamer stepped up, Lexi Thompson was awesome, the "Killer B's" of Brittany Lincicome and Brittany Lang were undefeated, and Cristie Kerr strutted around like she owned the entire state of Iowa on the way to a dominant U.S. victory. Well done.
Doc Redman/Doug Ghim: Hats off to both these guys for their performance in the final of the U.S. Amateur. Redman's eagle-birdie finish to force a playoff was one for the ages, but this is the rare event where there really are no losers, because both guys will tee it up at next year's Masters.
Finishing 126th on the PGA Tour: Zac Blair is this season's bubble boy, and it's an especially tough finish since he didn't get to, well, finish. Blair made the cut in Greensboro, but failed to advance to the final round because of the tour's secondary cut, which goes into effect when more than half the field makes the 36-hole cut. With his fate out of his hands on Sunday, Blair watched as J.J. Henry birdied his final hole to wrap up his tour card and knock Blair out of the top 125. We'll be rooting for Zac to get his card back at the upcoming Web.com Tour Finals.
Annika Sorenstam's fanny pack: Winning 10 majors is intimidating. Wearing one of these is not:
The PGA Tour's top 125 head to my neck of the woods for The Northern Trust (formerly The Barclays) at Glen Oaks Club in Long Island. You've got to be inside the top 100 by Sunday evening to advance to Boston next week. And if you don't, you're welcome to swing by the crib for a little ping pong at slightly lower stakes.
Random tournament fact: This is the first time Glen Oaks is hosting the event, and with future sites lined up, it won't host until at least 2023. Meanwhile, the next solar eclipse is (Googles next solar eclipse) 2024. That's it? I was hoping it would be another four decades.
RANDOM PROP BETS OF THE WEEK
-- Jordan Spieth will win the FedEx Cup: 5-to-1 odds (Actual bet)
-- Tiger Woods will win before the next big eclipse: 5-to-1 odds
-- Tiger Woods will NOT wear a fanny pack at the Presidents Cup: LOCK
Juli Inkster does NOT mess around when it comes to celebrating and she doesn't need her booze in a fancy container:
Dig her style, although I'm a vodka soda man myself.
At quick glance, this looks and sounds like a Rory McIlroy press conference, but it's actually a spot on Rory impression by Steven Connolly. Have a listen:
The part about wanting his caddie to tell good bed-time stories gets me every time.
VIRAL VIDEO OF THE WEEK (TRICK-SHOT DIVISION)
After recently seeing a made putt using a moving golf cart, here's a hole out using a golf towel:
What will the kids think of next?!
VIRAL VIDEO OF THE WEEK (HOLE-IN-ONE DIVISION)
How about Martin Flores making the most clutch hole-in-one of the year, a final-round ace that kept him on the PGA Tour for next season:
And a bit later, Ben Crane aced the same hole, only Crane seemed more concerned with finding his tee:
As someone who hasn't paid for a tee in more than a decade, I appreciate Crane's commitment to finding that thing.
"It was the least enjoyable round I've ever played. Everybody knows exactly where they stand, no matter what they say." – Sam Saunders, who knew he stood outside the top 125 following his disappointing weekend at the Wyndham Championship.
THIS WEEK IN JUSTIN THOMAS CELEBRATING
JT's PGA party continued at a New York nightclub, but there was one problem:
It's good to know Justin has friends like Gary to keep him humble.
THIS WEEK IN DUSTIN JOHNSON-PAULINA GRETZKY PUBLIC DISPLAYS OF AFFECTION
The World No. 1 and lady went to the Bahamas to recharge before the FedEx Cup Playoffs:
THIS WEEK IN RICKIE FOWLER-ALLISON STOKKE PUBLIC DISPLAYS OF AFFECTION
The two shared this photo from Tiger Woods' restaurant:
It's not quite getting engaged, but getting "enranged"? Things must be getting serious.
Martin Piller put aside trying to earn his PGA Tour card by skipping the second-to-last Web.com Tour event of the regular season to cheer on his wife, Gerina, at the Solheim Cup. What a guy. . . . Speaking of on-course couples, congrats to co-worker Ashley Mayo for getting engaged at Bandon Dunes. Looks like a decent spot to bend the knee.
Augusta National got a judge to halt the auction of three green jackets, including one billed as having belonged to Byron Nelson. We're guessing the club has a pretty decent legal team. . . . Before last week, Artem Nesterov was known as Russia's first famous golfer. Something tells us he's going to be remembered more, though, as the golfer who killed and beheaded his mother. . . . And finally, somebody (probably not Ashley because she was busy doing more adult things) put up these posters around the office that mock my need to wear excessive layers in the cold: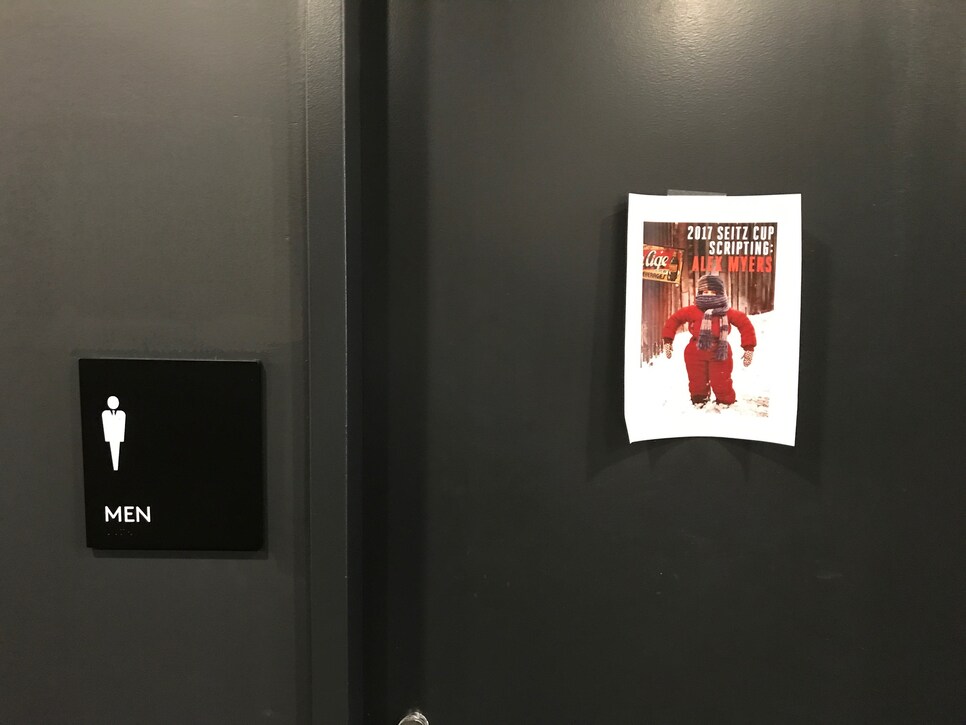 Or, someone could have just put up a photo of Jon Snow going out beyond The Wall. I had to bundle up just watching that.
RANDOM QUESTIONS TO PONDER
How is Game of Thrones (I can't quit you!) going to end?
How much would you pay for a green jacket?
How much would Greg Norman pay for a green jacket?