Tiger Talks
Following document release, Tiger Woods denies receiving scripted comments from PGA Tour on LIV Golf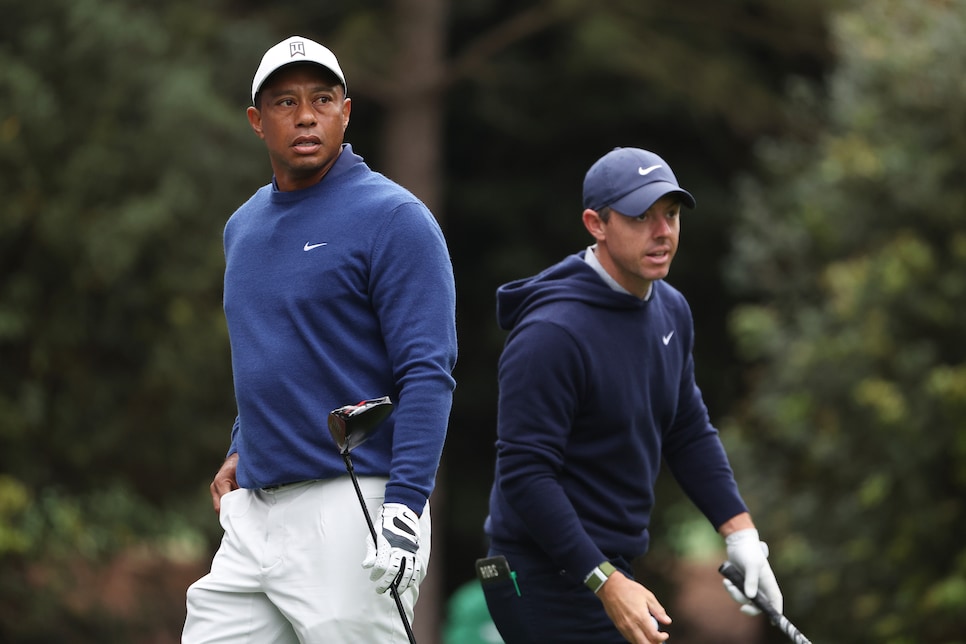 Tiger Woods says he never received scripted comments reportedly sent from the PGA Tour last summer when the tour was intensifying its defensive stance against the just launched LIV Golf circuit.
On July 1 Twitter user "desertdufferLLG" posted a snapshot of documents from an antitrust lawsuit involving the tour in the 15th Judicial Circuit in Palm Beach County, Florida. Among the 357 pages of emails, documents and investment agreements—which were obtained by Golf Digest—are remarks that the tour prepared for Woods to give during an appearance at a players meeting at the Travelers Championship in June 2022, less than three weeks after the inaugural LIV event in London. Some of the talking points include Woods asserting PGA Tour commissioner Jay Monahan "is the right guy for this war," that it was time for tour players to "join the fight" and that tour players should "Do what I did: tell the Saudis to go f*** themselves. And mean it."
Following the release of the documents, Woods took to Twitter Sunday, writing that he never saw the prepared remarks and that he did not appear at the meeting in question.
"In response to the talking points memo released this weekend, I have never seen this document until today, and I did not attend the players meeting for which it was prepared at the 2022 Travelers," Woods wrote.
Woods' comments come a month after the tour's surprising announcement that it planned to partner with Saudi Arabia's Public Investment Fund, the primary funders of LIV Golf, for a new joint venture. Woods has still not commented publicly regarding the proposed deal between the tour and PIF. The 15-time major winner remains sidelined after surgery on his right ankle following a WD at this year's Masters, having missed the PGA Championship and U.S. Open and withdrawing from the upcoming Open Championship.
Other notable items in the 357-page court filings include the dire financial situation of the DP World Tour that prompted the PGA Tour to intervene; that the tour had to edit correspondence from DP World Tour CEO Keith Pelley; proposed frameworks for future schedules and how a strategic alliance would work; and that the tour prepared emails and comments for some of its board members.
Monahan, LIV Golf CEO Greg Norman and PIF governor Yasir Al-Rumayyan have been asked to testify at a Congressional public hearing July 11 regarding the proposed partnership. The deal also could be reviewed by the Committee on Foreign Investment in the United States, which analyzes mergers regarding potential threats to the nation's security. Additionally, the tour continues to be under an antitrust probe by the U.S. Department of Justice, and PIF's investment into the tour is expected to fall under this investigation.
Further complicating matters is the uncertain status of Monahan, who experienced an undisclosed medical issue on June 13 and has not made any public appearances or statements since.