LIV Golf
Phil Mickelson speaks for first time on PGA Tour-Saudi partnership, remains confident LIV Golf won't fold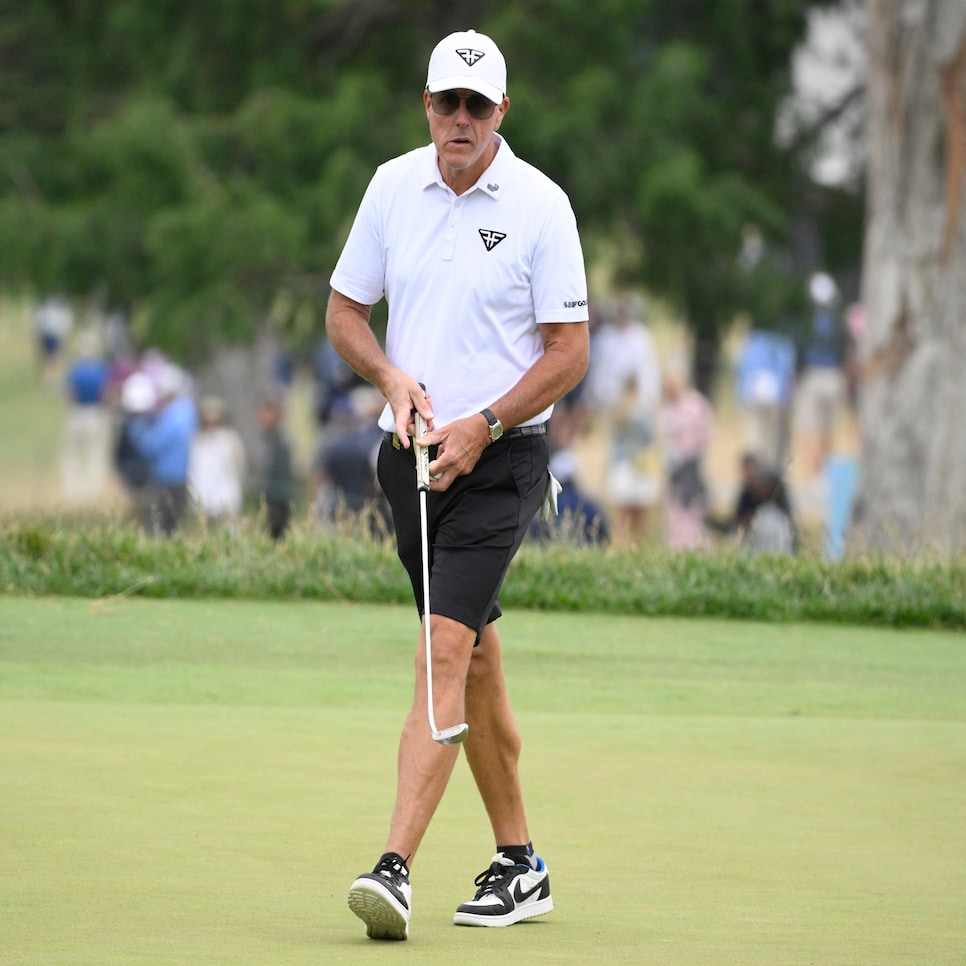 MediaNews Group/Pasadena Star-News via Getty Images
Amid speculation that LIV Golf's days are numbered, Phil Mickelson asserts the fledgling circuit is here to stay.
Though Mickelson played two weeks ago in the U.S. Open, the six-time major winner declined to speak at Los Angeles Country Club on the proposed deal between the PGA Tour and Saudi Arabia's Public Investment Fund. However, ahead of this week's LIV Golf event in Spain, Mickelson made his first public comments on the surprising partnership between the tour and PIF, saying he's "very optimistic" about what the new alliance means for the sport.
"A lot of the changes that have been made because of LIV were all very [appreciated], both on the LIV Tour as well as the PGA Tour," Mickelson said Wednesday, "and we're happy for the guys out there that they're having some positive changes there, as well."
Mickelson's comments come just days after the framework between the tour and PIF was submitted to Congress and subsequently leaked. The deal only broadly outlines how the former rival entities intend to coexist, with LIV Golf's future still undetermined. LIV Golf CEO Greg Norman has been telling LIV players and staff members that LIV Golf will return for 2024 and beyond, but there is no guarantee the circuit will continue, and Norman is not mentioned anywhere in the agreement. The new entity formed by the PGA Tour, DP World Tour and PIF will, however, "undertake a full and objective empirical data-driven evaluation of LIV and its prospects and potential and will make a good faith assessment of the benefits of team golf in general, and PIF, the PGA Tour and the DP World Tour will work together in an effort to determine how best to integrate team golf into PGA Tour and DP World Tour events going forward." There is also a mention of the parties in question cooperating to help secure Official World Golf Ranking consideration for LIV Golf events.
Still, the tour essentially now controls LIV's future, raising the question if there is a future for LIV. But in Mickelson's estimation, those writing LIV's obituary are premature, pointing to similar criticisms at LIV over the past two years.
"Everything over the last couple of years that we've been told by Greg and everybody on LIV has come to fruition, so we have a lot of confidence in what they have been saying to us," Mickelson said. "We don't really feel the need to publicly posture our position. There's really no need for us to talk about things publicly but to just let it play out."
The same sentiment applies to Mickelson's own future. One of the few LIV-related items in the framework was an agreement to allow LIV Golf members to return to their former respective tours. But Mickelson's case is especially unique: He was already suspended prior to defecting to LIV for attempting to recruit players to the circuit. Mickleson also funded the charter for LIV's operating agreement and headlined the antitrust lawsuit against the PGA Tour.
So when it comes to going back to the tour, Mickelson wanted no part of the question.
"Rather than saying yes or no, I know that from a player experience, all of the difficulties and challenges and things that take a lot of excessive energy and output throughout the week have been fixed at LIV," Mickelson said. "So the player experience here is incredible. I just can't envision a better scenario for me as a player than playing out here on LIV."
Mickelson, 53, enters this week ranked 39th in LIV's individual standings.