News
Tiger Woods closes with one-under 70 at Northern Trust, says he 'played a lot better than my score indicates'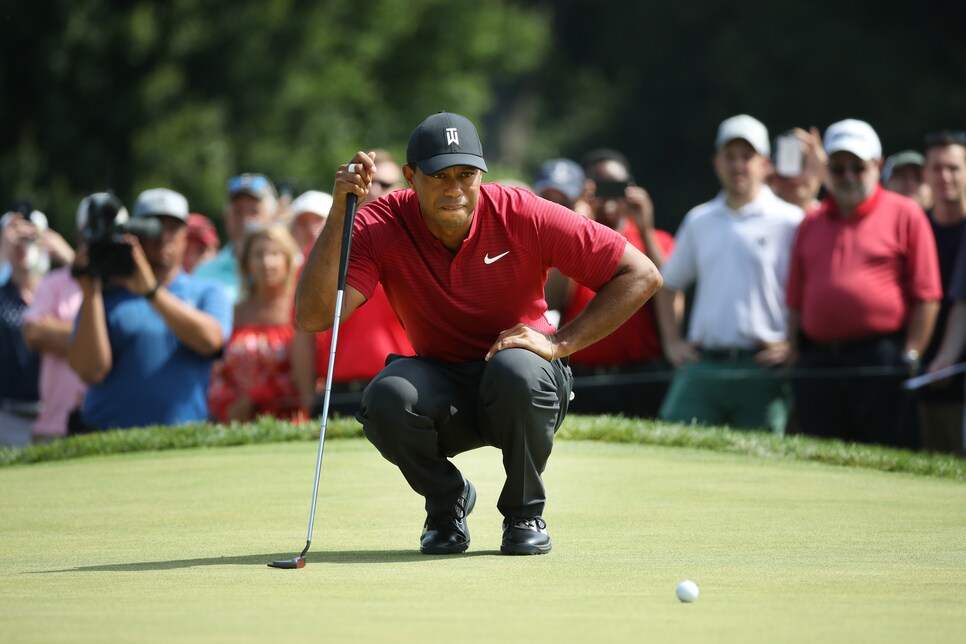 PARAMUS, N.J. — Tiger Woods' struggles with the putter continued on Sunday at The Northern Trust, where he had his best round of the week off the tee, hitting 11 of 14 fairways at Ridgewood Country Club. But for the third time in four frustrating days, Woods made just two birdies to go with one bogey, carding a one-under 70 to finish at four-under 280. Afterwards, Woods didn't appear to be too dejected, appreciating that he hit the ball well enough to contend.
"You know, just the way it goes," Woods said. "You have good weeks and you have bad weeks. The greens, sometimes they look good to you. Sometimes they don't. All of my good putts, basically, went in at Bellerive, and the bad putts lipped-out.
"This week, the good putts lipped-out and the bad ones didn't have a chance. That's the way it goes."
For the week, Woods ranked 79th in both strokes gained/putting and putts per green in regulation. On Sunday he gave himself 11 looks at birdie from inside 20 feet and made only two. The opportunities were there, he just didn't convert.
Asked what he'll take from the week, Woods didn't hesitate: "Well, the fact that I played a lot better than my score indicates. I didn't make any birdies this week. I didn't putt well and at the end of the day, I found a piece of my game that has been missing, which is driving it well, but you have to make putts. That's the only way we're going to shoot low rounds. I didn't do it this week."
It'll be a quick turnaround for Woods, who will make his first appearance at the Dell Technologies Championship at TPC Boston since 2013 next week. It's a place he's fared well at in the past, winning the event in 2006 and tying for second in 2004 and 2007.
"I haven't been there in years, so I'm looking forward to getting up there and playing," Woods said. "Try and take a look at the golf course and have a good time."
As for whether or not he feels closer to an 80th career victory following this week's lackluster performance, Woods echoed the sentiment of many pros trying to win on the PGA Tour: It's hard, even for a guy who has done it 79 times.
"I'm sure you guys are used to seeing me win five times a year or more. It's not that easy to win out here. That's what you're seeing is that I'm close and just one shot here, one shot there, per day, flips momentum.
"That's what either I had been missing or I had gotten and I would lose it. It's just looking for one shot a day here and there, and you just never know when that shot may come, early in the front nine, late in the back nine, but it's not that far."