Voices
A year after Tiger Woods' accident, his golf future appears brighter—if still uncertain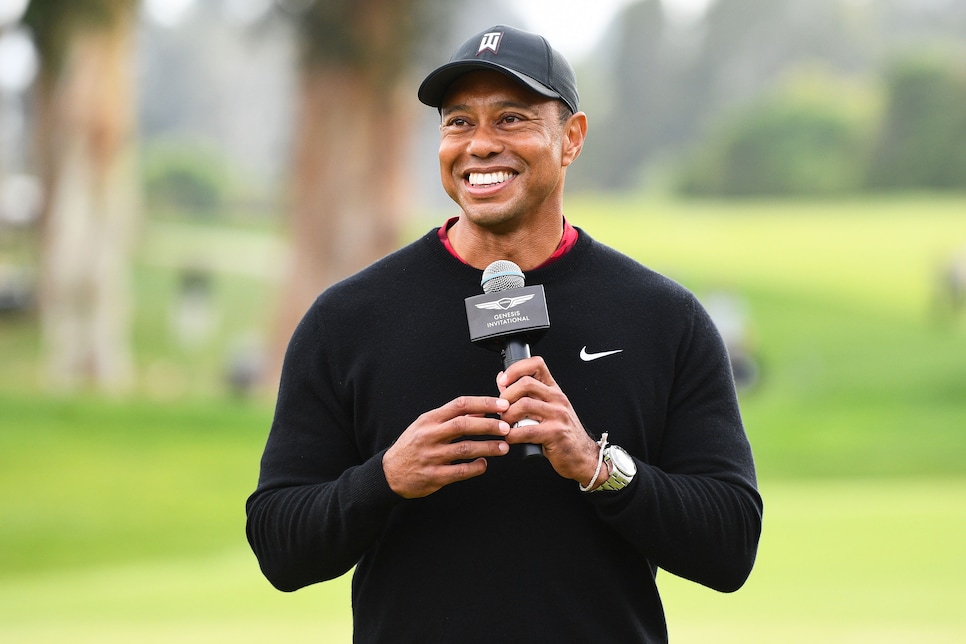 Photo By: Icon Sportswire
Not all "I don't know when I'll be returning"s are created equal. While the transcripts from Tiger Woods' last two CBS interviews at the Genesis Invitational would look similar devoid of context, the respective footage paints a stark contrast.
When Woods spoke with Jim Nantz a year ago, he was two months removed from a fifth back surgery. He stepped into the broadcast booth gingerly, his swollen face and reddish eyes arming internet trolls with potent meme fodder. His cadence bordered on monotone. His attempts at humor instead drew pity. Woods was clearly not in a good place—he didn't know whether he'd play in the Masters, he didn't know when he'd return to golf. He just … he just didn't know.
Two days later, well, we all know what happened. Woods is, in his own words, lucky to be alive. He's very lucky to have two legs. He's extremely lucky that he can walk again. He's preposterously lucky to still be able to play golf. To watch him play alongside his son Charlie in December was to be downright dumbfounded as to how, just 10 months after that harrowing morning of Feb. 23, 2021, Woods could hold a knockdown 4-iron up against a right-to left wind. (Perfectly pin high, by the way).
The Tiger hype train needs but the slightest nudge to race into top gear, and Woods' performance in Orlando seemed to suggest that, as surreal as it is to even posit, Woods wouldn't just return to competition—he'd do it soon. With each flushed iron shot and spinny pitch something crystallized: a traumatic car accident, umpteen surgeries, a rebuilt limb filled with pins and plates, weeks in the hospital and months of bedrest, would not be enough to keep down the man with nine golfing lives.
But a father-son scramble, in carts, for two days, on a dead-flat golf course with no rough is practically a different sport from PGA Tour-level competition. Given that no one's won more PGA Tour events than Tiger, he knows this better than literally any human, and he has insisted ad nauseum that being able to scrap it around for a few days in Florida does not equate with being able to contend for four days in Augusta. Woods will not play until he feels he has at least some chance at victory. It's how he's wired. And so we still have no clue when Woods will next tee it up with a scorecard in his back pocket.
"I wish I could tell you when I'm playing again," Woods, 46, said at last week's Genesis. "I want to know, but I don't. My golf activity has been very limited. I can chip and putt really well and hit short irons very well, but I haven't done any long stuff seriously. I'm still working. Like at the PNC, I'm still working on the walking part. My foot was a little messed up there about a year ago, so the walking part is something that I'm still working on, working on strength and development in that.
"It takes time. What's frustrating is it's not at my timetable. I want to be at a certain place, but I'm not. I've just got to continue working. I'm getting better, yes, but as I said, not at the speed and rate that I would like. You add in the age factor, too. You just don't quite heal as fast, which is frustrating."
If Woods is truly frustrated with his current situation—and we have no reason to doubt him, given his maniacal work ethic and insatiable appetite for competition—it was actually hard to tell last week in Los Angeles. Quite differently from a year earlier, he strutted into his press conference with hardly a limp. He looked fit and healthy. Sounded it, too. Nowhere was that more evident than his Saturday appearance on CBS, where he refused to give any recovery details but lit up the screen with his smile. He made fun of himself and laid out a convincing case for adding spin to the golf ball as a means of reigning in driving distance. He was a joy to listen to.
After Joaquin Niemann polished off a wire-to-wire victory, Woods spoke crisply and with conviction before handing him the trophy. "I never thought you would be here," Niemann said. "It's something very special for our game." Not a word wasted. Tiger was around, and Tiger was happy, and that made everyone happy.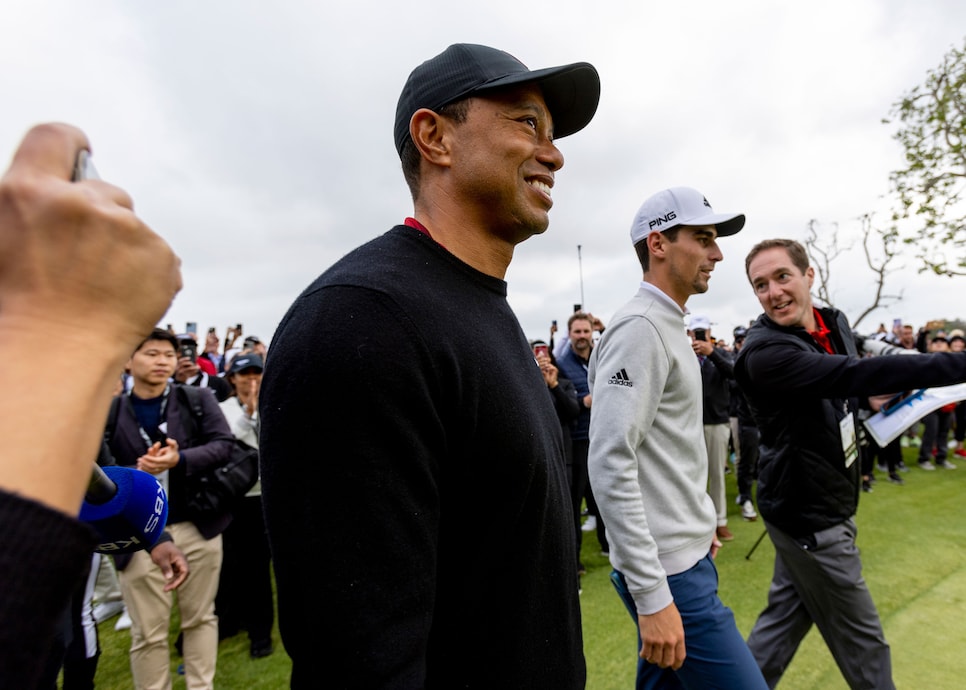 Woods carried himself with pride on Sunday at Riviera as he got set to give Genesis winner Joaquin Niemann his spoils.
Gina Ferazzi
Woods has that effect. He commands attention in every single room he walks into. It doesn't matter if that room is filled by billionaires and Super Bowl MVPs; when Woods enters, necks snap and eyes stare. He defines the phrase larger than life. The general public tends to feel a parasocial relationship with such iconic figures. Their actions have an outsized influence on our lives. That's why seeing Tiger in rough shape last year cut so deeply. And it's why seeing him on his A-game last week felt like a warm hug.
This bears repeating: Woods might never win again. He is Tiger Woods, so who knows, but even Tiger Woods is human—a human with scars from five back surgeries, four on his left knee, and a rebuilt right leg. But Woods loves the game far too much to ever step away from it. The most telling snippet from his CBS appearance came in a brief exchange between Woods and Ian Baker-Finch, who asked Tiger if he remembered a round they played together when Tiger was a teenager. He didn't just remember it; he remembered that Baker-Finch's putter got hot and that he shot 64.
Golf runs through Tiger's veins. It has since he was a toddler. He will always be involved in the game, even if his days as a full-time tour professional are over. (Again: his words, not ours). Last week in Los Angeles, then, gave a glimpse of what post-accident Tiger will look like. He'll provide insight on playing conditions. He'll hang around tournaments. He'll pour effort into his foundation. He'll weigh in on hotbed topics. He'll hand out the trophy at his events. And yes, he'll play every now and then. But even if he doesn't, so long as he remains present—to borrow from Joaco: it will be something very special for our game.