The Loop
Tiger Woods beats Michael Strahan in a putting contest, gives a vintage fist pump
And just like that, Tiger Woods was back to draining putts and showing off a vintage fist pump! OK, so it was just during a putting contest on a morning show, but excuse us for getting excited. We haven't seen much of Tiger lately.
Woods appeared on Good Morning America on Monday morning to promote his new book, The 1997 Masters: My Story. He didn't give much of an update on his physical status -- other than saying he "hopes" to play in the upcoming Masters and he's "trying everything" to make that happen -- but he stuck around for a quick and entertaining putting contest against GMA host Michael Strahan.
We're not doctors, but Tiger, who hasn't played since withdrawing from the Dubai Desert Classic on Feb. 3 with back spasms, looked pretty spry. See for yourself.
Woods' putting stroke looked pretty solid, but more importantly, how about those two times he quickly moved to knock a ball out of the way so his putt could go in? And seriously, how about that fist celebration?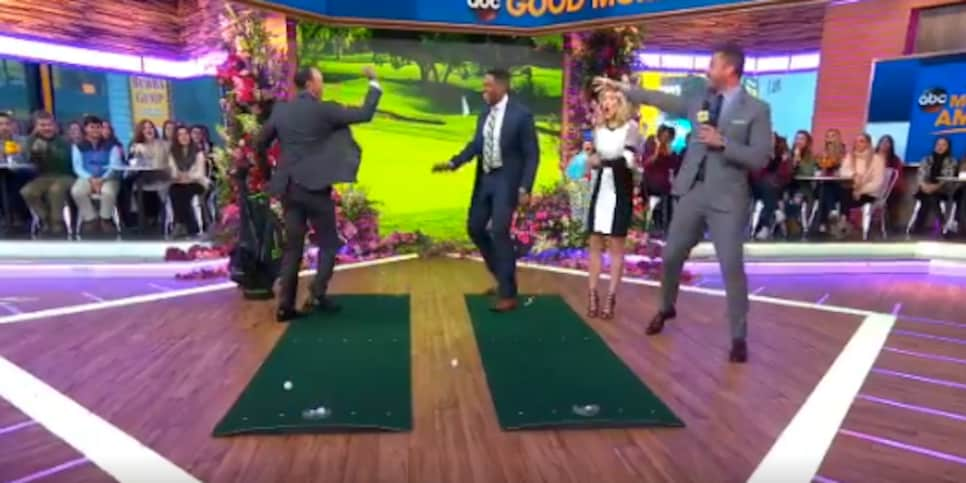 Again, we're not doctors, but if Woods has been allowed to resume fist-pump activities, that seems like a good sign.