Tiger Watch
Tiger Woods will be at Augusta National for the Masters this year, though we don't know if he'll play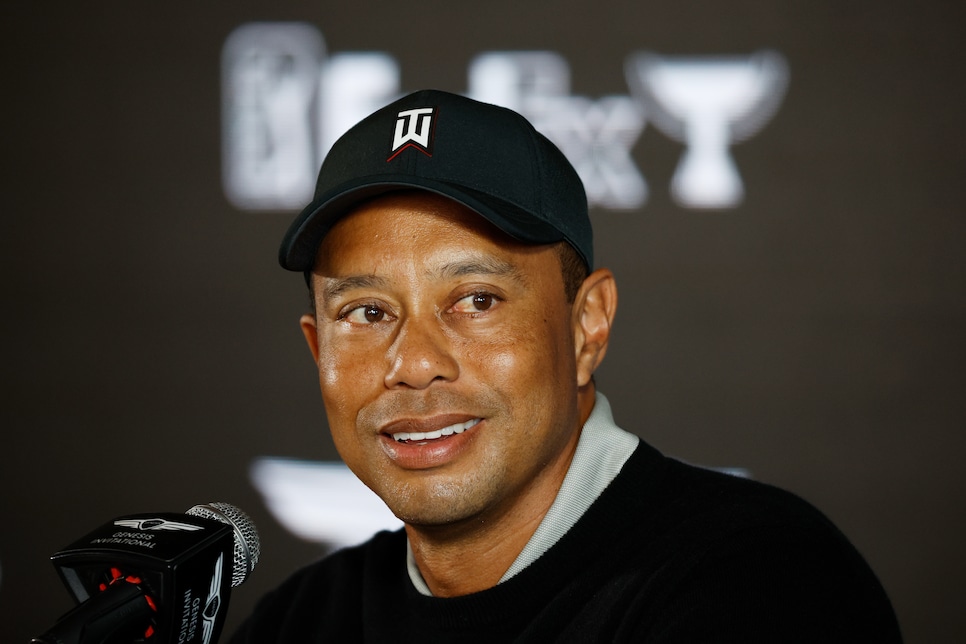 PACIFIC PALISADES, Calif. — Tiger Woods will return to Augusta National for the Masters this year, but it remains unclear whether he will tee it up in the year's first major.
Woods confirmed during a television appearance on CBS on Saturday that he will be on-site for the annual Champions Dinner on the Tuesday before the tournament. Woods, who has hosted the dinner five times as the defending champion, did not attend the gathering last year, which happened less than two months after he sustained traumatic injuries to his right leg in a single-car accident outside Los Angeles.
When asked by Jim Nantz whether he might be close to a return, Woods put it simply: "I don't know." He declined to directly answer a question about whether the other three major chamiponship venues—Southern Hills for the PGA Championship, The Country Club for the U.S. Open and St. Andrews for the Open Championship—might be more accommodating than the famously undulating Augusta National.
"I wish I could tell you when I'm playing again," he said. "I want to know, but I don't. My golf activity has been very limited. I can chip and putt really well and hit short irons very well, but I haven't done any long stuff seriously. I'm still working. Like at the PNC, I'm still working on the walking part. My foot was a little messed up there about a year ago, so the walking part is something that I'm still working on, working on strength and development in that.
"It takes time. What's frustrating is it's not at my timetable. I want to be at a certain place, but I'm not. I've just got to continue working. I'm getting better, yes, but as I said, not at the speed and rate that I would like. You add in the age factor, too. You just don't quite heal as fast, which is frustrating."
Woods, who was recovering from his fifth back surgery when he got in the accident, has not played on the PGA Tour since the 2020 Masters. He played alongside his son in the PNC Challenge, where he was able to ride in a cart and the scramble format allowed him to pick and choose which shots he felt comfortable hitting.