The Loop
Tiger turns his playing partners into innocent bystanders on Day 1
SAN FRANCISCO, Calif. -- There were times during the first round of the U.S. Open when it felt like the glamour group of Tiger Woods, Phil Mickelson and Bubba Watson were wailing away at each other with 50-pound bags of wet sand. They were locked in a slow-motion slog around an Olympic Club that is clearly going to be a beast this week.
Of course, playing a U.S. Open is supposed to be like driving into downtown Los Angeles at rush hour -- a lot of effort put into going nowhere fast. So the fact Tiger, Lefty and Bubba were bleeding bogeys early instead of bagging birdies --all were over par after seven holes -- came as no real surprise.
And the fact that Woods handled the difficulty of the course and the distraction of the high-test pairing the best -- shooting a one-under-par 69 that could have been lower -- sent a strong message that his four-year major drought could end here this week.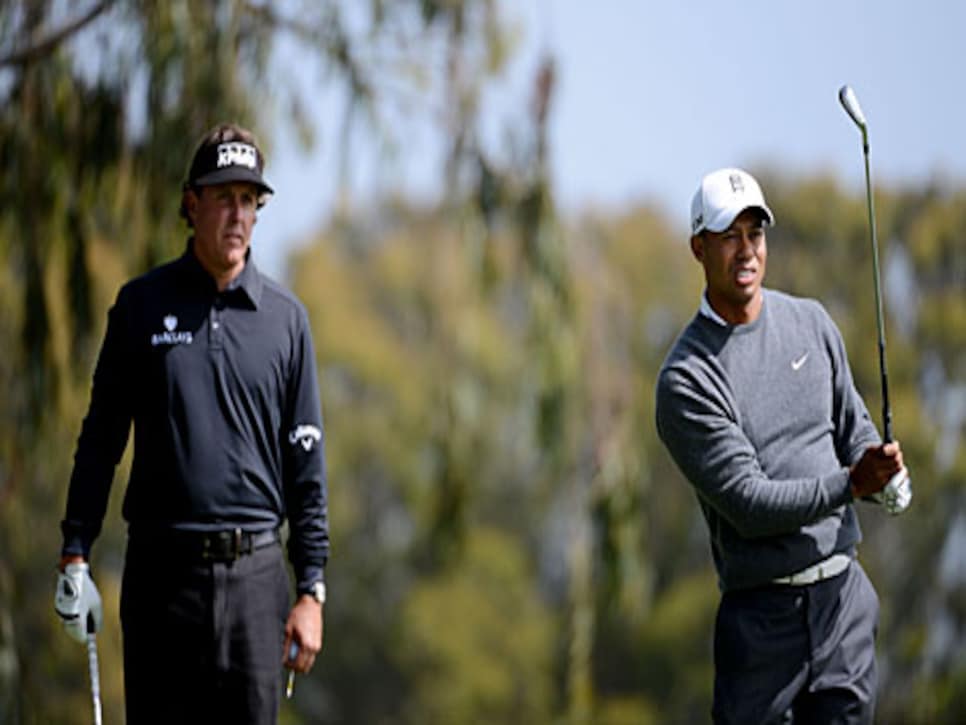 Photo by Harry How/Getty Images
Before play began, there were a lot of questions as to who would benefit most from the all-star threesome. Woods low-keyed the pairing; Mickelson said playing with Tiger pumped him up; and Bubba whined about the golf course. That Woods played the best -- really, at times, brilliant -- golf was another impressive step in rediscovering the Full Tiger.
"I played well today," Woods said. "I felt like I had control of my game all day and just stuck to my game plan and executed my game plan. I felt very pleased with every facet of my game today and I stayed very patient out there. As I said, I was very pleased how I executed my game plan."
Of all the majors, the U.S. Open will be the one that will be the most difficult to win for Bubba. He simply does not drive the ball accurately enough to handle U.S. Open fairways, and his imaginative shot-making is of little use in the deep rough that lines the fairways at Olympic Club. There was a lot of ugly in his 78 shots Thursday, but he saw the beauty in Woods' game.
"That was the old Tiger," said Watson, who dismissed his round as just a bad day. "That was beautiful to watch. That's what we all come to see. That's what we all want to watch and that was awesome to see him strike the ball."
Mickelson said earlier he'd been having trouble focusing in early rounds of tournaments and that's why he was excited about playing with Woods. He thought it would psyche him up. But the five-time runner-up in this tournament hit the ball all over the California coast on his way to a 76. He also took note of the quality of Woods' play.
"Yeah, he struck it really well," Mickelson said. "He's playing really well. Had really solid control of his flight, trajectory, the way it occurred, it was impressive."
When all is said and done here, the USGA might want to reconsider such high-profile pairings and instead spread around the talent wealth. About the only folks who really benefitted from Woods, Mickelson and Watson playing together was ESPN, which has the early-round TV rights. Almost everyone other stakeholder got the short end of the stake.
The crush of gallery and media about the group made it difficult to see for those folks who paid good money to be on property. It also left other groups with embarrassingly small crowds. And clearly, the carnival atmosphere didn't help either Mickelson or Watson.
While Bubba and Lefty got failing marks for all aspects of their games in the first round, Woods was impressive. He drove the ball extremely well, shaping it into scoring positions brilliantly. His iron play, however, remains not nearly as precise as it once was. Time after time, he put his tee ball in a perfect scoring spot and then didn't get the ball close to the hole.
When he hit it stiff on No. 3 -- his 12th hole -- Woods missed the four-foot birdie putt, highlighting another club that does not perform the magic that was once routine for Woods. And after driving into the greenside bunker on the short par-4 seventh hole, Tiger played a poor sand shot and made only par.
But the fact that his 69 could have been lower has to be a positive sign. And perhaps most impressively, and most importantly, Woods handled the mental aspect of the sexy pairing better that the other two. Tiger, who used to dominate his playing partners mentally and owned the intimidation factor, had lost that pretty much since Y.E Yang took him down in the 2009 PGA Championship. There are signs he is getting it back.
At the Memorial two weeks ago, Woods birdied three of the last four holes to win, including turning an impossible up-and-down on No. 16 into a chip-in birdie, a bit of the magic the Full Tiger used to have. There was just enough of that kind of Woods on display Thursday at Olympic Club to make you think he could join Willie Anderson, Bobby Jones, Ben Hogan and Jack Nicklaus as the only four-time U.S. Open champions.
Woods does have one more day paired with Lefty and Bubba and one more day could well be all that is left in their U.S. Open, especially since the rule that all those within 10 strokes of the lead make the cut has been abandoned.
The Full Tiger used to start majors with a solid couple rounds, take the lead on Saturday and close it out on Sunday. This felt a little bit like the beginning of that. Let's see if he can follow the rest of the game plan.