The Loop
Tiger locks down first new equipment deal with Bridgestone B330-S golf ball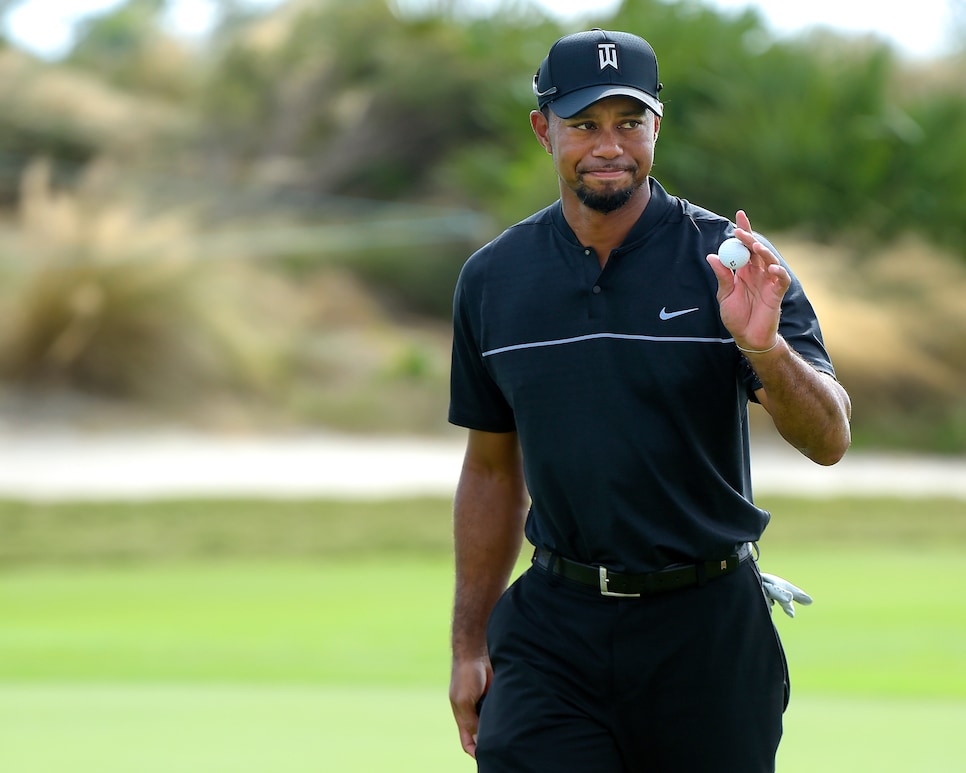 It turns out that Tiger Woods' use of the Bridgestone B330-S ball at the Hero World Challenge was more than an experiment. It was the launching pad for a new endorsement contract.
Bridgestone and Woods announced Dec. 15 that the former World No. 1 player and 14-time major champion have agreed to a multi-year deal to endorse the company's golf balls. Terms of the deal were not disclosed.
In a Bridgestone press release, Woods is quoted as saying, "Finding the right golf ball is extremely important. It's an essential part of my equipment, and the Bridgestone B330-S ball is hands-down the best for my game."
As he did at the Hero World Challenge, Woods will be playing the same version of the B330-S that is currently in stores, the same ball currently played by Matt Kuchar. But more than a product choice, Woods will be a "focal point" for Bridgestone Golf going forward, according to Corey Consuegra, Bridgestone's senior director of marketing. Woods' likeness and image will be featured on television and other advertising campaigns, and he will appear on packaging and in-store displays.
"Not only will he have the ability to play our current B330-S model," Consuegra said, "he will be with us long enough that he can influence the future direction of our tour product and maybe products for all skill levels.
"Our expectation is that our current market-share position is going to dramatically change, and I don't mean down."
Over the last several years, Callaway, Bridgestone and Nike have battled for the No. 2 position in the ball marketplace, but all three combined fall short of Acushnet's overwhelming dominance of the ball marketplace with its Titleist and Pinnacle brands.
Consuegra said Woods began testing Bridgestone's golf balls in August, and for the last two months, that testing focused on the B330-S. However, Consuegra said that the Bridgestone team never worked with Woods, instead allowing him to test the product on his own.
"He's said that he's coming back not just to play but to win. We expect that he's going to succeed in what he's calling Phase Two and we're excited to be a part of it."
Woods traditionally has favored higher-spinning balls and played a version of Nike's One Tour D for nearly a decade before switching. Many attribute Woods' success when he switched to Nike's Tour Accuracy ball in 2000 (a multilayer, solid-core, urethane-covered ball) as one of the spurs for Titleist to launch the Pro V1, that company's first multilayer, urethane-covered, non-wound tour ball. It debuted in October of that year, and has become the most dominant golf ball in the marketplace since 2001. Woods began his professional career playing Titleist golf balls, but after Nike entered the golf ball business, friction between his two equipment sponsors developed. Woods played two events with the Nike ball in the spring of 2000 before fully committing to the Tour Accuracy at the 2000 U.S. Open, which he won by 15 shots.
Woods is part of a Bridgestone tour staff that includes recent rookie signee Bryson DeChambeau, as well as long-time Bridgestone players Kuchar, Brandt Snedeker, Fred Couples and Nick Price. Consuegra believes other PGA Tour players will take notice of Woods' golf-ball decision.
"It is my assumption that it could have direct impact," he said. "We'd love to receive those phone calls. But that's unknown."
He called it the most aggressive marketing decision Bridgestone has made in his 12 years there, but one that was made quickly.
"There was very little hesitation on our side other than, "Can we do it fast enough?'" Consuegra said. "Immediately we identified that this is the opportunity of a lifetime.
"He is a validator for golfers of all skill levels."
The multilayer urethane-covered Bridgestone B330-S was updated in 2016 with a six-percent larger core and a new urethane cover formulation with enhanced friction for both lower spin on drivers and higher spin on short game shots.
While terms were not disclosed, it's worth noting that Bridgestone Corporation, the parent company of Bridgestone Golf, is the largest tire manufacturer in the world and has been aggressive in marketing, including sponsoring a World Golf Championship event, as well as the Super Bowl Halftime Show. According to Forbes, its market capitalization as of May 2016 was $30.9 billion.
After Nike's decision to exit the golf equipment business in August, Woods' agent Mark Steinberg told GolfChannel.com that Woods would "methodically" make changes to his bag. In addition to switching to the Bridgestone ball, Woods also switched to a TaylorMade M2 driver and fairway wood and the Titleist Scotty Cameron Newport putter he used in 13 of his major championship wins. It's not clear if Woods' team will pursue multiple individual equipment contracts going forward, but for now Bridgestone is looking to take advantage of the marketing opportunity.
"It's an honor and a privilege to work with an individual like that," Consuegra said. "But more importantly we want to be a part of what's about to happen over Phase Two of his career. We're excited to be the golf ball that's going to do that."