News
Tiger Confidential: What Pros Really Say About Tiger's Chances At The Masters
How will the four-time winner fare in his Masters return? We asked the experts about him (and others). They don't agree—at all
Photo By: Photo by John Iacono/Sports Illustrated/Getty Images
He's returning to Augusta National to play his first Masters in three years. Yes, the golf world is more than intrigued by the prospect of Tiger Woods going for his fifth green jacket after missing 12 of the most recent 27 major championships because of injury.
To get the answers, Golf Digest interviewed dozens of players—including 11 major champions and five Ryder Cup captains—along with tour caddies, teachers and broadcasters in a candid Tiger Confidential.
As you'll see, the insiders have a lot of questions as well. The definitive answers come starting April 5 on a field of green in Georgia.
WHY TIGER CAN WIN A FIFTH MASTERS (AND WHY HE CAN'T)
MAJOR CHAMPION: He still has a bit of an aura. If he gets into contention, the roars will be different. Everyone will know who it is. That will resonate with the others.
BROADCASTER: The younger lads are not frightened of him—or so the theory goes. But if he puts his name on the leader board on Sunday, we'll see how unconcerned they are.
MULTIPLE WINNER ON TOUR: He played with Justin Thomas in the Bahamas, and the player of 2017 took a step back. That was interesting.
TEACHER: There will be at least a few of the top guys driving well at the Masters. A few of them will putt well, too. So for Tiger to beat all of them, they're all going to have to have a lot of mishaps elsewhere on the course. It's possible that they all have a bad week. Not likely, though.
TEACHER: Now he can win. He couldn't possibly before. He had a choice to make, and he chose to clean himself up. That was the one thing that he'd never done, which is face up to the traumas in his life. I think his people have looked at the physical pain that he's had to deal with, but I also think there's been a lot in his heart, too. That DUI was a turning point, because anything could have happened. They found him asleep at the wheel with popped tires. In that area there, you could just go off a cliff. You've got those opioids in your system. Is that all just taking care of back pain? Is it physical issues? Well, sure. But it's about pain elsewhere, right? He used the word grateful down in Albany [the Bahamas]. Gratitude is an expression of humility. Before, he probably didn't even know what that means, to be grateful. But we become grateful for things in our lives when we've been through a lot of pain. He was close to the edge, and now he's feeling grateful to have gotten through all that shit. I think he really did have a near-death experience.
I mean, look at the mug shot that was splashed all over the place. Did you ever think that the guy you covered in 2000 who was at the top of the world would ever have a picture like that? He was a deity. The stuff he went through—and regardless if he's the one responsible for putting himself through that—he dealt with a lot of stuff that few people go through. He was hanging on to a lot of shit, and he looks like he might have had a deep inner moment and let it all go.
"The younger guys have never had a dose of the old Tiger staring them down with that cold look. Tiger could play defense with that glare."
TEACHER: Everyone is asking, can Tiger win at Augusta? First, he has to play there. He has to be physically OK, which is not a given. I can see him teeing off in one of the last two or three groups on Sunday, but it's hard to see him winning. Every week on tour, a guy takes every risk imaginable and pulls it off to win. You can play strategically sound golf and finish second to that guy. To win on tour, you almost have to be willing to miss the cut in terms of aggressiveness and style of play. That's what Tiger will be facing on a course where stupid risks are just that. And at least one of the top guys will be playing with his A-game.
BROADCASTER: He wants to win one so badly, he could get in his own way. Wanting so much to stick it up Brandel Chamblee's bum, he can't get past that.
TEACHER: Tiger's chances are helped if the winning score is higher than normal. But how can you bet against Jordan Spieth on that course; Justin Thomas, the same. Then there's Dustin Johnson and Brooks Koepka [battling a wrist injury] and all the rest. They're all better than Tiger on that course. But I don't know if they're better than him, period. Not many of them can hit the shots Tiger can still hit. Tiger isn't Seve at the end of his career, but they are similar in that he still has shots no one else has, just like Seve did.
MULTIPLE WINNER ON TOUR: This guy has come back from the dead. At the Presidents Cup, he could barely walk. His career was over. He'd been arrested under the influence of prescription drugs, which he was taking for the pain in his back. Yet here we are. What happened there? What did we miss? But we'll never know. The Tiger team never tells the full story.
BROADCASTER: A friend of mine works on people's backs, and he said, "Fused spine? Forget it. If you haven't got the range of motion you need, you can't hit the ball that far." But Tiger came out with 180-plus-mile-per-hour ball speed—that's more than Justin Rose.
MULTIPLE WINNER ON TOUR: Tiger can win in different ways. He can shoot 65 early in the final round and sit back and watch. Jack did it that way in '86. Or Tiger can come up on the rails, as Danny Willett did [with a final-round 67]. Or someone could make a mistake over the closing holes. Tiger doesn't have to take out one of the big guns head-to-head.
MAJOR CHAMPION: Ernie Els is the only player who has won a major before Tiger, during Tiger and after Tiger. The only one. Which tells you how Tiger beat up on that generation. There are more players now on Ernie's and Phil's level.
TEACHER: It's not as if the likes of Ernie and Phil were scared of him—they just couldn't compete with him. Now the competition is deeper and stronger. Tiger is in the pack, one step below the best, assuming he plays as well as he can. I think he'll actually welcome that knowledge. It'll be a challenge for him. He'll see it as What do I need to do to beat those guys? I think he will, on some level, enjoy that more.
BROADCASTER: The difference now is that the others know Tiger makes mistakes. Back in the day, he didn't. Which made the others make mistakes.
MULTIPLE WINNER ON TOUR: I hit balls next to him [at Torrey Pines]. The thing I like about Tiger—we're the same age, so I've known him forever—is that he seems very relaxed.
I played in front of him, and it was incredible, the crowd. My point being, he seems like he's spending more time with the fans, signing autographs, and at 42 years old and arguably the best player to ever play, he's just enjoying it. And if he's happier, he'll probably play better.
MULTIPLE WINNER ON TOUR: Tiger is more ruthless than any of the younger lads. I hope he comes back as the son of a bitch he was before all his problems, which would be a great contrast to the "man romance" we see in so many top players now.
FORMER TOUR PRO: Stenson won the Open [at Troon] at 40, O'Meara won two majors [the Masters and the Open] at 41 in 1998, Ernie won the Open, Darren [Clarke] won the Open—so did Phil—all in their 40s. So precedent is on Tiger's side.
TEACHER: If Fred Couples can be right there in contention at 53, 54, 55 years old ... Bernhard Langer ... well, of course Tiger Woods can win.
TOUR CADDIE: Augusta is the perfect venue for him because he doesn't have to be perfect. If you know where to miss—and he knows every inch of that course—you can figure it out. Look at the guys who contend in their 50s who simply know what to do. It's the best chance for him to win a major, by far.
MULTIPLE MAJOR CHAMPION: If Tiger gets to the top, there will be 12 guys behind who go, Well, I've never played against Tiger; isn't this exciting?
MULTIPLE WINNER ON TOUR: A tournament where Tiger is in contention would be a big distraction for me, but I want to be there for the aura and the vibe that he would bring.
FORMER TOUR PRO: If Tiger does get into contention, he's going to be almost like the guy who's going to get one chance to win a major. It wasn't quite like that for Jordan—yes, it hurt when he threw it away in 2016, but he knew there were more chances coming. I'm not sure Tiger will feel like that now. It might mean too much.
MULTIPLE WINNER ON TOUR: It is the Masters, so guys will get tight. Augusta rules out more guys than any other.
TEACHER: I don't have a lot of confidence in Tiger at Augusta. Here's the sequence: His driving isn't going to be accurate enough, so he isn't going to get his approach shots close that often, so he's going to be putting from distance too much, so he's going to three-putt sooner or later.
FORMER TOUR PRO: Tiger still hits crazy-good shots now and then, but what wins Top 10 Plays on ESPN is not necessarily what wins tournaments. It's more about delivering the simple stuff on a consistent basis.
MAJOR CHAMPION: There are 20 guys who, at their best, play like Tiger did in 2000. At least physically.
TOUR CADDIE: He doesn't have to be 2000 Tiger—he can be 2013 Tiger and be awfully good.
BROADCASTER: When Tiger came back from the scandal, he hadn't played for five months when he turned up at Augusta [in 2010]. Not many thought he could compete. But he did—he tied for fourth.
MULTIPLE WINNER ON TOUR: I always refer back to that [the 2010 finish]. If that doesn't get people's attention, I don't know what does.
MULTIPLE WINNER ON TOUR: Look at 2015. His game was a mess. He was yipping chips; he hadn't been able to play [but finished T-17 in the Masters]. This time he's starting from a much better place.
MULTIPLE MAJOR CHAMPION: He won one major in '08, he won two majors in '06. Now 12 years from the dominance, I can't see it.
TEACHER: His inherent competitiveness will see him through if he gets a sniff at Augusta. He's hitting the ball far enough.
TEACHER: When a pitcher in his 20s throws a 98-mile-per-hour fastball, he can throw it by hitters. But as he ages, he has to evolve from a thrower into a pitcher. Tiger needs to do the same thing. If he doesn't, he'll be competing with the young guys on their turf, which used to be his turf.
MAJOR CHAMPION: I'm not going to the betting window with Tiger's name on my ticket. He's dogged it a few times over the past few years. He's walked off multiple times simply because he was playing poorly. If you do that once, you'll do it again.
MULTIPLE WINNER ON TOUR: Yes, he can play Augusta National blind, but some of the young guys like Jordan have it figured out, too. Rory should win one. Jason Day probably is going to win one. Where does Tiger fit into that scenario? Can he steal one somewhere?
FORMER TOUR PRO: I've actually picked him to win the U.S. Open this year. I think he needs some time to play a bit more. Maybe the Masters will come too soon for him.
MAJOR CHAMPION: I'd love to see Tiger have a chance to win—as long as he doesn't beat me.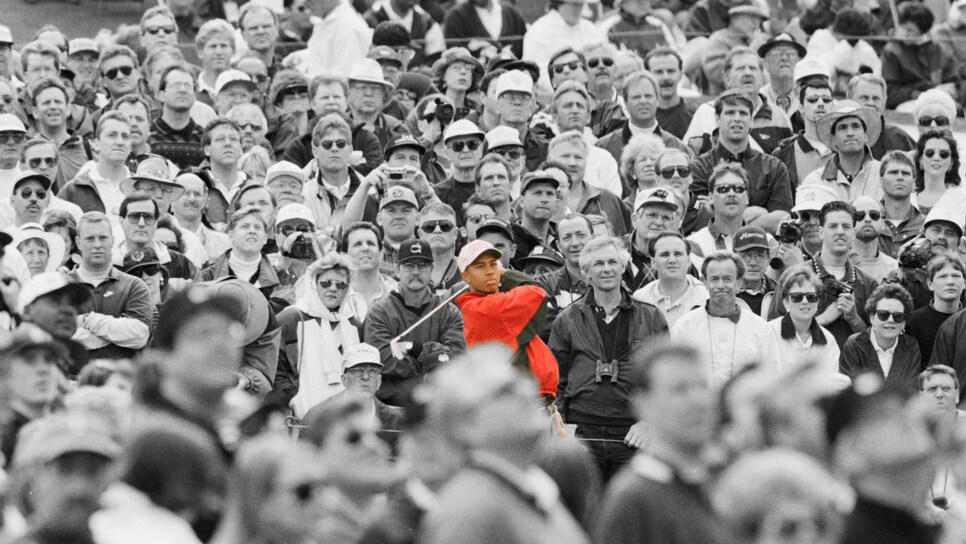 Photo by David Cannon/Allsport
TIGER'S CONFIDENCE (OR THE LACK OF IT)
BROADCASTER: Tiger was talking about how he has to re-learn how to play the game. He was looking at people like Furyk and Stricker and their ability to compete when they can't fly the ball 300 yards. They were supposedly his inspiration. And he was enjoying that challenge. Then he came out, supposedly pain-free, and he's hitting it 300 yards. Incredible. I still can't quite understand how that's possible with a fused back.
TEACHER: Tiger is never going to be able to "pat" the ball 'round the course. His ego won't allow him to do that. He needs to be out there with the longer guys on tour, which is fine. That allows him to attack the course in the way that he knows how to play.
TEACHER: The ability to hit long drives sets up the opportunity to use the short game and putting to his advantage, so that's why Tiger's going after his drives so much. It's all about the short game only if you have the ability and strength to dominate the course. Rightly or wrongly, that's where the game is at.
TEACHER: He's chipping around with Justin Thomas and Rickie Fowler, and he's playing with Dustin Johnson. He used to avoid almost all other players. He never wanted to share too much with anybody. He was still all cloak-and-dagger. He couldn't go on that way. That's a lonely life. How does that help him? Who wants to live like that? It's great for the other players to be with Tiger—what a treasure chest of wisdom. So maybe he has changed in a lot of ways.
MAJOR CHAMPION: He'd been wearing sunglasses a lot over the years because he was afraid to look people in the eye. That didn't happen in the Bahamas. He has that certain look again. He's basically said, Hey, I had a problem, I've faced it, and I feel like people are rooting for me again. So I can be myself. He always was somewhat of a polarizing figure. Older people didn't like him because he was dropping f-bombs on television. But generally, Tiger is loved. Then he fell. Now people are embracing him again. And it's great that guys like Rickie and Justin Thomas are embracing him, too. But the younger guys have never had a dose of the old Tiger staring them down with that cold look. There's no defense for any player in golf, but if there was, that'd be it. Tiger could play defense with that glare. And it didn't hurt that he had more offense than anyone else.
FORMER TOUR PRO: Once he was invincible; now he must think dark thoughts: Oh, God, I might lay the sod over this—a normal man's thoughts. He has so much scar tissue from hitting some of the worst shots you've ever seen. They linger.
FORMER TOUR PRO: It's always amazed me that a man with such mental strength and courage always needed a coach to fall back on. Maybe Tiger isn't as sure of himself as we all think.
TEACHER: Now he's on his own. So, to me, he's been in control all along. That stubbornness made him great, but it's also the thing that will ruin him.
MAJOR CHAMPION: Short-term memory and confidence have to be pretty shaky for Tiger. You talk to a psychologist, the short-term memory is the stuff in the front of your head, the hardest memories to replace. You hit bad shots and lose your confidence, and then you have to stand on a tee and hit a shot, and your short-term memory is that you hit a bad shot before. It's fascinating. It's about what comes first, success or confidence?
MAJOR CHAMPION: If he does arrive in Augusta playing well, the expectation level is going to be otherworldly. If that happens, I almost feel sorry for him. It's almost not fair that someone would have to go through that level of scrutiny. But if anyone has "earned" it, it's Tiger.
"If he were to contend at Augusta, that'd be all-time in terms of what it could do for golf. And for him."
BROADCASTER: I've been watching Tiger since he was 18, and I would like to think he'll go to Augusta without too much hoo-ha, which is probably impossible, and which surely won't help him.
MAJOR CHAMPION: Between the first tee and the 18th green, I think he'll be fine. It's between the 18th green and the first tee that he'll face the biggest challenge.
MULTIPLE MAJOR CHAMPION: So much of what he had from a mental standpoint over everybody else is gone. That puts you under pressure from the start when you feel like you can't afford an errant drive or a three-putt. That's how they happen.
MAJOR CHAMPION: One of the things I like seeing is how he gets ticked over some bad shots. He expects to play well. That tells me something about where he thinks his game is headed.
TOUR WINNER: When he was 10, he was the best player in his group. When he was in high school, in college, as a professional, he was the best. That's not the case now. How does that affect him if he gets into contention?
FORMER TOUR PRO: When Tiger was great, he played with what he had on each given day; Nicklaus was the same. They made the best of every round. And that ability to adapt is so essential at Augusta. The course throws you curveballs every five minutes.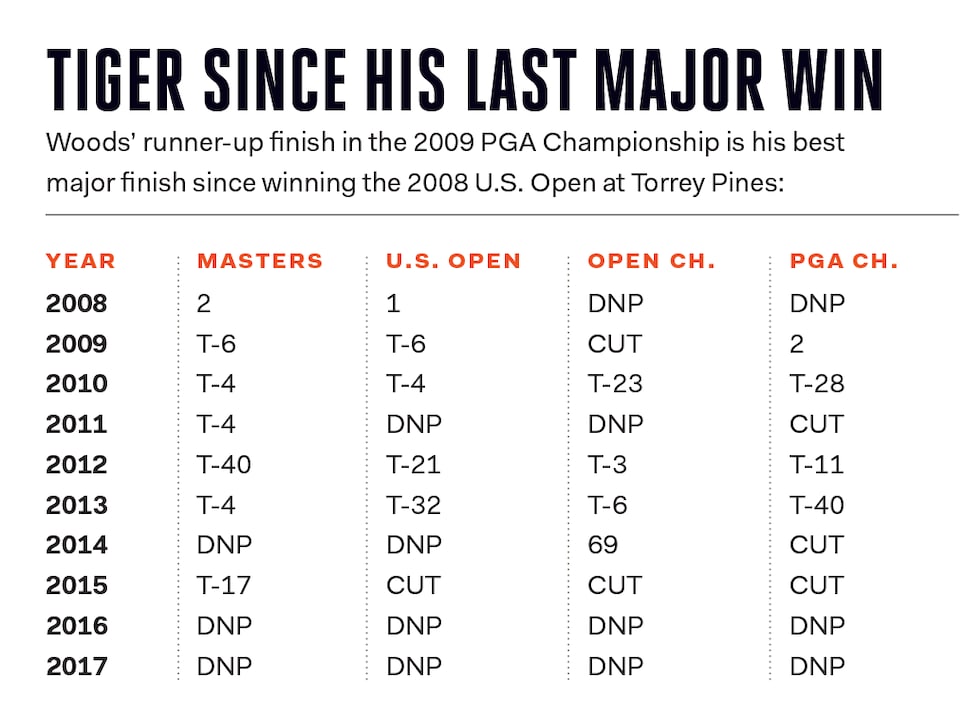 TEACHER: He looked like an old 41-year-old a year ago. Now he looks like a young 42-year-old. Much more athletic.
MULTIPLE WINNER ON TOUR: Every doctor I've talked to about the operation Tiger has gone through has said the same thing: Fusing the joints in his lower back, he will—over time—put massive pressure on the joints higher up his back. It's a matter of time before those joints break down. Then what does he do? Now he's fine for everyday life, but practicing and playing every day is impossible after a while. Basically, his lower back doesn't move. It's like having Botox down there. Is that going to last?
TOUR PRO/TV ANALYST: Fusion means limited mobility because you have put those two discs together. You can't go at it as hard as you'd like—a lot of stress down there. Now, after having watched him play, I was so impressed and so surprised to see the speed he had, the flexibility, the torque—everything. Looked like there was a little more of a stand-up at impact. Maybe a little bit of an accommodation to that area [his lower back].
MAJOR CHAMPION: His back is a big key in his ability to hit controlled draws off the tee. If he's hurting, that ain't going to happen.
TEACHER: If his back holds up, Tiger holds up. If it doesn't, he's done.
TEACHER: One of his mistakes has been his head going down and back as he came into the ball. Now he has more of a Jimmy Ballard-type finish going. He's more upright. That takes pressure off his back and is the opposite of what his mistake tended to be. One of the things he's worked on is more of an Annika Sorenstam-like follow-through, letting his eyes follow the ball. That's good for protecting your back. His swing is going to be OK.
BROADCASTER: Don't forget, he hadn't played 72 holes in a full-field tournament since 2015 [before a T-23 at Torrey Pines]. Over two years since he'd made a cut that mattered.
TEACHER: What we don't need to see is him getting into a car claiming some real or imagined injury. It's always hard to know with him.
FORMER TOUR PRO: Only he knows why he's walked off so many times in the last few years. Whatever, it's a bad habit.
FORMER TOUR PRO: In Dubai last year, he was struggling to get himself out of the bunkers. The message from Tiger's camp was, "He's 100 percent fit." Then the next day we hear that he can't get out of bed. You can only laugh and shake your head.
FORMER TOUR PRO: I certainly don't believe his leg was broken when he won the '08 U.S. Open. That's rubbish. You can't swing—never mind win a major—on a broken leg.
FORMER TOUR PRO: I'm not saying he made a massive misjudgment with his training. I just think he wanted to be a big dude, which is addictive.
MULTIPLE WINNER ON TOUR: I definitely wouldn't have an issue with his body if it was on me.
TEACHER: A lot of how well Tiger chips will also depend on his back. To chip well, you need a bit of leg action. When his back was sore, his posture was poor and he didn't use his legs well. That caused him to overuse his hands.
MULTIPLE WINNER ON TOUR: He's had all these surgeries, his back is different, his body is different, he's older ... he has to get the feel for how his body is going to react under pressure.
TEACHER: His swing looks good, even if he's protecting his back a bit toward the finish. If he can create that speed, there can't be that much wrong with his back, or his knee. I'm not surprised. He's had a year of rehab, and with his resources, I would expect him to have worked it out.
TEACHER: The one thing that makes everyone look ordinary is age. And you can't beat that.
BROADCASTER: It would be a great year for him if he just entered his 16 to 18 events and could finish all of them. If he can just play and not have to withdraw from a tournament, then everything after that is a bonus. If that includes a win somewhere, then that would be amazing.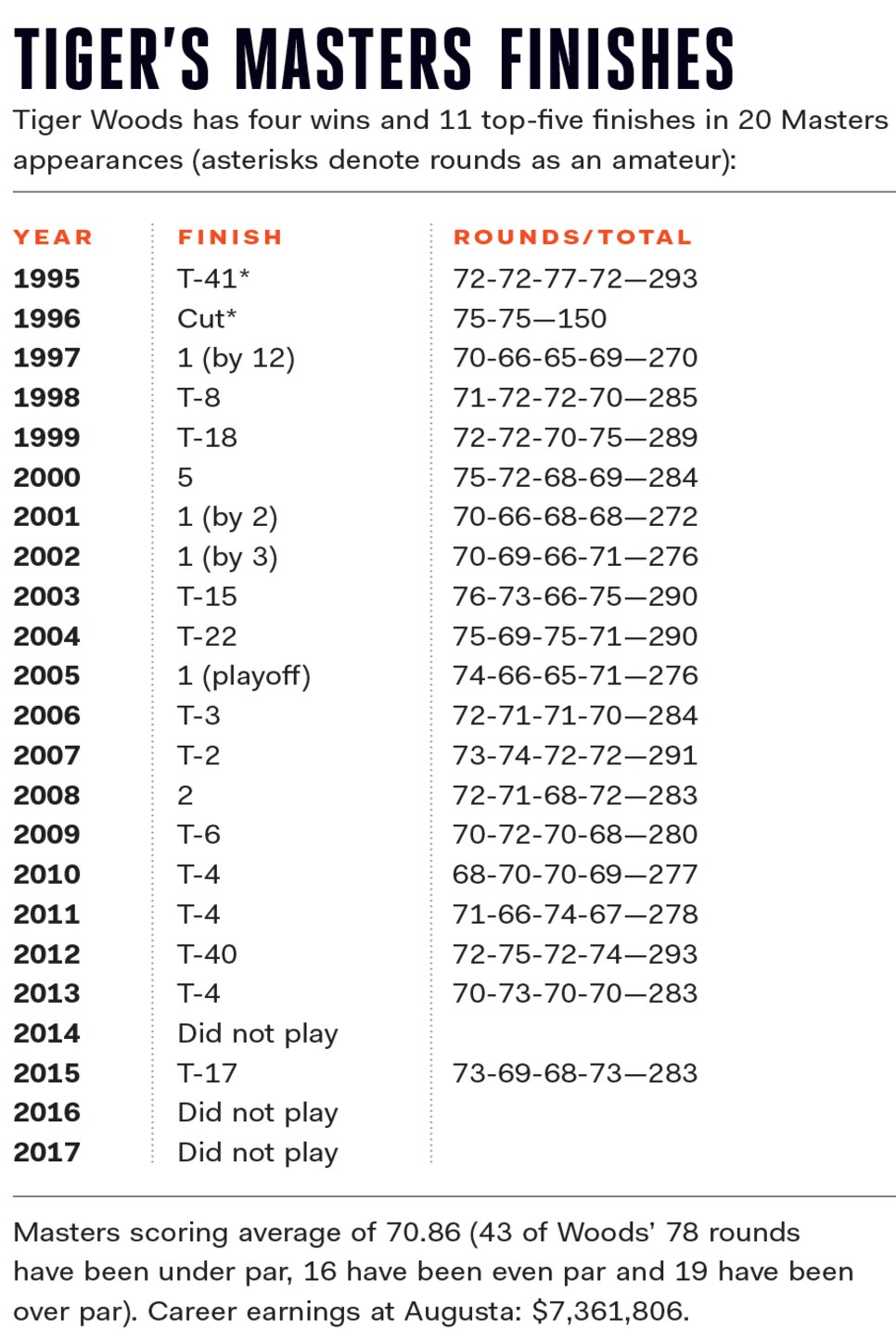 HITTING THE DRIVER AND FULL SHOTS
TEACHER: Augusta asks hard questions from the tee. I look at Tiger's driver, and that's a big issue for him.
MULTIPLE WINNER ON TOUR: It's very important to be hitting from the fairway at Augusta.
TOUR PRO/TV ANALYST: He's one of the most erratic-driving great players ever.
FORMER TOUR PRO: He's long enough in everyone's mind except maybe his own. The phobia about crushing drives really hurts him. He still tries to hit the ball too hard.
TEACHER: All in all, I see a lack of subtlety in Tiger going forward. It's going to be crash-bang-wallop. The only time he's shown any subtlety was when he won at Hoylake.
TOUR CADDIE: Going at the ball way too hard, he's going to hurt himself again.
TEACHER: Golf today is not about shaping shots. The ball doesn't let the players do that. A fade now moves maybe four yards in the air. Trevino used to fade it 30 yards sometimes. That was a fade. Now it's a drift. So that helps Tiger.
TEACHER: In the Masters, it's more about how far you can go off the tee rather than where. Getting short clubs in your hands mitigates any lack of angle into the flags. If you're short, you have to be in the right place off the tee so that you can hit a long iron to the hole and not just the middle of the green. So Tiger is right to go for distance more than accuracy with his driver. The top guys all play that way.
MULTIPLE WINNER ON TOUR: He's clearly been hitting balls and working hard—more than he was admitting to.
FORMER TOUR PRO: Tiger looks like he's hitting hold-off fades. But he did that when he was winning, too. And Jack won the Masters six times hitting fades.
BROADCASTER: Turning it over from right to left is dangerous for him. If he's trying to turn one around the corner on 13, I can see him in the trees on the right a lot. Which is better than hooking it in the creek. So holes where he has to move it strongly right to left could be a problem. Which is not to say that I think you have hit draws to win at Augusta. That's nonsense, as Jack and Fred have proved.
BROADCASTER: Sometimes you're aiming at a dustbin lid in terms of where you can land the approach. Tiger has the ability to do that, but will his game be sharp enough by the Masters to give him that level of accuracy? Debatable.
MAJOR CHAMPION: His iron play has never been in question. Even when he's struggled, it's been great.
TOUR CADDIE: You can argue he's the greatest iron player of all time.
FORMER TOUR PRO: No one has ever hit it so close, so often.
TEACHER: You can chip and pitch using the leading edge, or you can use the bounce. Tiger has always used the leading edge, but that's riskier when you get a bit older. He'd be better switching because his vision changed—everyone's does. His depth perception changed.
FORMER TOUR PRO: The shaft can get too perpendicular on his chips. That's the first thing you do when you get scared—it's the equivalent of curling up in a ball and hoping the scary man goes away.
TEACHER: There's a big difference between chipping to eight feet and five feet at Augusta. From eight feet, pros make 50 percent of their putts. From five feet, they make 75 percent. So every four times you chip to eight feet instead of five feet, you give up a shot. That happens more at Augusta than at most courses on tour.
TEACHER: Guys with great short games can be aggressive with their approach shots. But if they get edgy on the chips, they inevitably play more to the middle of the greens. So they get more 40-foot birdie putts and more four-footers for par. Over time, that guy is going to get yippy on those short ones. If that scenario plays out for Tiger, it will be a disaster at Augusta. There are places on those greens where—to certain pins—you might as well be in a bunker. You can't get within six feet.
FORMER TOUR PRO: In all of his four wins there, he chipped like a genius.
MULTIPLE WINNER ON TOUR: He has the imagination to chip well at Augusta. So many shots are on the ground. Very rarely do you see a flop shot. You need to chip and run. So imagination and feel are so important.
TEACHER: Augusta will be difficult for him because of the way they cut the grass. Virtually every chip within five yards of the green is going to be into the grain. That requires a very precise strike to land the ball in a precise spot, which is how you control the roll-out. There is no more difficult place to chip than Augusta.
MAJOR CHAMPION: His left shoulder is a little high. Look at old film, and that shoulder was lower, and he would drive through the shot, and he would do that better than anyone.
BROADCASTER: He went into his previous Masters duffing chips all over the place, yet he was fine when he got there, so you can never tell with him.
TEACHER: Back in the day, Tiger's approach play was so spectacular, he gave himself more makable putts. Not all 20-footers are created equal, especially at Augusta. His ability to keep his ball below the hole was huge, which is why he holed a lot of putts.
TEACHER: Look at, say, the top 15 in the world. At least one of those guys is going to play 72 holes at Augusta and have zero three-putts, or one. If that guy keeps it out of the water, he's going to be tough to beat. It's that simple.
FORMER TOUR PRO: If Tiger misses one early, that sets the tone for the whole day.
MAJOR CHAMPION: Tiger putts like everyone else now. He was superhuman for a while. Not anymore.
MAJOR CHAMPION: Most golfers have parts of the game that they "get" a little easier than other parts. Gary Player in bunkers, Seve around the greens, Fred Funk with the driver. Tiger's putting is like that. He just gets putting. Whether that carries over into making big putts down the stretch is the question. That's a different skill from just putting. That's a mental skill.
TEACHER: Back in the day, Tiger putted better than anyone ever has under pressure. That guy is gone. Which is not to say he's not a great putter, and is not to say he can't win on tour.
BROADCASTER: No one gets better on the greens in their 40s. But he is Tiger Woods. You never say never with him.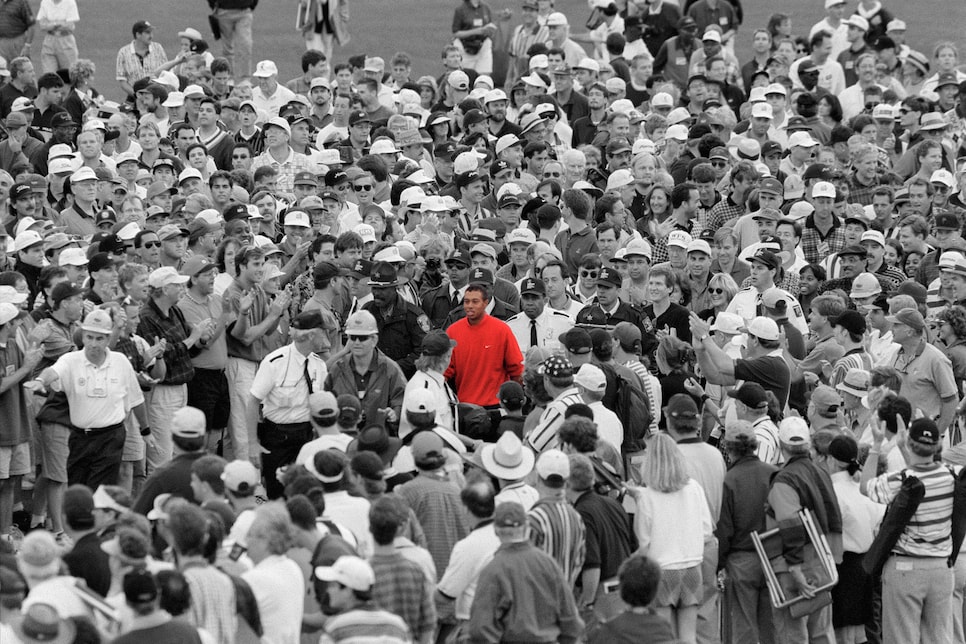 Photo by ROBERT SULLIVAN/AFP/Getty Images
LOCAL KNOWLEDGE AND TIGER-PROOFING
MAJOR CHAMPION: The changes to the course hurt him a lot. Augusta has changed from being a second-shot course to a tee-shot course. You can't play from out of the trees, and they're getting bigger as the driving areas have gotten smaller, which hurts Tiger. Driving accurately has never been his strength. Not since 2000, anyway.
FORMER TOUR PRO: I'm not sure the Tiger-proofing made much difference. We'd already seen the best of him by that point.
TEACHER: The biggest reason he hasn't won the Masters in 13 years is too many three-putts. It's that simple. To win the Masters, you can't three-putt more than a couple of times.
MAJOR CHAMPION: Somewhere along the line, he stopped being able to hit a big draw with his driver.
MAJOR CHAMPION: I've played with Langer and Couples and Mickelson at Augusta. You learn from them every time. Tiger is the same. They all have historical knowledge, which is way more important than recent knowledge. They've seen every pin. Fred plays so smart there. He hits it wide on all the holes you need to hit it wide. He misses under the hole. It looks like he's playing crap, and it adds up to 69.
TEACHER: How you play the course hasn't changed. Guys figure that out pretty quickly. When the pins are in certain places, there are obvious ways to play those holes, and how not to play them. History says that it's tough to win there the first time, but it doesn't take 10 years to figure it all out, either.
TOUR CADDIE: I went to Augusta for the first time and had to do a lot of homework, but the second and third times, I had it figured out. It's not that complicated. If you have a brain at all, you figure it out pretty quickly. Local knowledge there is overrated. The truth is, it's not that good a course.
FORMER TOUR PRO: In Tiger's case, I think that playing there as often as he has can be a disadvantage—he knows exactly where all the bad spots are.
MULTIPLE WINNER ON TOUR: If you went to the old tee on 15 now, I guarantee you Rory, Dustin, Brooks, Berger and Rickie would all be hitting wedge to the green. That wasn't the case in 1997. Tiger was the only one then.
TOUR CADDIE: You couldn't build a course he couldn't compete on before all the nonsense in his life.
MAJOR CHAMPION: The Tiger-proofing worked with the second cut. Before they did that, Tiger could hit it anywhere almost and keep it on the green. He still played great, but the one or two or three shots he lost—that he didn't lose when everything was fairway—kept him from winning.
MULTIPLE WINNER ON TOUR: Is there a smarter golfer—other than Jack—than Tiger? I can't see Rory or Dustin or anyone playing a rock-hard course and using driver only once over 72 holes as Tiger did at Hoylake. No modern player has the patience to do that. Tiger had it, though.
MULTIPLE WINNER ON TOUR: Local knowledge is great if you have control of your shots, or at least enough control to minimize the bad shots. But what has local knowledge done for him [at Augusta] the past 10 years? I'm not seeing any wins in there.
TEACHER: All they really did was set the course up even more for the longer hitters. It's not a great course. It's a pretty good course. But it is a great venue.
MAJOR CHAMPION: Look at him off the first tee at Augusta—how often has he hit it onto the ninth fairway?
TEACHER: He's the only guy I know who has found the eighth fairway from the first tee.
MAJOR CHAMPION: Where is he going to put the ball off the tee to start the round? It's not a 3-wood, sand wedge anymore. Nobody wants any part of being in that fairway bunker. Left [in the trees] is jail. If he can somehow scrape together four pars to start each round, that's a huge boost. Then there's No. 11, which hits everyone in the shorts.
TEACHER: The tee shot on No. 2 is especially hard for him, and he's always played No. 13 with a 3-wood off the tee. The best you can hope for if you do that is a hanging lie and a 4-iron second shot. Other guys are driving it around the corner and hitting 9-iron to the green. Take those two holes and he's giving up half a shot—maybe three-quarters of a shot—per round. Add that up, and you have a three-shot deficit over four rounds. And, by the way, that 3-wood off the 13th tee isn't going to be in the fairway four times. At least one time he's going to be up there in the pine straw.
FORMER TOUR PRO: I don't like Tiger hitting cuts. I think that's the feel he likes, but it leads to a lot of blocks, especially when he's worried about going left. Tiger trying to whip the ball over the corner at 13 concerns me; I think he'll live in the right trees. He'll worry about losing his ball left. So he has a two-way miss. On 13, where the best will be four under par for the week, he could potentially be over par.
TEACHER: I can see him laying back a bit more on the third hole, if only to avoid the delicate little pitch from below the green.
TEACHER: I see the 11th as a problem for him because he has to stand there and hit a dead-straight drive.
FORMER TOUR PRO: The 12th is such an exciting hole, but it's also a bit unfair. It's hard because the wind blows around so much. There is zero skill involved in judging that; it's all luck. He doesn't have the consistent distance control he used to have, or the ball flight, or the spin rate, so where he used to be able to rein back on an 8-iron and control all of the above, now all he'll have is the hard 9-iron. And when you hit that shot, where it ends up is in the lap of the gods.
MULTIPLE MAJOR CHAMPION: He's peeled so many layers of the onion. All sorts of things, good, bad, indifferent. Can he peel back enough onion layers to get back to the real Tiger Woods?
MAJOR CHAMPION: If he were to contend at Augusta, that'd be all-time in terms of what it could do for golf. And for him. That would change a lot of the story of what's been going on in his life these past few years.
FORMER TOUR PRO: I would love to see him win. I think I beat him once in my entire career, and it felt like a win, even if he had a really bad week.
BROADCASTER: I would hate for him to come back, claim to be back to full fitness, then play rubbish. I don't want him to limp away from the game with people lamenting the sadness of it all. I don't want him to be like Frank Sinatra at the end. He was still starring at concerts, even when he couldn't sing anymore. We'll find out quite quickly which direction Tiger is heading.
TEACHER: It would be a hell of a story.
TOUR CADDIE: Imagine what that would be like, him going down the stretch against the young guys. You'd have Tiger against Jordan Spieth, Rickie Fowler, Justin Thomas, Dustin Johnson, Jon Rahm ... that would be fun to watch.
Additional reporting by John Strege.