News
Assessing The Masters Favorites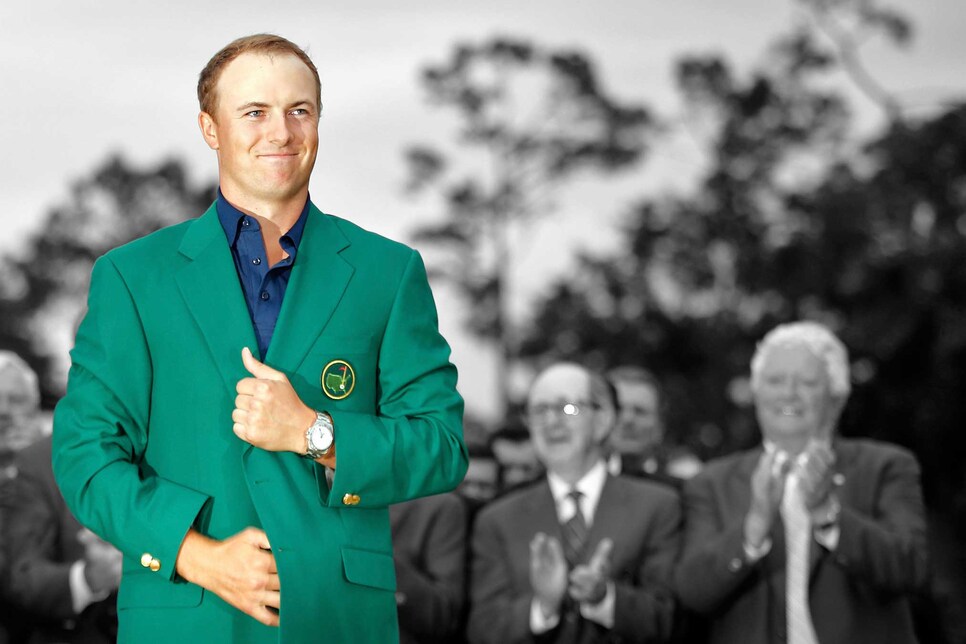 We went undercover with tour players, teachers, and others to get their honest assessment of who they like—and who they don't like—at this year's Masters.
TEACHER: I like the top players at Augusta, but it depends on the weather to an extent. Last year the weather let Rose and Garcia into contention. I don't like Rory, though. His putting is terrible. He's got the yips. And his wedge play is awful, too. Jason Day had been awful for a while [before winning a playoff at Torrey Pines for his first tour victory since 2016]. Stenson's not going to win. Hideki can't win because he can't putt. I don't see a guy who can't putt winning two years in a row. It could happen, but only if the weather is tough. None of those guys can win an 18-under-par Masters. Sergio [who won a playoff after finishing at nine under last year] certainly couldn't. So we're down to Jordan Spieth (above), Justin Thomas and Dustin Johnson. Koepka [coming off a wrist injury] isn't good enough, although he is opportunistic. He's a basher—the 21st-century pro who plays great three times a year. Then again, he's oblivious—like Dustin—and that works out well for him. That's cruel, but true. I like Rickie Fowler, but his problems are mental. He could be like Sergio and just eventually win one when no one expects him to.
TEACHER: Tiger has inspired a generation of guys who have all become savages. Look at Jon Rahm. He has a backswing and downswing like Trevino. He has a great short game. He expects to make every putt. He's like a long Trevino—good luck. You've got Dustin, who can win playing bad because he's still better than most guys when they're good.
MULTIPLE WINNER ON TOUR: Everyone points at Rory's wedge play and the ball he uses, but it's the same one Dustin uses, and his wedge play is great.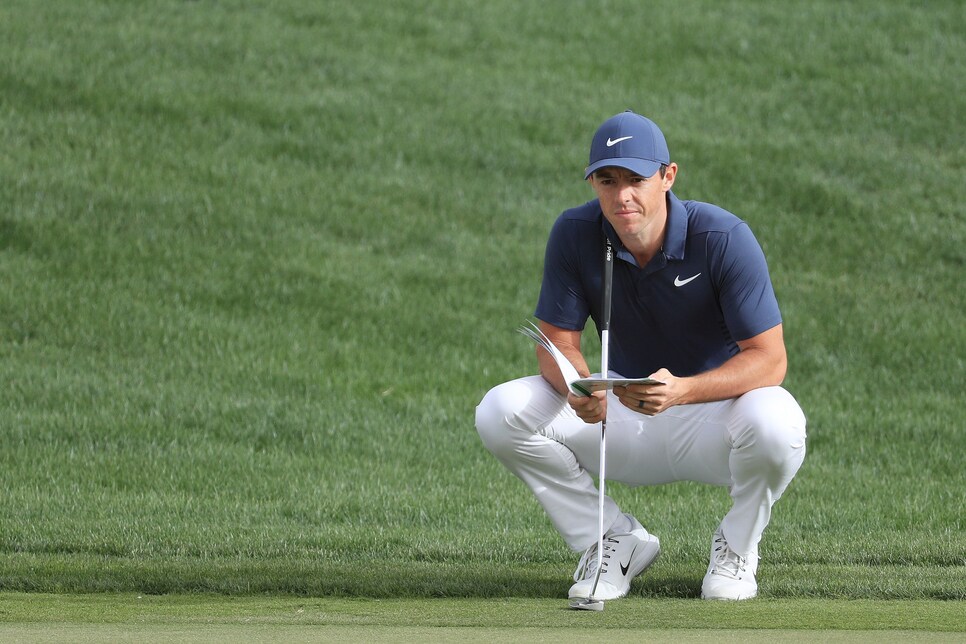 Matthew Lewis/Getty Images
FORMER TOUR PRO: My heart says Rory if he tidies up his putting and wedge play. He has technical issues in both. He's so "trapped" with his short irons. He leans on the shaft so much, and the ball comes out on a different flight and spin every time, so it flies a different distance every time and reacts differently when it lands.
BROADCASTER: We've seen the caddie change [by McIlroy last year]. I'm still hoping he drags Billy Foster onto his bag. They would be great together. Billy would be strong enough to say "no" to Rory when required. Also, Billy is funny, and that would keep Rory light.
TOUR CADDIE: Patience is huge. If you start to make mistakes, you start to chase—like Rory did in 2011—and end up making more and more mistakes. I don't think he would make that same mistake now. He has the ideal game for that course.
TEACHER: Spieth does stand out on that course. His short putting is a problem, though. No one says it, but those are yips, and they're back. There's a reason Jordan looks at the hole. He missed three putts inside 2½ feet at the Hero. They were all blocks to the right. That's the big question in his game, but only short-term. Jordan's like Langer, who has had yips his whole career but is still a great putter. Jordan's resourceful and not scared to try things. He's got an issue, but he'll find a way to putt well. Rory's pretending there's nothing wrong. He's not even close to figuring it out.
TEACHER: If Jordan's capability on a given day is 68-72, he shoots 69, not 71 or 72. He make more 15-to-25-foot putts than anyone, and you get a lot of those at Augusta.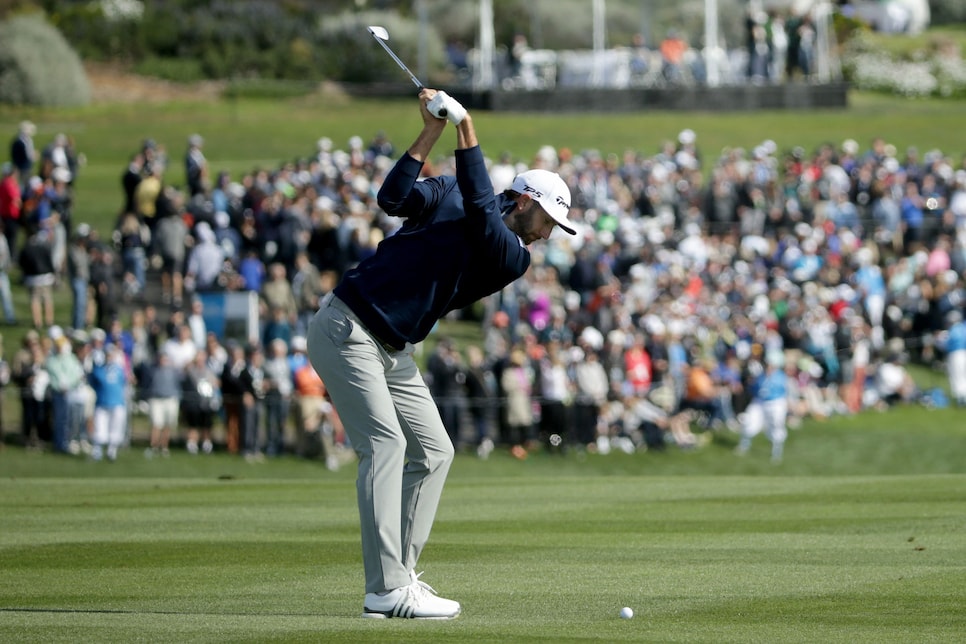 TEACHER: DJ can't turn it over well enough. He can hit it left to right all day, but the doglegs going the other way will find him out.
MAJOR CHAMPION: If Bubba finds some form in the first half of the year, he's one of the clear favorites. He loves the course. Hideki carries such a weight of expectation in every major. Dustin won't notice any of that, of course. The big question mark over all of those guys—except Jordan—is, can they putt well enough to win? He's the only one who beats you with his putter. Justin Rose isn't going to. Nor is Sergio. Adam Scott, no. Jason Day might.
TEACHER: I question the size of Fowler's heart. Right now, his swing has to be completely on for it to work. He relies so much on rhythm and timing—the things that go under pressure.
TOUR CADDIE: Rickie plays well there and always seems to have a chance. I want to see what Dustin can do [after missing the 2017 Masters with an injury].
TEACHER: I like lefties—Mickelson. They have a big advantage on that course.
FORMER TOUR PRO: Few are better tee to green than Tommy Fleetwood. So all he has to do is putt well. The same with Justin Thomas.
TOUR CADDIE: Everyone points at how important the chipping is, but Westy [Lee Westwood] has done well there, albeit without pulling on a jacket. You can play 'round it, if you hit the ball well enough. The most important thing on the greens is speed. Westy has that, which is why his record is surprisingly good. He doesn't make a lot of putts, but he doesn't three-putt often, either.
FORMER TOUR PRO: If I look at all of the top players, they all have parts of Tiger in his prime, but none of them have it all. They all have an obvious weakness.