News
The downside to Tiger-mania's return
As general interest in Woods' grows, the spotlight shines less brightly on others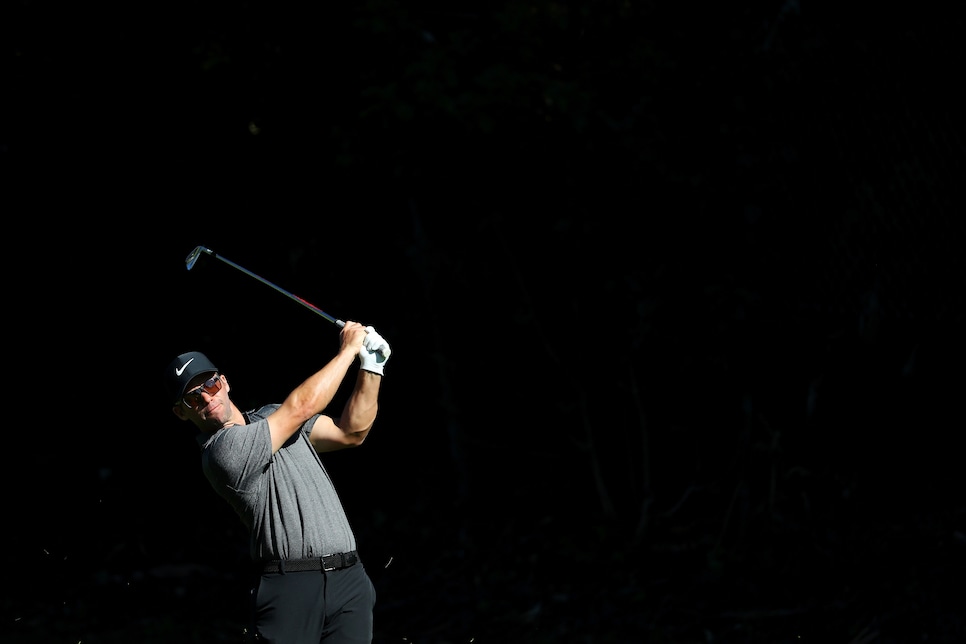 Photo By: Warren Little/Getty Images
He hadn't won on the PGA Tour since 2009 or anywhere in the world since 2014. His final-round 65 allowed him to rally from six strokes behind to claim the title. Then there was the other eye-opening 65 on Sunday; it came from the defending Masters champion, the impending father-to-be, who moved up to finish alone in fourth place. And then there was the 2016 Ryder Cup hero, mostly invisible during 2017, who had a chance to force a playoff before he bogeyed 18 to lose by one.
Pretty dramatic stuff from Paul Casey, who won the Valspar Championship on Sunday with his 65; from Sergio Garcia, who appears to be rounding into form less than a month before he defends his Masters title; and from Patrick Reed, who might be gearing up for another dramatic Ryder Cup performance. Or more.
Yes, it was quite a Sunday afternoon at Innisbrook, the venerable resort about 25 miles from downtown Tampa.
And yet, 95 percent of the people at the golf course Sunday barely noticed Casey, Garcia or Reed. Among non-golf fans—many of whom, based on TV ratings, found their way to NBC's telecast—100 percent couldn't have picked those three from a lineup.
Yes, Tiger-mania is back.
Woods didn't win Sunday but, for the first time since the summer of 2013, he had a very real chance. He didn't play especially well, shooting a one-under-par 70, but he did conjure some memories when he drained a 44-foot birdie putt on the 17th green to pull within one stroke of Casey with one hole to play.
Then Woods reminded everyone that, at 42, he is not the dominant player of old. He hit a 2-iron off the 18th tee, followed with a 7-iron well short of the flag and then allowed his nearly 40-foot birdie putt to drift and stop a good two feet short.
That left Casey, who did everything but kiss Woods' ring during the course of the week, with his second PGA Tour win and, at the age of 40, in good position to secure a place on Thomas Bjorn's Ryder Cup team. That would be his first appearance for Europe since 2008, a gap created in large part by Casey's choice to play fulltime in the U.S. This year, he's eligible and he's likely to be in Paris.
Garcia and Reed also will be there. Outside of Colin Montgomerie and Ian Poulter, Garcia's been Europe's most consistent player, dating back to his debut at the age of 19 at Brookline.
Reed will be on Jim Furyk's team, regardless of where he finishes in the point standings. He has to be. He and Jordan Spieth have become the Americans' most formidable pairing during the last two Ryder Cups, and Reed's singles win over Rory McIlroy at Hazeltine was one of the great matches in the venerable history of Sam Ryder's little trophy.
"When he brings that kind of emotion to golf, he's as good as anyone," McIlroy said after a 1-up loss to Reed in their amazing match. "I know the Ryder Cup's special, but with his talent and competitiveness, I don't understand why he hasn't done more in majors. When I look at a leader board somewhere and he's tied for 40th, I shake my head. Can't believe it."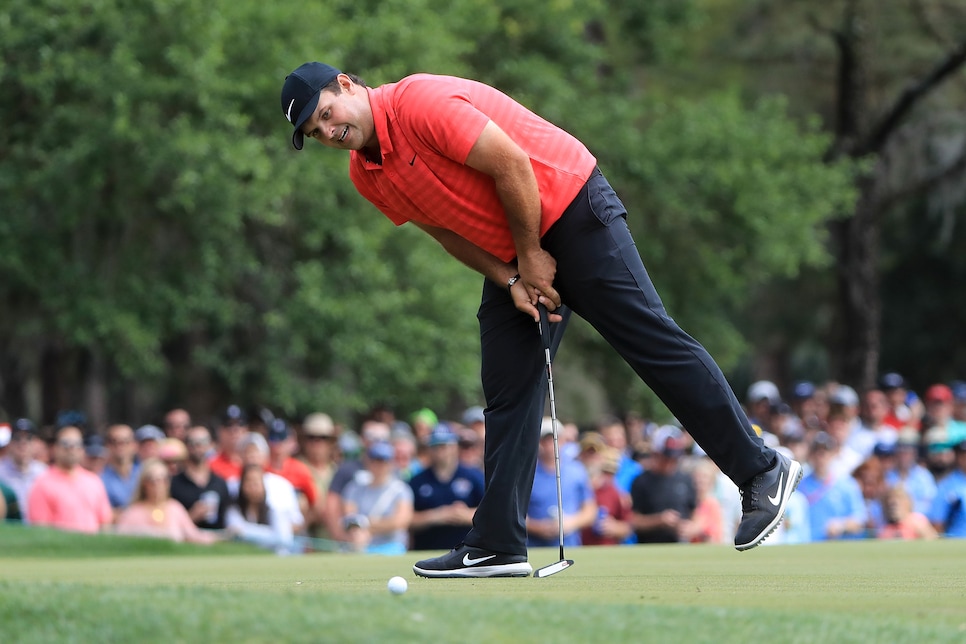 Sam Greenwood/Getty Images
Reed didn't have an awful 2017—he was 22nd in the FedEx Cup standings. But he wasn't the Reed who won five times in his first four years on the PGA Tour to go along with his remarkable Ryder Cup record. He did finally make a run at a major—finishing in a three-way tie for second at the PGA Championship last August, falling two strokes shy of Justin Thomas. This season, he hadn't had a top-10 finish before Sunday.
Tied for the lead with Casey, Reed had a wedge in his hands on the 18th fairway, but that second shot spun way short of the flag. Needing to make the birdie putt from 45 feet, he shockingly failed to get the ball up a ridge to the hole, watching it roll back to his feet. The green's collar now becoming an issue, Reed switched to a wedge to try and chip in for par and get into a playoff with Casey, but the long shot didn't pan out. A disappointing ending, for sure, but in all, an encouraging week.
To most of the world though, none of that mattered. Casey, Reed and Garcia were a little bit like the 32 teams named to college basketball's NIT on Sunday night a few hours after the bracket that matters to most of the world—the 68-team NCAA field—was revealed. The coaches, players and families of the NIT teams cared. That was about it.
In Tampa, it was all-Tiger, all the time. He drew the massive crowds. He had the TV talkers gasping every time he put one foot in front of the other.
The good news for the Tigeristas was that he hung in, grinding out pars to remain in contention on a day when his old fastball was missing. He two-putted for birdied the first, briefly grabbing a share of the lead, but didn't make another until the bomb fell on 17—causing a reaction that felt as if a bomb had gone off.
Woods has gradually improved in the four tournaments he's now played this year. He made the cut on the number at Torrey Pines, hiccupped in missing the cut at Riviera and played steadily to finish 12th at PGA National. The fact he opted to play at Innisbrook—a course that's not part of his regular rota—was evidence that he feels good and is starting to believe he has a chance to make this comeback the comeback.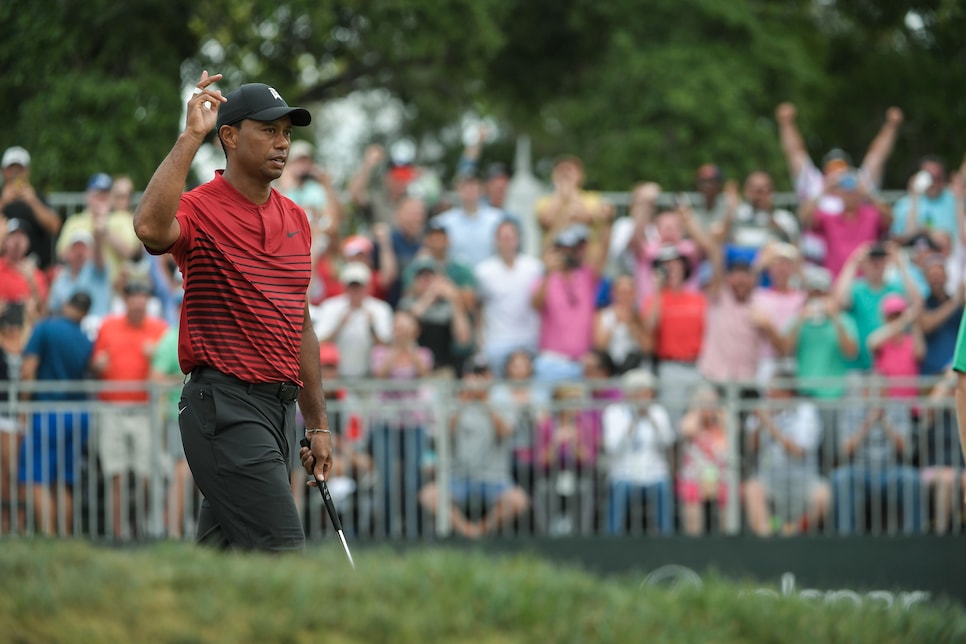 He surged to the top of the leader board early Friday, and again on Saturday, then fell back, but never way back, lingering for the rest of the weekend.
The leader the first three days was Corey Conners, the 26-year-old Canadian who got into the field as an alternate and then led non-stop for 54 holes. His 77 on Sunday was sadly predictable, especially given the names of the players chasing him: Woods, Garcia, Reed and Justin Rose, who was a stroke back before shooting a disappointing 72 on Sunday. Conners bogeyed the par-5 first—the easiest hole on the golf course—to start his final round and was in reverse most of the day. There will be another time for him.
The question for most in the golf world is whether Woods' time is now upon us … again. Everyone knows the numbers: almost five years without a victory; almost 10 without a major.
This week, he returns to Bay Hill, where he has won eight times—including four in a row at the turn of the century. Based on his week-to-week improvement, it certainly is not far-fetched to think he can win the Arnold Palmer Invitational.
He has proven he can make cuts; that he can play solidly for four days and can hang in contention on Sunday. The next step, clearly, is to WIN on Sunday. Whether he can do that remains to be seen.
And if he does, well no doubt the reaction will be like a magic trick, one in which Tiger causes the rest of the golf world to vanish. Because, to a remarkable number of people, that will be exactly what has happened.