News
It wasn't a win, but Tiger Woods has us believing that day is coming, perhaps even soon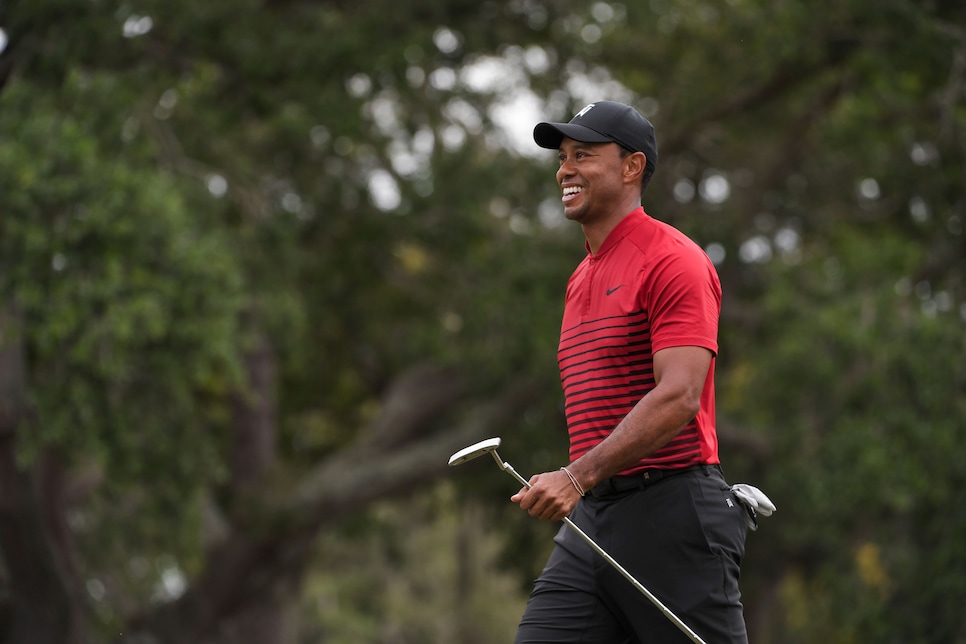 PALM HARBOR, Fla. — Tiger Woods with a chance to win a golf tournament on Sunday. What else could you ask for? Woods came to the 18th hole at Innisbrook's Copperhead Course needing birdie to force a playoff with Paul Casey Sunday at the Valspar Championship.
He hit a stinger 2-iron—an interesting choice given how the 442-yard par 4 meanders uphill and had a back-right pin for the final round—that found the short grass but left him 185 yards. His 7-iron approach landed in the middle of the green, but was nearly 40 feet short of the hole. But unlike a hole earlier, when Woods jarred one for birdie from a similar range, this birdie try came up short.
"I bring the right part of that fairway where it cuts in a little bit with 3-wood into play and on top of that the wind is off the left," Woods said, explaining why he didn't take more club off the tee there. "If I'm going to squeeze it in, I want to cut it. I didn't feel comfortable with that. If anything, that 2-iron I could have hit it flatter and hotter but, hey, I'm in the fairway, I got a shot at this thing."
A shot. What else could you ask for?
Indeed, six months ago, no one was sure Woods would ever play golf again, the 14-time major champion included. He had endured four back surgeries, the last involved having his spine fused, and another round of public humiliation after being arrested on suspicion of DUI in May (the charges were later reduced). A trip to rehab followed to help manage his pain and sleep medication. That he might finish tied for second in his fourth official start back on the PGA Tour is something many hoped for but few risked saying out loud, for fear of not bring taken seriously.

Even when Woods did return to competition last December at his Hero World Challenge in the Bahamas, he looked a long way off, finishing in the middle of the pack of the 18-man field on his home course in what was basically a hit-and-giggle event.
At the Farmers Insurance Open, his first start of 2018, he needed four birdies over his final nine holes at Torrey Pines just to make the cut. Two weeks later at Riviera Country Club and the Genesis Open, he missed it.
But then came the Honda Classic, where he seemed to turn a corner. He finished 12th, but it was more how he did it, putting together stretches of shot-making he used to display with regularity. He led the field in proximity to the hole at 29 feet, 3 inches, and was second in driving distance at 318.9 yards.
This week at the Valspar, Woods made even more tangible progress in his comeback. He broke par every day, the first time he did that in a tour event since Riviera in 2013. On Sunday, he briefly grabbed a share of the lead after opening with a birdie, ripping a long iron from 236 yards over a greenside bunker to 43 feet and two putting on the par-5 first hole.
But then, the magic seemed to disappear. Over his next 15 holes, he made 14 pars and a bogey (on the par-3 fourth, which was something of a nemesis for him). His putter didn't cooperate like it had the previous three days, and neither did his irons.
"I didn't feel that sharp with my iron game," said Woods, who closed with a one-under 70 for a nine-under 275 total. "I played very conservatively into the greens because I wasn't as sharp as I was [Saturday] and just tried to hopefully get a couple good numbers and fire at a few flags. I kept getting the half club, just one of those days I couldn't quite get the full club."
Still, he had the place on full-tilt all week, the crowds understandably loud given the display they were seeing out of Woods.
But is this a real step forward, or just a tease from Tiger to make us all think that winning more golf tournaments, maybe even majors—maybe even the year's first major in less than a month at Augusta National—is still possible?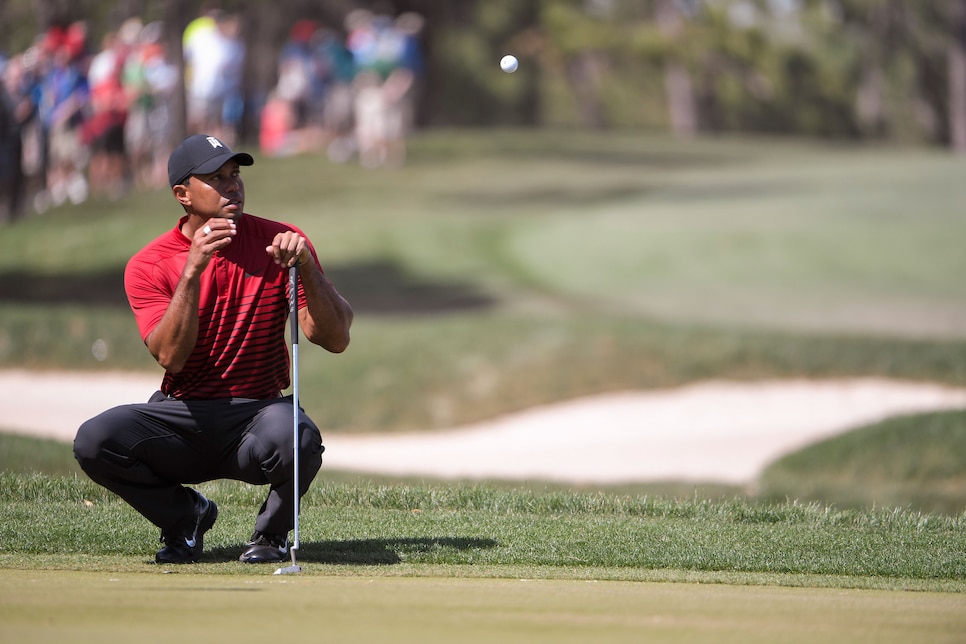 "I don't see it going backwards from here," Brandt Snedeker said of the 42-year-old Woods' game. "Only going to get better." Snedeker should know having played five rounds with Woods this year.
Woods isn't back. Not all the way. Only a victory would signal that because ultimately that is the only standard that has ever applied to him. But he is moving in the right direction—he jumped from 388th to 149th in the World Ranking with his Valspar finish—and doing it faster than anyone could have expected. And this was his first top-five on the tour in 1,659 days.
What else could you ask for?
"I felt very comfortable," Woods said of being in contention late on Sunday. "I've been here before a few times. … My game was quite solid this entire week. As a whole I felt very good about what I did this week."
He should feel even better about next week as he travels a few hours up the road to Orlando and Bay Hill, where he has won eight times in his career.
"I'm very excited," he said. "Nice to get back."
Nice to have him back on a Sunday, too. It won't be the last.