News
Sorry Tiger, but Paul Casey's Valspar win is a pretty good story, too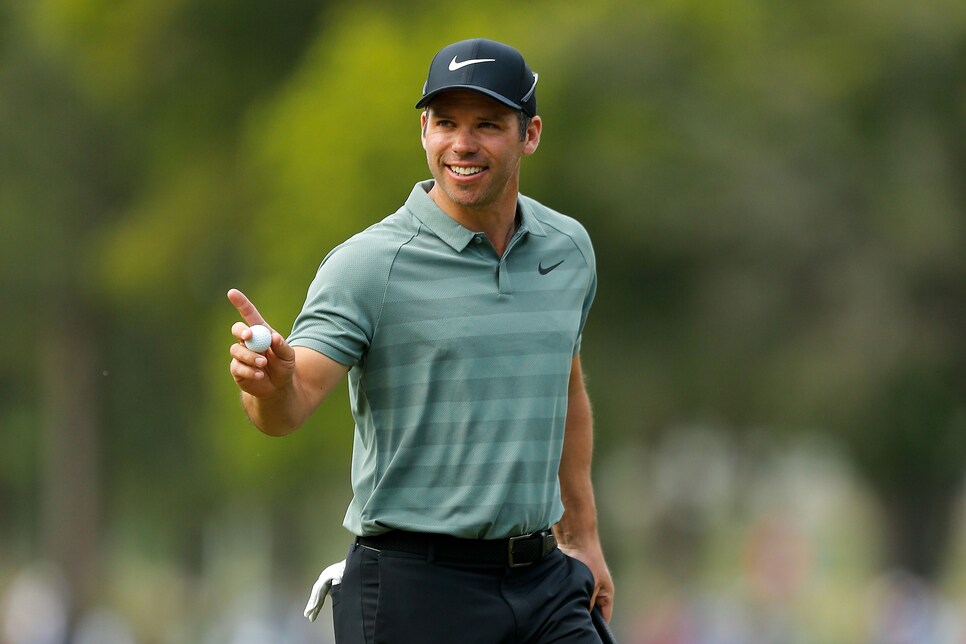 PALM HARBOR, Fla. — Not so fast, 20-somethings. Just when it looked like the baton had been passed—a new generation of young studs ready to shove the old guys aside and carry the sport for years to come—the idols they grew up watching are puffing out their chests and pushing back.
Last week, 47-year-old Phil Mickelson won for the first time since 2013.
This week, 42-year-old Tiger Woods nearly did, registering the fastest clubhead speed measured on the PGA Tour this season along the way.
Meanwhile, the guy who kept Tiger from the title was 40-year-old Paul Casey, shooting a spectacular 65 on Sunday at the Valspar Championship for a one-stroke victory over Woods and Patrick Reed.
"I loved Phil's victory," said Casey, who began the day six strokes back, made seven birdies and just one bogey in his first 13 holes, then had to wait around an hour or so to see if anyone would match his 10-under 274. "That's why I thought Tiger was going to win today, because he's probably watched Phil win, and figured I want to win. At least it's another one for the 40-year-olds this week."
Casey knows that the next generation of tour stars has already arrived, which makes his accomplishment all the more meaningful. "It's becoming a young man's sport, and so it's very rewarding to be able to go up against the young guys and still beat them and still compete with them."
In the case of Casey, that meant making putts when it mattered—on the weekend. It was something that he has admittedly struggled with for much of his career, despite having racked up 18 worldwide wins but albeit just one previously on the PGA Tour (2009 Shell Houston Open).
So Casey spent some time in the offseason working on fixing his stroke. He was shutting and de-lofting the face on the way back, so he played around with starting with it more open. The work paid off on Sunday when Casey needed just 21 putts and took just 48 over the last two days.
He also stopped thinking so much about it.
"The way I strike the golf ball, if I'm hitting other clubs in the bag I don't stress about technique. I never have," he said. "I've never done that with the putting. I've always been super critical and try to have a great stroke. I'm approaching it the same way I approach the rest of the game. It's carefree."
So is his attitude. While dropping his membership for a time on the European Tour (he has since re-joined) to concentrate on playing in the U.S., the Englishman had come to peace with the realization that he might never win again on the PGA Tour.
"I've reached a very good place in my life where I've got a wife and kids and life is very, very good," Casey said. "To get a victory, another victory it is very much icing on the cake and kind of fills that void and makes me even happier. I was happy before but just happier."
Even Woods was happy. Amid the chaos after finishing one stroke short, he crossed paths with Casey and congratulated him.
"It's the only time he's congratulated me immediately after a victory," Casey said with a laugh. "Normally it's the other way around. That's something special. Just really cool. Great experience.
"I'm sure he was disappointed he didn't get the victory. I actually thought he was going to win today before the round started. I thought it was just teed up beautifully for him. I said a couple times if I don't win this thing I actually want Tiger to win it. I'm glad it's this way."
Surely, so are all the other 40-somethings out there.