News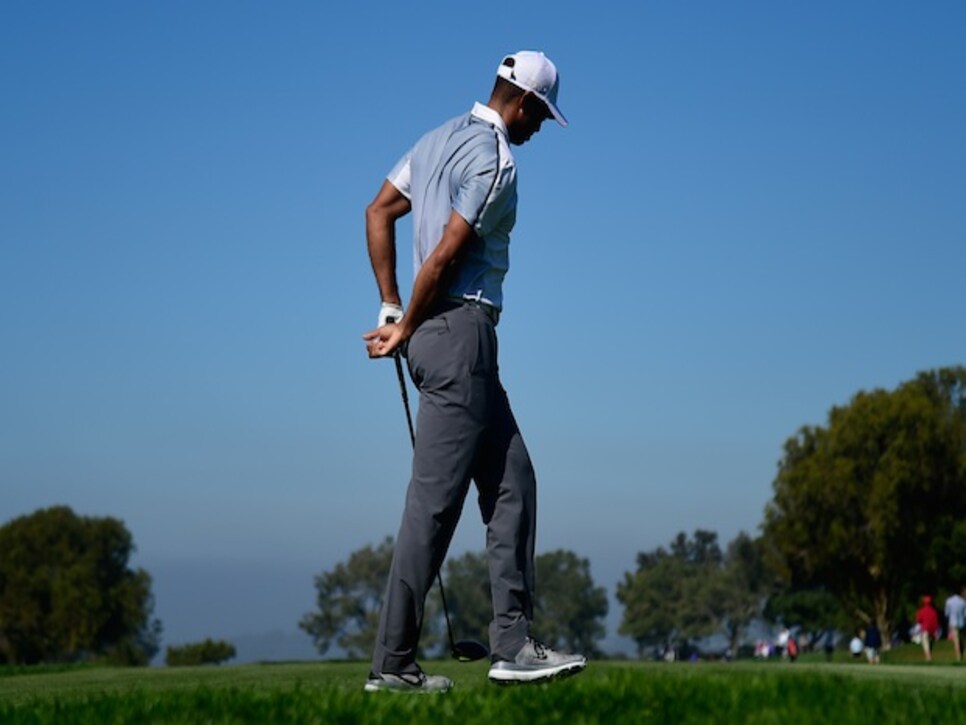 Editor's Note: This story originally appeared in the Feb. 9, 2015 issue of Golf World. To get Golf World every week, sign up here.
It was close. With the full activation of the dark rhetorical skills he has honed over the past five years, Tiger Woods nearly changed the narrative of his ongoing saga again last week at Torrey Pines, despite what has been happening before our eyes.
It started Wednesday when, in explaining the alarming chunks and skulls and even shanks, Woods went back to old reliable: swing-change jargon. He spoke of "release patterns," the search for "a consistent bottom," and being "caught right dead in between" the teaching of deposed coach Sean Foley and new consultant Chris Como. All grounded in an audacious mantra, given the surreal and totally unprecedented nature of the shots in questions: "I've been through it before." Really?
The next day, after withdrawing on his 12th hole of the Farmers Insurance Open because of tightness in his back—his third WD in his last eight events—Woods used a hasty parking-lot press conference to invoke his other favorite fallback topic: injury. The ensuing pedantry regarding activated and deactivated glutes will probably have a longer shelf life than LeBron James' "I'm taking my talents to South Beach."
Then on Saturday, Notah Begay III shared on Golf Channel that he had exchanged texts with Woods, reporting that his friend did not consider his latest problems "a major concern."
Thus did a 14-time major winner, still the most powerful man in golf, attempt to use his influence to deflect attention from what he doesn't want others, and probably himself, to believe: that his game is on a cliff's edge, teetering more toward retirement than resurgence.
Woods' stubborn ability to stay unceasingly on message and concede nothing has long made him a difficult subject to present with any depth, and never more so than now. When he deems the topic positive, he gives little information. When he deems it negative, he gives none. It's understandable for a relentlessly scrutinized athlete who wants to minimize the noise, but in the process, he basically dares journalists to call him a liar. Very few have gone there.
Woods' PGA Tour peers are unwittingly in on the obfuscation. First, circling the wagons is part of the player code. Second, they know if they don't, the man they least need as an enemy will be displeased. A parade of public euphemisms, led by Fred Couples' dismissive "he's fine," ensues. Meanwhile, every close observer is wondering the same thing.
Even that question carries the caveat, of course, that professional golfers, who have the most ability to come back because of the nature of golf and the many years one can play, get the benefit of the doubt. The greater the champion, the greater the benefit.
But here's the thing. At Torrey, as it had been at the Waste Management Phoenix Open the previous week and at the Hero World Challenge in December, what transpired was simply too graphic not to trust our eyes. The emperor has no clothes.
Sure, pros fall into chipping slumps, which are getting more prevalent and prolonged as agronomy allows fairway lies to get ever tighter. But it's extremely rare for a touring pro to hit shots as badly as often as Woods has, the cumulative effect more alarming than the most wildly sprayed drives of Seve Ballesteros, Ian Baker-Finch and David Duval combined.
Plenty of evidence defined the state of affairs at Torrey. Couples, not even in the event, took the unusual step of dropping in to watch and, seemingly, casually interact with Woods for his nine-hole Wednesday practice round, an emotionally intelligent elder in crisis-intervention mode. Fellow players gathered around a more sociable Woods on the practice tee, kibitzing easily until a horrifying Woods skull or shank left them speechless and facially frozen. They also saw Woods, on the crowded practice putting green, drop three balls to try some short shots, only to pick them up after a third went speeding past its target.
Come Thursday's first round, there were the low murmurs from Woods' stunned gallery, and the awkward body language of playing partners Rickie Fowler and Billy Horschel, who like Jordan Spieth and Patrick Reed at Phoenix, were forced at short range to witness an icon slowly stripped of his aura. On Woods' first hole, when he bellied an otherwise simple chip, Nick Faldo waited a beat before intoning on Golf Channel, "That's quite frightening."
So what is really going on here?
Well, I have a theory, admittedly speculative and uncomfortable for many, who would rather—almost as much as Woods—not go there. But it's based on the relevant history of a historic figure, the only thing that seems proportional in scale to what has ensued: The scandal that changed Woods' life after Thanksgiving of 2009.
The line of demarcation is clear, because as a golfer, Woods has not been himself since. I believe it's fair to posit that the trauma of being publicly shamed changed him. Before, he possessed the right makeup for a dominating champion. Ever since, he hasn't.
The steady decline in Woods' ability to handle pressure, something he did better than anyone in his time or perhaps any time, can be traced. There are anecdotal examples of missed drives and short putts at crunch time, as well as a remarkable pattern of not having broken 70 on the weekend of a major championship since the 2011 Masters.
Given Woods' station and the long-cultivated air of impenetrable superiority that he used to great advantage in competition, he was ill-prepared to face humiliation. The most revealing comment Woods has made in the past two weeks came during his press conference last Wednesday when he said of his struggles, "Unfortunately, I have to go through it in a public forum like this."
It was a rare slip in his cover. The effort of keeping it down for so long, and keeping the walls he has built standing, has been emotionally exhausting. His effort to hide weakness made him weaker. And now the dam has broken with the collapse of his once-supreme short game, which because it seems like a simple motion and happens in a small space, leaves those who badly fail looking more inept—and humiliated—than they would on a longer shot.
"For him to fall off the table like this leaves a huge question mark as to why," says Greg Norman. "He's always tried to portray himself as having huge rhino skin. But when you try to bury things deep within, eventually everything comes up on the outside, I don't care who you are."
What, then, is best for Woods now? Not "more reps." Playing more tournaments means more scrutiny of every shot, the awareness of which only ratchets up the tension and makes yipped chips and the scar tissue that they leave more likely. At the moment, Woods is too fragile for that.
No, what's best might be more downtime. More opportunity to take the long and overdue look inward, preferably with professional help. Such a move would please more than a few former and current members of Woods' inner circle.
No doubt more time away from golf after a lost 2014 sounds too risky with the clock ticking. But Woods as a golfer is a very old 39. If he can successfully address and even resolve the source of his turmoil, he has a chance to be a young 40-something, a player more capable of being physically healthy, rid of technical confusion and, yes, again winning majors.
Given where Woods is today, that would be the narrative of the greatest comeback in the history of golf. And it wouldn't be close.