News
Throw the sand to ace bunker shots like Jordan Spieth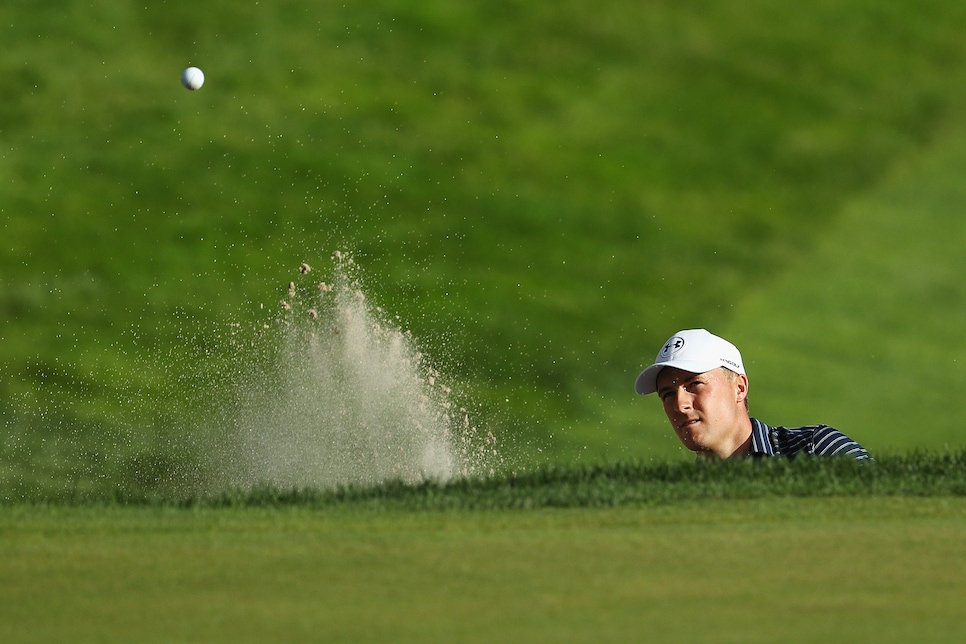 Having an all-world short game to save you from some scratchy full shots would certainly be nice to have. Jordan Spieth put his on full display at the Travelers, jarring a bunker shot for birdie on the first playoff hole to beat Daniel Berger.
The shot was straightforward as far as bunker opportunities go -- and Spieth was undoubtedly trying to hole it, not just get it close. A world might separate the average player from a tour player when it comes to bombing tee shots, but anybody can get way more confidence out of the sand by focusing on the fundamentals that matter and eliminating a lot of the anxiety-producing adjustments to stance and swing.
"When the average person gets into the sand, he or she makes a bunch of adjustments, almost like they're trying to remember the laundry list of bunker tips they've heard," says Golf Digest Best Young Teacher Michael Jacobs, who is based the X Golf School in Manorville, NY. "They're trying to 'decipher' the bunker shot, because they think of it as a totally different kind of shot. It isn't."
Instead of wildly changing your grip, stance and ball position and trying to make a different kind of "bunker" swing, think about one key fundamental.
"It doesn't matter how you stand, how much you open the face, or if you push your hands forward or backward at address" says Jacobs. "Stand to the ball like you're hitting a pitch shot and concentrate on throwing sand out of the bunker in the direction you want the ball to go. Make a normal swing and feel like you're twisting the face 'backward' through impact--holding it open. That's it."
Playing it like the same pitch shot you always hit is going to help you hit the sand in the same spot more consistently. Spend 10 minutes in the practice bunker throwing sand, and you're good to go.
"Just knowing you don't have to change a bunch of things and get it all right is going to reduce your anxiety level," says Jacobs. "It's just another shot, and most of the time it's actually easier than a pitch shot from grass."