DP World Tour
Three LIV players receive stay of suspensions by DP World Tour and can compete in Scottish Open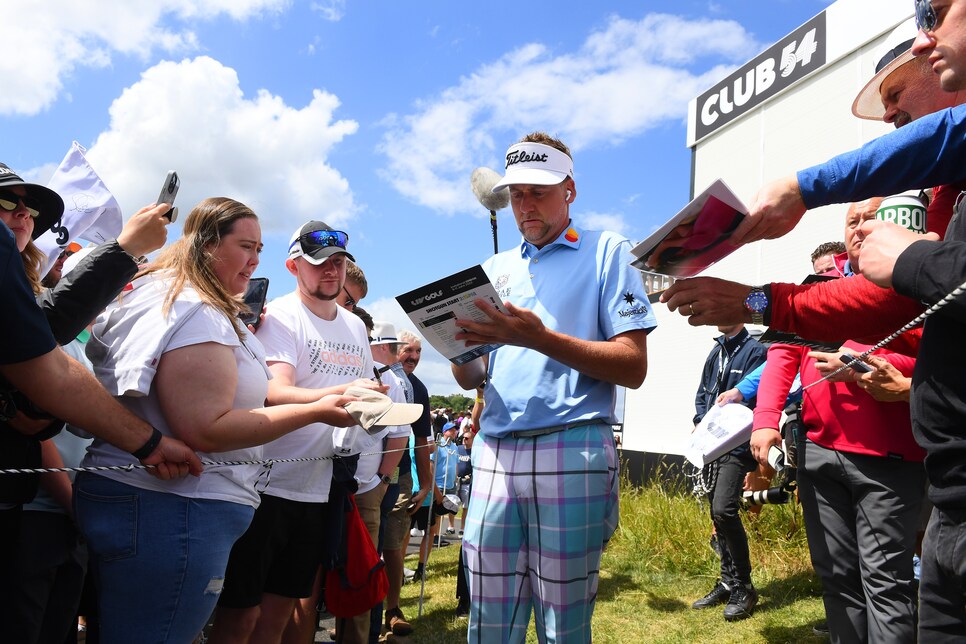 Ian Poulter signs his autograph for a fan during day three of LIV Golf Invitational-London.
Joe Maher/LIV Golf
The DP World Tour suffered at least a temporary blow in its battle with LIV Golf on Monday when Sport Resolutions in the United Kingdom issued a stay of the suspensions the tour levied against three players after they competed in LIV's inaugural event last month in London.
Ian Poulter, Adrian Otaegui and Justin Harding were among those who received three-event suspensions and fines of £100,000 ($121,230) each. They will now be able to compete in this week's Scottish Open that is co-sanctioned by the DP World Tour and PGA Tour.
Sport Resolutions, a non-profit arbitration and mediation service, still needs to hear more substantive appeals before delivering a final decision.
Monday happened to feature the first of two rounds of the JP McManus Pro-Am at Adare Manor in Ireland with a field that included a number of the world's top players and Tiger Woods. In a statement, DP World Tour Chief Executive Keith Pelley said he would limit his statements out of respect for the McManus event. "I will simply say we are disappointed by the outcome of today's hearing, but will abide by the decision," Pelley said. "It is important to remember, however, this is only a stay of the sanctions imposed, pending the hearing of the players' appeal as to whether those sanctions were appropriate.

"The make-up of the field for the Genesis Scottish Open will be advised in due course, but based on this decision the field size will increase beyond 156. We will make further comment on this in due course, but not during our time at Adare Manor."
Poulter was among those playing in the McManus Pro-Am and speaking before the tribunal's decision was announced, he told the BBC, "I feel disappointed, I feel offended that obviously I'm suspended from playing golf on a tour where I've been a member for 24 years, but I've been told I can't, so it's disappointing.
"I've put it in as an individual because I want to play so whether people want to come in on the back end of that is up to them, but my correspondence is obviously fighting for my rights to play golf."
The Telegraph first reported last week that 16 LIV players wrote a letter to the DP World Tour asking for the fines to be rescinded and the suspensions lifted. That letter concluded rather ominously. "If not," it said, "you will leave us with no choice but to employ the various other means and methods at our disposal to rectify these wrongs."
"There has been a leak to the media of a letter we received on behalf of a number of LIV Golf players which contains so many inaccuracies that it cannot remain unchallenged," Pelley wrote. "Before joining LIV Golf, players knew there would be consequences if they chose money over competition. Many of them at the time understood and accepted that. Indeed, as one player named in the letter said in a media interview earlier this year; 'If they ban me, they ban me.' It is not credible that some are now surprised with the actions we have taken."