The Loop
Thorpe Wins Schwab Championship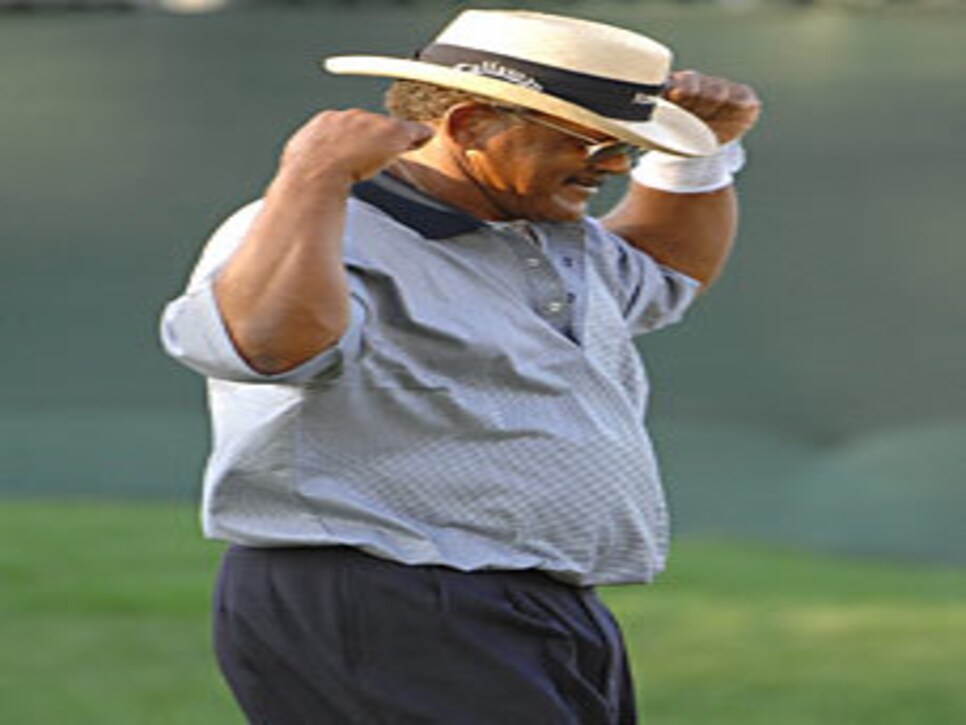 SONOMA, Calif.  --  The Charles Schwab Cup Championship will be returning to Sonoma GC in 2008, and Champions Tour officials are talking with the club about a possible 2009 date before the event moves to San Francisco's Harding Park GC in 2010 for a two-year run.
If Jim Thorpe could vote with his wallet -- or his heart -- I know where he would want the tournament to be played in two years. Same for Loren Roberts.
Thorpe's victory Sunday, the first of 2007 for the 58-year-old, was his second consecutive and third in the seniors' season finale since it moved to northern California in 2003 after stints in Myrtle Beach and Oklahoma City. Yesterday's $442,000 check gives him $1,466,783 in five appearances at Sonoma. "It's a shame we can't play all 30 events here. I could probably be a multiple winner," Thorpe said with a laugh the other day.
As for Roberts, he claimed the season-long Schwab Cup points competition by maintaining the 165-point advantage over Jay Haas that he had when the week began. The outcome made up for the disappointment of last year, when the putting maestro three-putted the final green to allow Haas to seize the $1 million. Second place was still worth $500,000, but it really wasn't about the money.
"The dogfight that it was last year and for Jay to win it on the last hole -- for me to be able to come back and win it this year is huge for me," said Roberts.
Thorpe and Roberts are both throwbacks, reminders of how guys used to make their way into the game and that there is -- or at least, was -- more than one way to stick once you get there.
The son of a black greenskeeper in North Carolina, Thorpe caddied and learned to play by twilight, and he apprenticed in money games, not a developmental tour, honing an individualistic swing steered by a pair of the strongest and best hands in golf. If you want to see a big man with touch who does things his way, just take a look at Thorpe.
Roberts toiled as an assistant pro for years before making the PGA Tour, making up for an average long game without much pop with putting skill to rival anyone, anytime. Once he finally won, at the Nestle Invitational in 1994 when he was 38, he won again. Eight times in all.
Just like Thorpe, for Roberts turning 50 has been a passport to greater success. A senior major each of his first three seasons. Being No. 1, finally, this season with his Schwab bounty, of which charities near his home in Memphis are certain to benefit in the generous tradition of the cup's champions that began in 2001 with Allen Doyle.
Thorpe's success has meant he has been interviewed a lot in Sonoma over the past few years. Without fail, some of his lengthy press sessions meander from thoughts about his place as a minority in golf to the state of black youth today. He tends to shoot from the hip, but also from the heart.
"I joined the tour in 1975. We had 12, 13, 14 African-American players. This is a new millenium, and today we have nobody playing," Thorpe said. "Tiger is biracial, or whatever you want to call him, [but other than that] there is nobody."
Whatever hurdles Thorpe faced when he was young, he found a way to play and got hooked on the game's challenge as much as its payoffs. "If you play as long as we have, everything in golf is going to happen to you," he said. "You're going to three-putt from four feet. You're going to hit it out-of-bounds. You're going to shank a chip shot. You're going to get so nervous you can't swallow. And that's the beauty of it."
And there are tournaments such as the one Thorpe just put together, when the birdies come in bunches and there is no one better than you. That feeling doesn't get old, no matter the tour.
(Photo: Marc Feldman/Getty Images)