News
Thorbjorn Olesen thwarts Francesco Molinari's attempt at back-to-back Euro Tour wins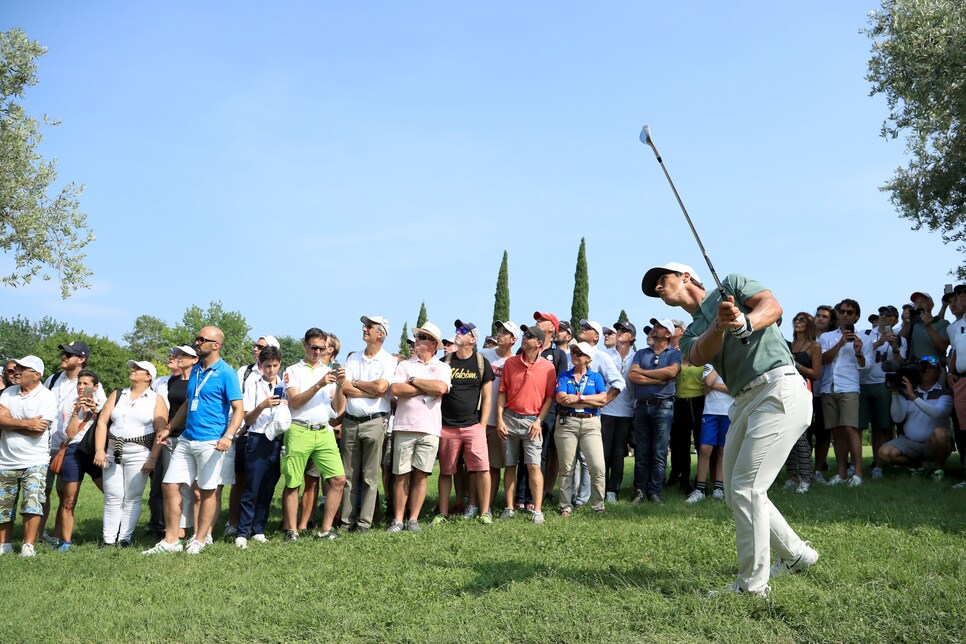 Andrew Redington/Getty Images
Nine tournaments into his 2018 season, it was safe to say that Thorbjorn Olesen wasn't performing at the peak of his considerable powers. Not even close. One top-10 at the World Super 6 in Australia was the best the 28-year old Dane had done, the rest a downbeat mixture of three missed cuts and general mediocrity. The BMW PGA Championship at Wentworth was typical. Seven days before he would win the Italian Open, Olesen posted an anonymous T-60 finish, 18 shots behind the man in first place, Francesco Molinari.
Things can change quickly in golf though. At least as far as Olesen is concerned. While Molinari continued his fine form by shooting 21 under par for four circuits of the Gardagolf Country Club—he has dropped only two shots in his last 116 holes of competitive golf—it wasn't quite good enough to secure a third home title for the 35-year-old Italian. On a final day marked by low scoring from some of the past and future Ryder Cup assistant captains in the field (Lee Westwood and 54-year-old Miguel Angel Jimenez were best on 63 and four others, including former U.S. Open champion Graeme McDowell, shot 64), Olesen's bogey-free 64 got him to 22 under for the week and earned him the €995,394 first-place check.
The crucial moment, at least as far as Molinari was concerned, came at the penultimate hole, a par 4 measuring only 344-yards. Aggressively choosing driver off the tee, the World No. 20 "short-sided" himself when his tee shot finished short and right of the green, the pin positioned front-right behind a bunker. Almost inevitably, Molinari's pitch found the sand and three shots later he had presented the eventual champion with the breathing space he needed.
A few minutes later, Olesen, after positioning his 3-wood tee shot in the perfect spot, made birdie on that same 17th. Armed with a two-shot lead, he was able to withstand Molinari's birdie on the last, courtesy of a grandstanding 35-foot putt that lit up the partisan crowd, and still record his fifth European Tour victory. Olesen made hard work of it though. After a pulled drive, he pushed his approach into sand and had to get up-and-down to clinch the win. He did so, holing stoutly from six feet.
"I knew from the start this was going to be tight," Olesen said. "There are so many birdie chances out there. My aim was not to make any bogeys. This is the first time I have come from behind to win, so this is special for me. I played badly over the first nine holes, but I got more and more comfortable over the ball. I felt free to let the club go, which is one of the most important things for me."
Olesen was quick to admit the ending got a little tighter than he had hoped. "That putt of Francesco's put me under a lot of pressure," he said. "Then I've never had a putt like mine to win the tournament. So this is special for me. I've always been one to gain confidence quickly. I guess this week proves that."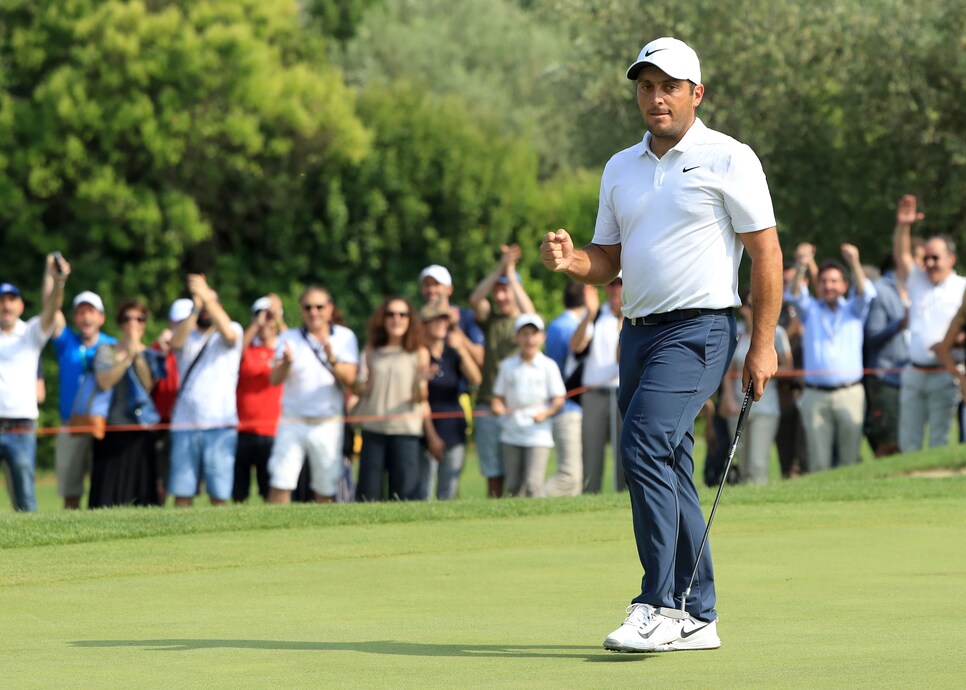 Andrew Redington/Getty Images
As for Molinari, ever stoical, the runner-up was philosophical over what would have been a second consecutive victory in the European Tour's lucrative eight-tournament Rolex Series.
"I'm super happy," Molinari said. "It's been a great week. The bogey at 17 was a shame, but I scored better than I played all week to be honest. And the putt on the last was unbelievable."