DP World Tour
European pro on brink of British Masters title after recent years of personal turmoil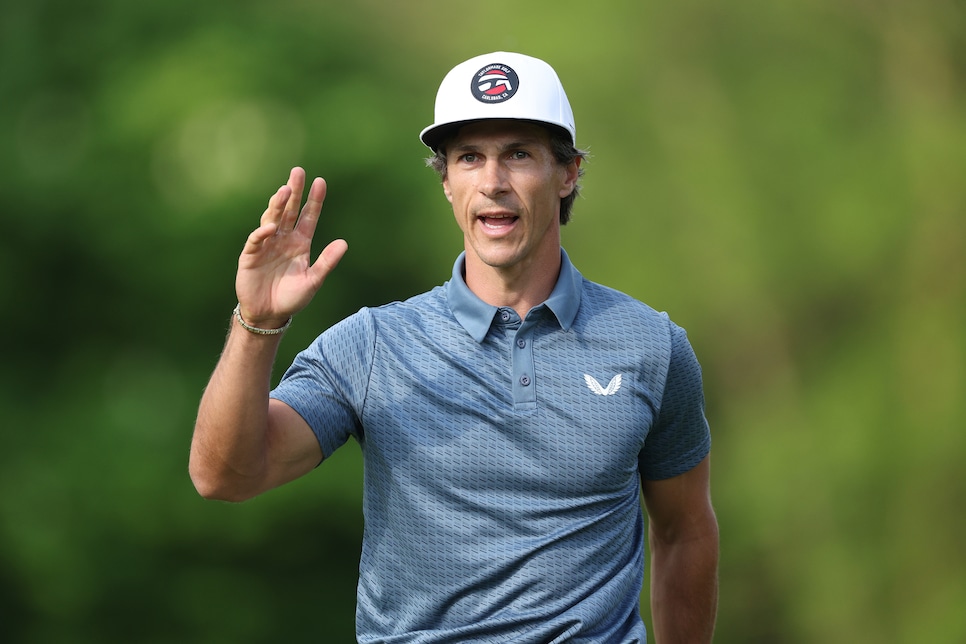 Thorbjorn Olesen reacts as he holes a birdie putt on the 18th green during the third round of the British Masters.
Richard Heathcote
SUTTON COLDFIELD, England — "It's nice to see him with a smile on his face," said a member of the DP World Tour media team.
And so it was. Just six months after he almost lost his liberty in a court of law, Thorbjorn Olesen is in position to win for a sixth time on his home circuit. With 18 holes to play at The Belfry, the 31-year-old Dane has a three-shot edge over Englishman Marcus Armitage and Hurly Long of Germany in the race for the Betfred British Masters title.
That such a clear favorite should emerge looked unlikely for long enough on a day when most of those in contention were doing no better than treading water. Even Olesen. The three-under-par 69 that took him to 11 under par climaxed with an eagle-birdie finish that separated himself from a crowded chasing pack that still has as many as nine players within five shots of the pacesetter.
"It was an odd round," confirmed Olesen, who holed out from 120 yards for what turned out to be his first eagle of the day on the par-4 fifth. "I had to stay patient out there. But I made a lot of good up-and-downs. There are a couple of tee shots here that make me a little uncomfortable. That makes it more difficult to put a good swing on it. But I hit some really good ones coming in. That was important."
He's being modest. The fairway wood he struck to less than two feet from the flag on the 564-yard 17th was a thing of beauty.
"It was 227 meters (250 yards)," said Olesen. "I hit a lovely, low 5-wood that looked perfect right off the sweet spot. I walked after it right away it looked so good. And it wasn't long before I got a reaction from the crowd. So I knew it was close. I enjoyed the walk after that."
Not surprisingly, the eventual leader had earlier sneaked a look at the leader board when playing the par-5 15th. At that time, any number of players were in contention to enter Sunday's final round with some sort of advantage. But of those, only Long—who started poorly—found any sort of forward momentum over the closing holes. The former Texas Tech student made three birdies in the last six holes to claim that share of second place.
Indicative of just how awkward the Brabazon Course at the four-time Ryder Cup venue was playing came with an analysis of how the 68-strong field coped with the water-strewn 319-yard 10th hole. Yes, there were a couple of eagles on the drivable par 4. But that was six shots better than Gonzalo Fernandez-Costano managed and five lower than Jordan Smith's seven. And there were five double bogeys. Collectively, the field was 15 over par. Maybe distance isn't everything in the modern game after all.
Anyway, how Olesen copes with the pressure of the final round will be the key to who makes off with the biggest share of the £1.85 million ($2.28 million) purse. It's been a while since the 2018 Ryder Cupper has won and his life has not exactly been stress free since he won his fifth title, the 2018 Italian Open, on what was then the European Tour.
Last December, upon being acquitted of sexual assault, assault by beating and being drunk on an aircraft in July 2019 after the jury deliberated for less than an hour following a three-day trial, Olesen gave a tearful land emotional speech.
"I want to apologize wholeheartedly to everyone on board the flight who was affected by my behavior," he said. "I do not remember anything that happened after takeoff, but I am embarrassed and ashamed by the account of my actions that was outlined during the trial. My behavior was completely out of character and nothing like this has ever happened to me before or since."
Now, of course, he is back on more familiar ground. And, as that beaming smile indicated, he's looking forward to it, whatever happens.
"I'm going to be nervous," he said. "It's been a long time since I've been in this position. I know how hard it is to win out here. I'm sure guys are going to come after me tomorrow. I just have to stay aggressive like I was today. I feel like I have plenty of experience. I've been out here for a long time. I've been close a lot of times and haven't won. So today was still a learning experience. I haven't felt nervous like this for a while. But I've always enjoyed that feeling when I get into contention."