News
Thomas reigns, Garcia wins his own event, and a rules snafu for the ages: What you missed this weekend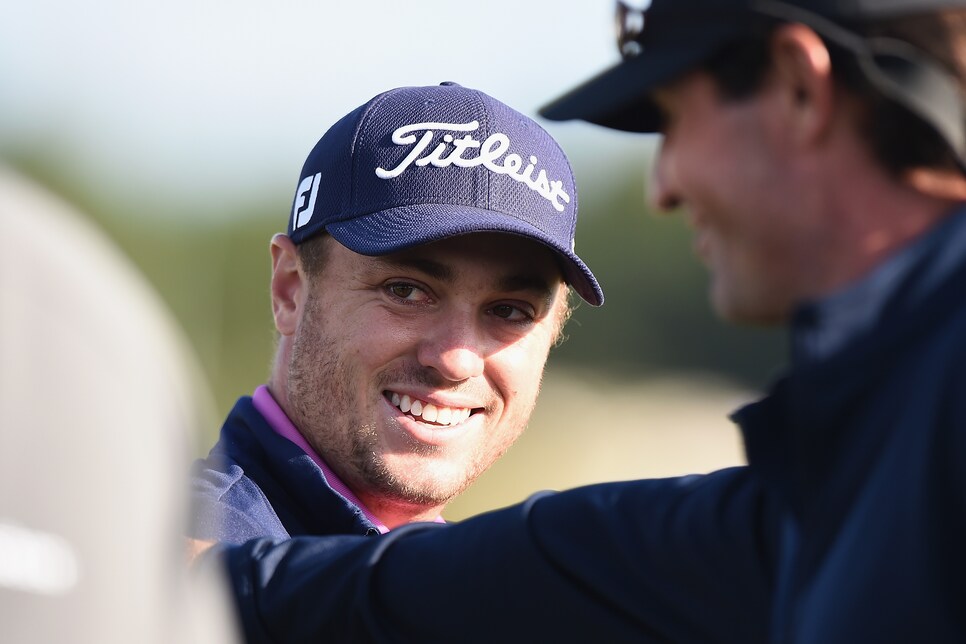 Welcome to the Dew Sweeper, your one-stop shop to catch up on the weekend action from the golf world. From the professional tours, trending news, social media headlines and upcoming events, here's every golf-related thing you need to know for the morning of Oct. 23,
Justin Thomas, still good at golf
The mark of a player is cobbling together a score when they don't have their best. A distinction Justin Thomas has rightfully earned.
The reigning Player of the Year turned in an opening-round 63 at the CJ Cup in South Korea, yet—for most of the weekend, and especially on Sunday—Thomas appeared to be running on fumes. (Not that you can blame the guy: 2017's been a bit of a busy campaign.) That he managed to find himself in a playoff—a battle he won over Marc Leishman—is a testament to the capacity, firepower and fortitude of the 24-year-old.
"I am so excited," Thomas said in victory after notching a birdie on the second sudden death hole, "… to not do anything. I officially have nothing left."
For Thomas, who at one point was caught by cameras saying "My legs feel like jelly," it was the sixth victory in the calendar year, one that saw the Alabama product transform from fledgling entity to marquee star. He's set to shut it down for the foreseeable future, a vacation well deserved.
But you have to feel for Thomas' fellow tour pros. If the cat's reached the point where he can do that with the gauge on "E," who know what prospects are ahead with a full tank of gas.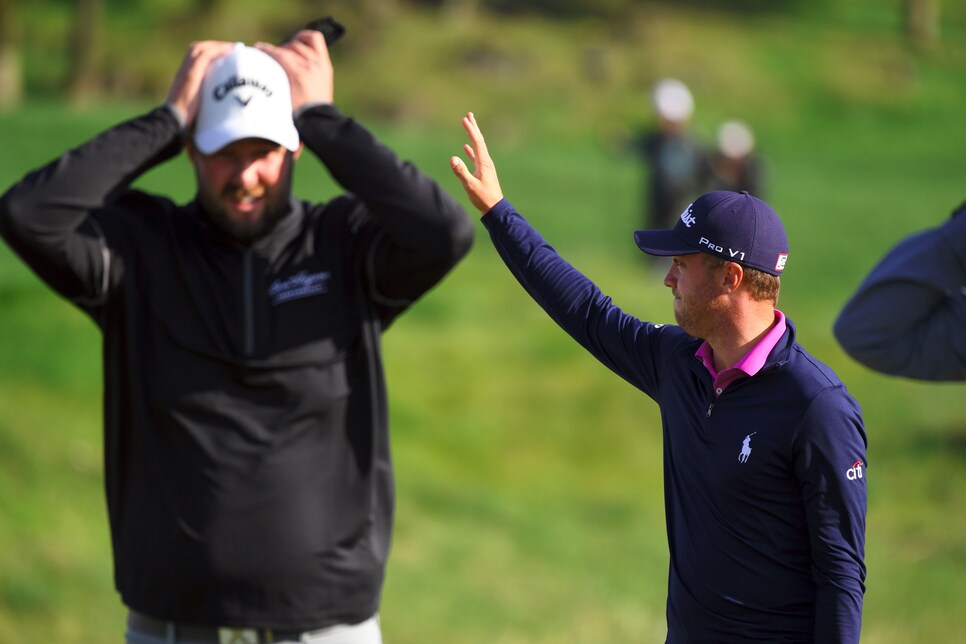 Golf Channel loses TV feed
The star presence of Thomas was a shot of vitality desperately needed for the overseas, inaugural CJ Cup. Alas, the playoff unfortunately went unwatched by the masses. Literally.
Technical difficulties prevented the Golf Channel from airing the live broadcast of the Thomas-Leishman showdown, instead re-running play from regulation. When the issue was fixed, the cameras showed Thomas giving his post-championship speech.
"The satellite path of the television feed provided by tournament organizers stopped feeding at 2:30 a.m. ET. Golf Channel personnel immediately alerted the tournament production group to the problem. We apologize to our loyal viewers who stayed up late to watch coverage live."
In terms of scale, it's not exactly the Heidi Bowl. Still, if you're going to pull the plug on live coverage, at least show the normal mid-night Golf Channel programming:
Sergio, not a welcoming guest
Certain duties are expected of a host. Warmly greet those in attendance. Set up a friendly environment. Make sure everyone is having fun. Sergio Garcia is not that host.
With a final-round four-under 67, Garcia picked up his 14th European Tour title at the Andalucia Masters presented by...the Sergio Garcia Foundation. His 12-under 272 total bested Joost Luiten by a stroke, with the rest of the field struggling at the grueling Valderrama Golf Club.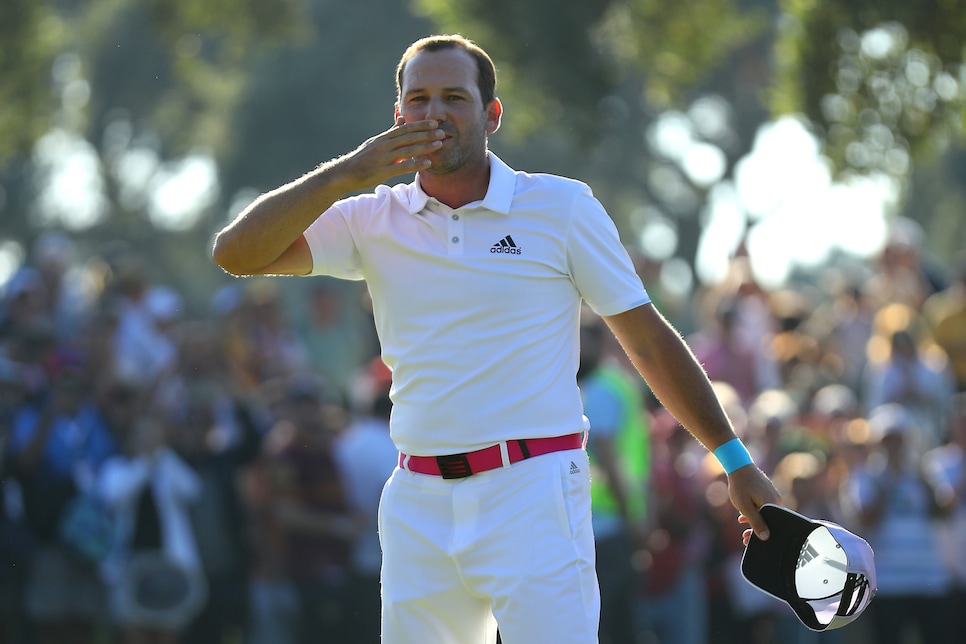 "You can never relax at Valderrama," said Garcia, who calls the track one of his favorites. "You have to love this place. You have to stay patient. Bad breaks have to be dealt with. So I just tried to stay patient and make sure any bad moments didn't affect me too much. And I made a couple of key putts coming in."
Makes sense. Sergio might have been the host. But a man has to protect his turf.
While his 2017 will be remembered for finally capturing that elusive major, the dividends since Augusta National have been few and far between for Garcia. Nevertheless, the win vaulted him up to second in the Euro Tour's Race to Dubai behind Tommy Fleetwood, with just four events left on the postseason schedule.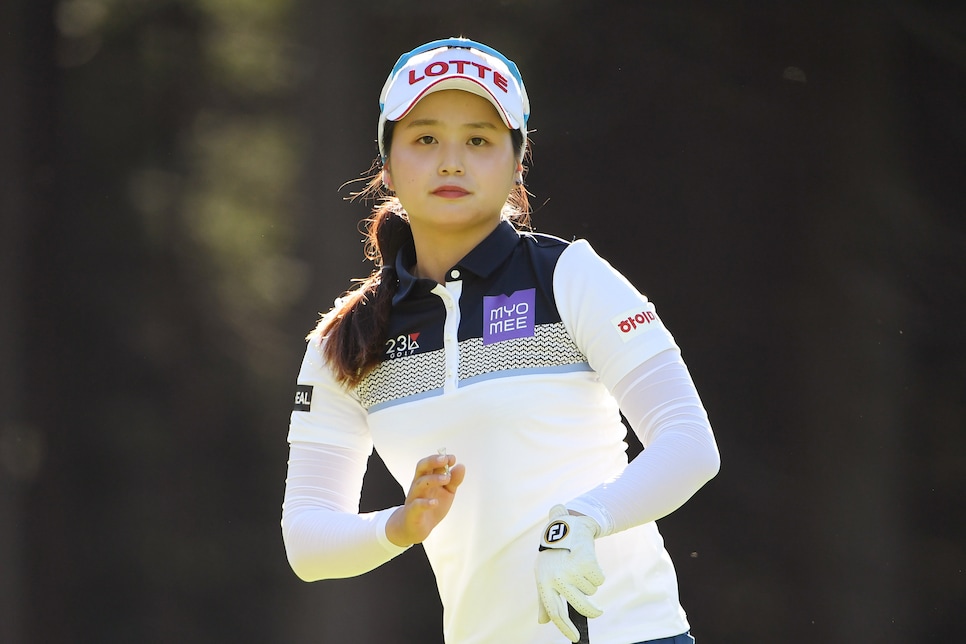 Atsushi Tomura/Getty Images
Commissioner resigns over rules debacle
Move over, Dustin Johnson and Lexi Thompson. This rules snafu is the stuff of legend.
At the KLPGA's KB Financial Star Championship, Hye-Jin Choi and You-Na Park received two-stroke penalties for marking balls on what they thought was a putting green and picked them up, only to discover the surface was not deemed part of the green. However, upon further review, it was determined four other players throughout the day had done the same thing and already signed their cards.
Initially, the tournament committee decided to rescind the penalties of Choi and Park, a decision that led to a protest from the rest of the field, with players threatening to withdraw. The KLPGA countered with a puzzling response: wiping out all scores from the first round.
"We deeply apologize to players, golf fans and sponsors who helped organize the tournament," the KLPGA said in a statement. "We will do better to meet the expectations of those who love the KLPGA and will do our best to prevent similar cases from happening again."
It was such a disaster that the KLPGA's lead rules official, Jin-Ha Choi, resigned over the matter.
Personally, I'm rooting for such a situation this season on the PGA Tour. If only for the ensuing takedown from Brandel Chamblee. It would be glorious.
Stuart Franklin/Getty Images
Paula Creamer announced via Instagram that she had surgery on her left wrist in Houston, and that she will not compete again until 2018. The former U.S. Women's Open champion hopes the procedure will help remedy an ailment that has nagged at her for two years.
It's a bit of a drastic move; Creamer's injury is one usually treated with rest and non-surgical options. Sadly, Creamer and her team felt the issue was so severe that an operation was warranted.
Creamer, who joined the tour in 2005, has won 10 times in her career, most recently at the 2014 HSBC Women's Champions. Though she struggled in 2017—she is currently ranked No. 126 in the world—she turned in an impressive showing at the 2017 U.S. Solheim Cup team as an alternate after Jessica Korda had to withdraw due to injury. Creamer went 3-1 in her matches to contribute to the winning U.S. team.
According to the Houston Methodist Hospital orthopedic department, patients who get intersection syndrome surgery typically achieve full recovery after six to eight weeks of physical therapy.