News
Justin Thomas ends a long year on a familiar note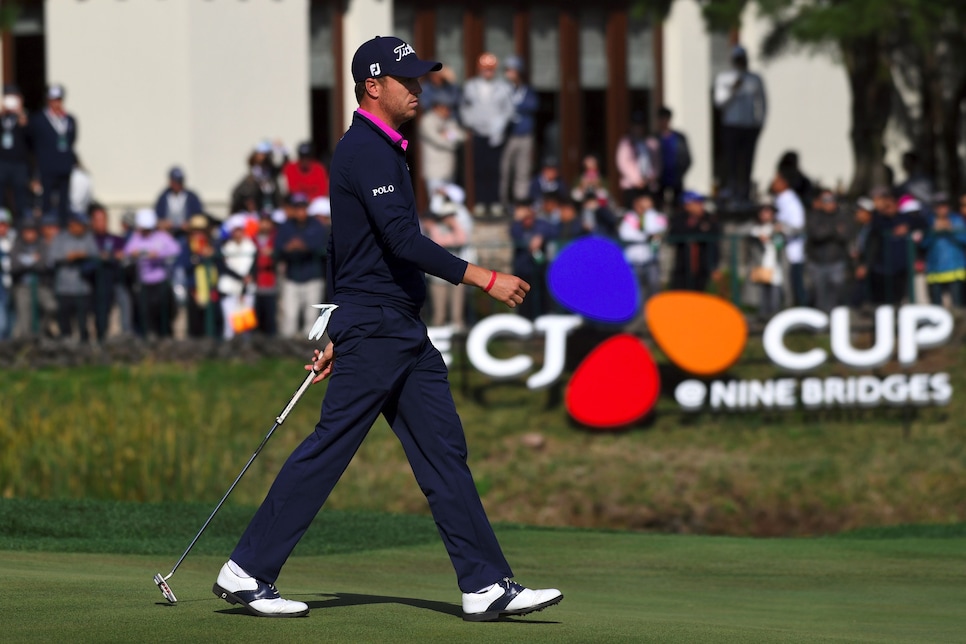 "Oh, my God, my legs feel like jelly."
Justin Thomas, exhausted and elated—and still excelling—had just defeated Australia's Marc Leishman in a sudden-death playoff to win the inaugural CJ Cup @ Nine Bridges in South Korea, when his comment was picked up on a Golf Channel hot mic.
Even wobbly, the reigning FedEx Cup champion is tough to beat.
Coming off a five-win season that included the PGA Championship and PGA Tour Player of the Year honors, Thomas wrapped up his 2017 season (as far as official starts; he is also entered in the Hero World Challenge) with what one might call a statement victory. Already he is backing up his career year, and without his best stuff.
Since the start of the 2015-'16 season Thomas has won seven times (tied for the most with Dustin Johnson) and he climbed to No. 3 in the world. He won for the third time in Asia after consecutive wins at the CIMB Classic in Malaysia in 2015 and 2016.
"I am so excited," he said, after his two-putt birdie on the second-playoff hole, the par-5 18th at Nine Bridges Golf Club on Jeju Island, South Korea, beat Leishman, "… to not do anything. I officially have nothing left in the tank."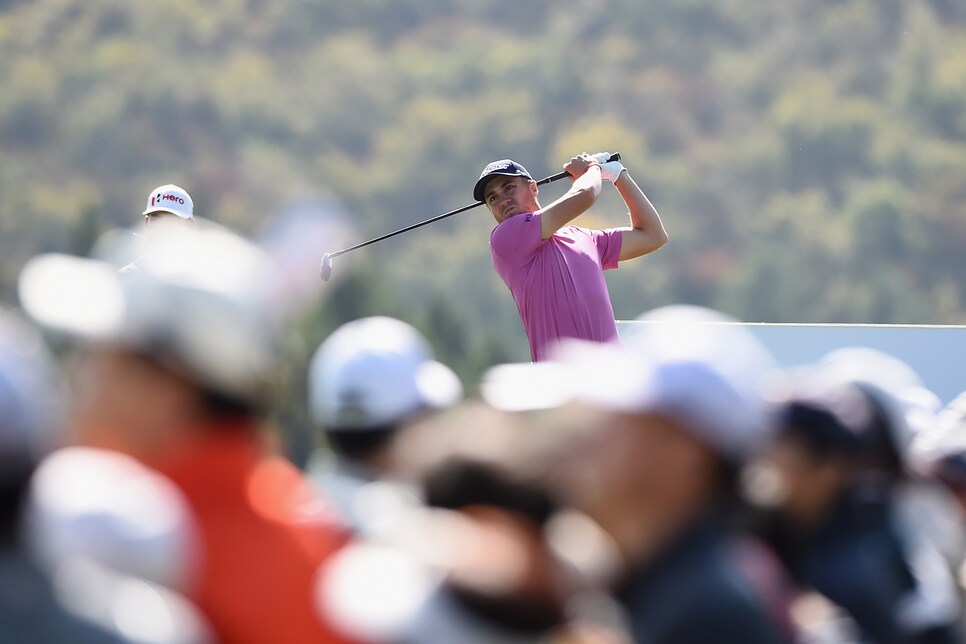 Matt Roberts/Getty Images
Well, he had enough to beat Leishman, whom he also defeated down the stretch last month in the FedEx Cup Playoffs at the Dell Technologies Championship in Boston, a win that helped propel him to the season-long FedEx Cup crown.
He had enough to reach the green in two at the end of regulation, giving himself a chance for a winning eagle. He missed, but his birdie and even-par 72 tied him with Leishman at nine-under 279. And he had enough on the second playoff hole to find the edge of the green from 243 yards, into the wind, after Leishman had dunked his own 3-wood from 257 into the water.
Thomas could have layed up, taken a safe route.
"I didn't travel all this way to make this a three-shot hole," said the 24-year-old slugger from Kentucky. "I figured it be easier if I just went for it in two."
In other words, he was going for the win. That's the mentality of a player who has the shots and is not afraid to play them.
Thomas opened with a nine-under-par 63, but then the winds kicked up the final three days, and the last two in particular were dicey. Only one player, last week's CIMB Classic winner Pat Perez, went bogey free over the last two rounds, closing with a four-under 68. Leishman shot 70, while Scott Brown, third-round co-leader with Thomas, fell back with a 76.
It took patience to persevere, and Thomas managed to summon that faculty at key moments, including the first playoff hole when he saved par from the front greenside bunker after Leishman missed a winning birdie look from 12 feet. Not that it was easy. Thomas complimented his caddie, Jimmy Johnson, for his efforts, noting, "I probably wasn't very fun to be around these first two days, and I was glad I finally got back to myself and was able to be patient the last two days."
After passing Japan's Hideki Matsuyama for third in the world rankings, Thomas trails only fellow countrymen Dustin Johnson and Jordan Spieth. Americans last occupied the top three spots in 2010 with Tiger Woods, Phil Mickelson and Steve Stricker.
If his intention is to reach No. 1 in 2018, Thomas wasn't saying, repeating his aversion to revealing his goals. "I do not share them with anybody," he said. "I keep them within my team and myself because, I constantly would get reminded of them throughout the entire year."
Oh, he'll be reminded enough of his 2017 campaign, anyway—the 59 he shot in his wire-to-wire victory at the Sony Open in Hawaii, the third-round 63 at the U.S. Open that included an eagle at the 18th hole, his first major title, his Jack Nicklaus Award for player of the year. His good friend, Spieth, had to weather comparisons in 2016 after his own five-win, player-of-the-year performance in '15.
It's the nature of being good at something. People expect more of the same. Or better.
Sunday's win shows Thomas has the ability to deliver. Right now, however, he's ready to shut down his game.
"It's a great way to cap off the year. I'm really excited to do nothing for a while," he reiterated. "I'm just more excited about getting home right now."
The rest of the golf community is probably glad he's going home, too.