News
The latest stat that shows just how impressive the start of Justin Thomas' career has been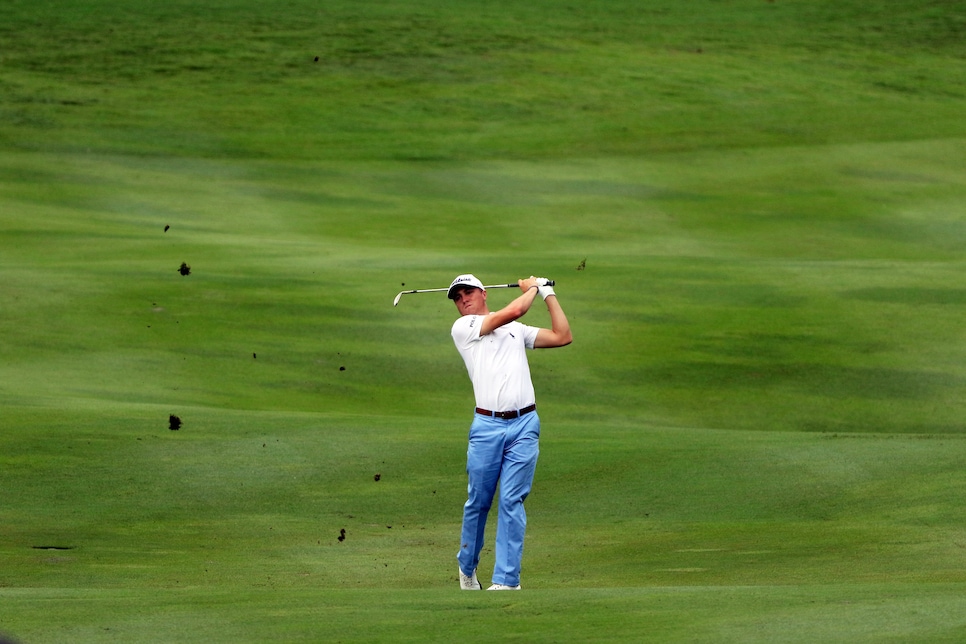 How Foo Yeen/Getty Images
With a nine-under 63, Justin Thomas took a three-stroke lead after the first round of the inaugural CJ Cup @ Nine Bridge in South Korea. Stop for a minute and read that again. OK, now what's the least surprising part of that sentence? If you said the fact that he shot a 63, you're right.
As it turns out, this was the ninth time that 24-year-old has shot 63 or lower—including his 59 earlier this year at the Sony Open and his 63 at the U.S. Open in June—in his four-plus seasons on the PGA Tour. More accurately, it's the reigning PGA Tour player of the year's ninth 63 or lower since the start of 2015, so we're really taking about three-plus seasons as he failed to go that low during his rookie year on tour.
That number sounds awfully good, but it becomes even more so with a little context. Consider:
Indeed, Thomas' closest contemporary, Jordan Spieth, has eight such rounds on the PGA Tour dating back to 2013. Jason Day, 29, has 10 in the entirety of his career, beginning in 2006. Dustin Johnson, 33, also has 10. Rory McIlroy, 28, has just five, as does Patrick Reed, 27. Rickie Fowler, 28, has only two.
Where Thomas' feat grows even more impressive is when you compare the start of his career to some of the all-time greats. For instance, Phil Mickelson has 24 rounds of 63 or lower in his PGA Tour career, his first coming at the 1992 B.C. Open. But it took him nearly a decade before he carded his ninth (2001 Canon Greater Hartford Open).
Other notables include Vijay Singh, who has 17 rounds of 63 or lower, the first coming at the 1993 PGA Championship and his ninth at the 2004 Buick Open. Fred Couples shot 12 rounds of 63 or lower, the first at the 1981 Sammy Davis Jr. Greater Hartford Open and his ninth at the 1998 GTE Byron Nelson Classic.
Johnny Miller, shot 10 career rounds of 63 or lower, the first at the 1970 Phoenix Open and the ninth at the 1976 Kaiser International Open.
And how about against Jack Nicklaus, Arnold Palmer, Tom Watson, Gary Player, Lee Trevino and Ben Hogan? Amazingly, a search of the PGA Tour's ShotLink database shows that none of these Hall of Famers came close to shooting nine such rounds in their careers. Nicklaus had six, Hogan five, Watson and Player four, Palmer two and Trevino none.
The only player who seems to be outpacing Thomas in really low scores: Tiger Woods. The 14-time major winner has shot 63 or lower 28 times in his career. He did it for the ninth time at the 2000 Byron Nelson Classic (his 80th stroke-play start since turning pro in 1996). By comparison, Thomas is playing in his 90th stroke-play PGA Tour event this week since turning pro in fall 2013.